Greenmantle Estate is a luxury family owned lodge around 45 minutes from Wellington on the Kapiti Coast. It is set in lush gardens and the High Tea is served poolside in a marquee.
Update July 2023: Greenmantle Estate no longer serve High Tea.
The High Tea at Greenmantle Estate is not a frequent event. It must be booked in advance as everything is made fresh shortly before serving. This makes it quite an occasion. From the moment we arrived we knew we were in for a special experience as we were met from the car and welcomed by the estate owner, Ralph Green.
We were given a brief summary about the Greenmantle Estate and taken to the wonderful poolside marquee. Despite it being an autumn day we were warm and content amongst the beautifully laid tables covered in white linen. The crockery and tea pots are all sourced from neighbours, relatives and local antique shops, this meant each table was laid differently. As the High Tea was a 2.00pm sitting guests arrived to fill the area with happy chatting and anticipation.
A unique and interesting element of this High Tea was that 6 different teas were served to be paired with the food with an option of a 7th before leaving. A half or full cup could be enjoyed. Every tea was from either Kapiteas or Millefeuille, both New Zealand based tea makers, each tea was explained and for many we looked and smelt the tea leaves. Each tea tasted different and this unique journey gives one an appreciation of the different types of tea. Prosecco was available and came from near Venice, where the Green's daughter lives. The Italian influence also had a presence in the High Tea food.
The High Tea menu started with sandwiches served on a plate with the first tea, a Green Sencha. We were both particularly taken with the Mortadella and rocket sandwich. The Mortadella was sourced from the local Waikanae butcher.
Our tower was beautiful and was gifted by an elderly neighbour, it had belonged to his mother. We were given a description of the food and the eating and tea journey began. All food was amazingly fresh and had been cooked shortly before being served.
Our savoury layer featured two Italian additions, a delicious buttery panettone salato, a Danubio and a perfectly cooked pork fillet tartlet with homemade mango chutney. The Danubio was not familiar and was very similar to a brioche, it was delicious.
The sweet layers were equally as delicious. The lemon cake was topped with a lovely chocolate ganache, the macaron which is sourced from a French Bakery in Raumati, was perfect. The scone was already topped with jam and then cream. The jam came first as the scones were still warm and would melt the cream. The final delight was an absolutely perfect Panna Cotta topped with Lodge passionfruit. This was brought around on a tray and served by Chef and joint owner Letizia Columbano. As our food and tea journey ended, we were invited to tour the gardens and find the secret garden.
The Greenmantle High tea is an event worth watching out for. It is a unique experience and the food and tea journey were of the highest standard. The care with the tea journey, the freshness of the delicious food along with the atmosphere created a very special afternoon. I would return in a group or for a family occasion with older children.
Greenmantle Estate High Tea Menu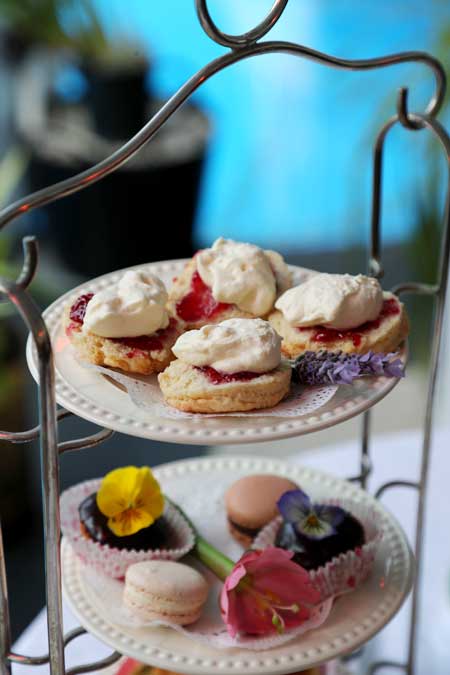 Please mention dietary requirements when booking.
Sandwiches:
Cucumber and fresh mint
Mortadello and rocket
Salmon, cream cheese and gherkins
Danubio
Panettone salato
Pork fillet tartlets and mango chutney
Sweet:
Macaron
Scone with fresh cream and raspberry jam
Lemon cake with chocolate ganache
Panna cotta topped with lodge passionfruit
Teas are served to match each course and Prosecco is available.