The Hilton, Sydney offers a modern High Tea with a sleek setting, champagne and a unique array of treats to taste and try.
The word 'Hilton' is synonymous with opulence and luxury. And, there's no less of a luxury feel than that of the glass panelled, sleek, Sydney George Street location. Unlike some of its big-name compatriots in the city, it is conveniently located actually right on George Street, next to the main shopping areas, making it a fantastically accessible spot to cool one's heels for a spot of Champagne Tea during a busy day's retail therapy.
Stepping into the busy grand atrium, is more futuristic and fresh than one would expect, with shafts of natural light beaming through the space, making it feel bright, alive and up-lifting. The second uplifting experience, once seated, inside the Cafe Cino café, was being asked if we would prefer a glass each, or a full sharing bottle of Moet Champagne! We spent a full five minutes laughing at what a silly question that was before opting, obviously, for the full bottle – let the show begin!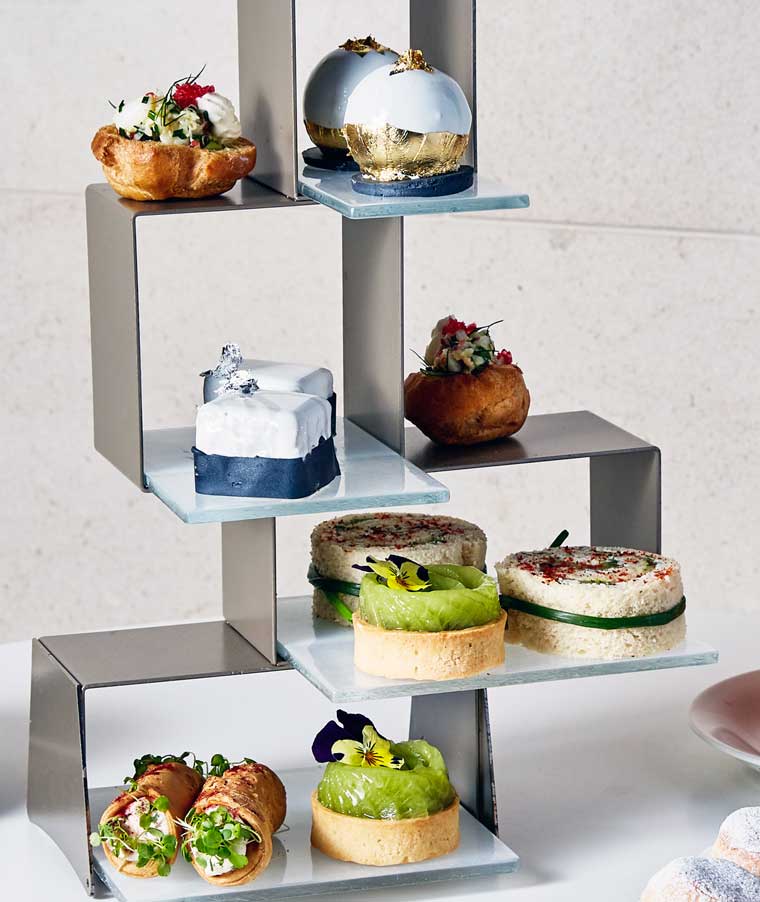 The menu and setting on which the which the food was placed are cohesively futuristic in the same feel as the physical space, and the savouries and sweets were laid on an architectural, modernist high tea stand by AnnaVasily, the likes of which we'd never seen before and thought very special indeed, almost as special as the food that was served on it. The sandwich wheel of dukkah crusted chicken and cucumber was fresh and generously filled, and a daringly imaginative combination egg and crabmeat choux pastry really hit a spot we didn't realised we were craving being filled.
The sweet selection, laden in luxurious golden and silver leaf (which got rather messy and sparkly to eat after a few glasses of champers) was really generously sized, the piquant Kiwi Fruit tart leading through to the 'bombe de resistance' an enormous Italian marble praline cake. Daintily dusted scones definitely weren't a show stealer, but they didn't disappoint either and were patriotically served with 'Australiana Jam' of Davidson plum and rosella.
Because of the uniquely generous pour of champagne at the Hilton tea, we were really rather tipsy by the time we settled our tummies with a peppermint tea, and, as they were unlimited, we sat and enjoyed our moet-haze for another hour's relaxation before departing back out into the buzzing city's beckons. A thorough treat of an afternoon with a couple of unexpectedly delightful twist on tradition.
High Tea at The Hilton Sydney Menu: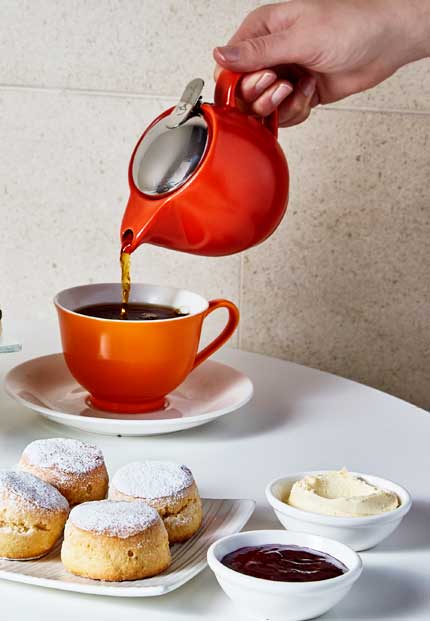 Featuring unlimited tea and barista coffee and the following delectable treats.
Savoury selection:
Goat cheese cannoli, pickled beetroot, watercress & frisse
Scampi choux, avocado & finger lime
Dukkah crusted chicken, cucumber & labne roulade
Sweet selection:
Kiwi fruit tart
Italian Marble (pistachio, coffee and hazelnut praline)
Gold Plated (70% chocolate, crème brulee and patron XO)
Plain Scones:
Australiana Jam (Davidson plum and Rosella)
Clotted Cream
Bookings are required 48 hours in advance.