A stately Victorian era mansion located on one of Sydney's most prestigious streets, The Hughenden Boutique Hotel succeeds in combining period charm with contemporary stylish interiors.
Welcomed by the Functions Co-ordinator, Mandy Wibowo, we were led to our low-lying marble table, set with blue and white Johnson Brothers china, for our high tea within the grand lounge room – with lofty ceilings, chandeliers, marble fireplaces, vases of fresh flowers, Persian carpets and antique furnishings.
Sinking into comfortable armchairs, we were each given a glass of Saint-Louis French sparkling wine, before meeting the chef, Chunjae, from South Korea, who explained all the dishes that we were about to enjoy.
High Tea is served on two-tiered cake stands, the scones are plated separately. You can opt for the traditional high tea, and special dietary requests, including vegetarians can be catered for.
The savoury offerings include a rolled finger sandwich filled with a combination of chicken, mayonnaise, Dijon mustard, cranberries, and a mixture of grapes, celery and red onion, providing a crunchy texture. The second finger sandwich is filled with thinly sliced salmon. The mini brioche roll, filled with creamy egg and finely chopped parsley was flavoursome, with variation in the savoury selection offered by two mini filo frittata baskets, filled with egg, fetta, pumpkin, tomatoes and capsicum.
The vegetarian savoury selection includes a rolled finger sandwich of white bread filled with coconut tahini and green salad, and a multigrain rolled finger sandwich of beetroot, red onion, capers, rocket and cream cheese. The selection also includes two mini filo frittata baskets and a pink mini brioche bun filled with egg and parsley.
The delicious housemade raspberry jam was a highlight that worked well with the buttermilk scones, that were golden and crisp on the outside, and very dense on the inside.
For sweets, the pastry of the lemon tart was well textured and buttery, the chocolate cup decorated with strawberries was a treat, as was the buttery mini cupcake, decorated with vanilla icing. The vanilla pannacotta is also appealing, though my favourite was the raspberry macaron with a sweet fruity tang.
The selection of tea is by Paddington Tea, and includes organic peppermint, green, Earl Grey or English Breakfast. The sparkling wine that Mandy says is very popular with guests is by Saint-Louis, and coffee is served in a thermos jug.
While enjoying the high tea, we realised that apart from the occasional coming and going of guests of the hotel passing us by, we had the spacious lounge area to ourselves. As the high tea is made to order, rather than being served at set times, you can tailor your visit to best suit.
The best features of the high tea include the ambience, with the lounge's interiors inviting with orchids and vases of fresh flowers, and comfortable lounge chairs that made it easy to stay awhile.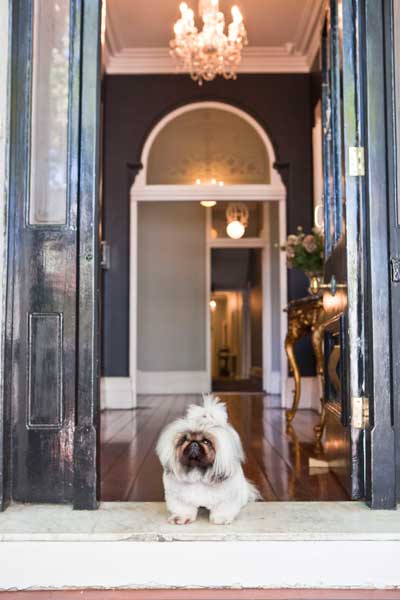 As one of the few hotels in Sydney that welcome dogs, pet owners will be pleased to know that their furry companions don't need to be excluded. The Hughenden also offers high tea especially for dogs with lots of tasty treats on offer.
After our visit, I returned for a high tea event for dogs. Tables had been arranged outside to accommodate owners and their special pooches to enjoy an indulgent afternoon. Mandy says the hotel is especially popular with dog owners.
The Hughenden at various times has been a masonic hall, nurses home, dance hall, college for young ladies and was built as the grand residence of Dr Frederick Harrison Quaife in 1878. Its current owners have just completed refurbishing the hotel, bringing contemporary touches to the interior décor.
With The Hughenden nestled just opposite Centennial Park, make time to visit the rose garden and the black swans that live there, or if you would prefer to shop, browse the upscale boutiques along leafy Queen Street, and the sophisticated shopping precincts of the Intersection and William Street, Paddington as well as taking a walk to enjoy the heritage architecture of the Victorian era terrace houses.