The Hyatt Place, Essendon Fields offers a stylish and delicious high tea experience in Melbourne's northern suburbs.
For those living in Melbourne's northern suburbs you no longer need to travel in to the city to experience a fine High Tea. Hyatt Place at Essendon Fields is a newly built hotel just 6km from the Melbourne airport and part of the Essendon on the Fields precinct.
The venue is very accessible with free parking at the front entrance and no stairs or excessive amount of walking necessary. The space is sophisticated and intimate, creating a pleasant environment to enjoy a High Tea and is the ideal location for a group event.
The High Tea stand featured freshly baked scones, finger sandwiches, petit fours and savoury delights.
Between myself and my friend, we enjoyed both the regular and the gluten free High Tea menus.
The sandwiches on the regular menu included an English cucumber with lemon myrtle oil and mint (V), truffle egg mayonnaise and fine herbs (GF) and smoked salmon, avocado crema, capers and dill (GF), with the highlight being the classic chicken with apple, celery and walnut.
The beef burgundy and mushroom pie was served with a tomato relish was delicious.
This High Tea featured the most perfect looking scones, with both a plain and fruit scones accompanied by vanilla cream and preserves. The cakes were delicious and plentiful including; dark chocolate truffle cake, the raspberry macarons, passionfruit tart, profiteroles and white chocolate cheesecake.
This is a really good gluten free High Tea menu as there was a wide selection of items from the mini pie with pumpkin and Indian spices (which was delicious). The gluten free bread used in the sandwiches was moist and the gluten free quiche had a delicious soft and buttery pastry.
To accompany the High Tea, handcrafted French teas, barista made coffee and a glass of sparkling are included. There was an option to enjoy bottomless bubbles during the High Tea experience.
This is a chic and delicious High Tea that also offers one of the best gluten free High Tea menus we have experienced. This is also good option for those who live in Melbourne's northern suburbs.
Hyatt Place Essendon Fields High Tea Menu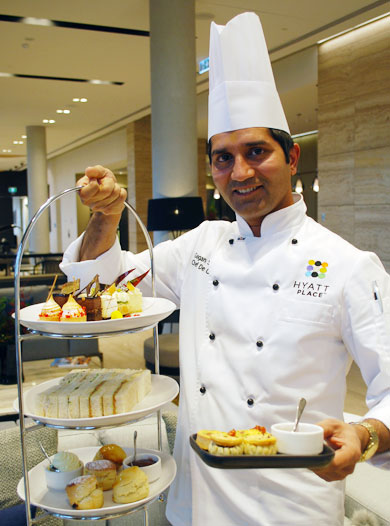 First Tier:
Dark chocolate truffle cake
Raspberry macarons
Passionfruit tart
Profiteroles
White chocolate cheesecake
Second Tier:
Classic chicken with apple, celery and walnut (GF)
English cucumber with lemon myrtle oil and mint (V)
Truffle egg mayonnaise and fine herbs (GF)
Smoked salmon, avocado creama, capers and dill (GF)
Something on the side:
Beef burgundy and mushroom pie
Petit cherry tomato tarte with goat's cheese and chives
Third Tier:
Homemade traditional and fruit scones served with vanilla cream and preserves
Beverages:
Selection of French Handcrafted Teas
Barista made coffee
Sparkling Wine
*All dietary options will cater upon request
High Tea Melbourne – find more experiences
in our High Tea Venue Directory