Afternoon Tea at InterContinental Sanctuary Cove Resort transforms High Tea into an immersive experience thanks to their collaboration with the virtuoso of the tea world Tea Forté.
High Tea at InterContinental Sanctuary Cover Resort promises an intriguing immersive experience that will tempt your tastebuds and treat your senses.
InterContinental Sanctuary Cove has recently undergone a $6m refurbishment to its rooms and suites. Guests arrive at the resort by way of the Great House with its dramatic stained glass windows, grand staircase, plush carpets and stunning floral arrangements, providing an elegant and sophisticated statement. The hotel features 251 rooms and suites surrounded by 4.2 hectares of tropical gardens and iconic one-acre Lagoon Beach Pool plus several food and beverage venues including popular breakfast destination Cove Café where high tea is served.
The Cove Café has been reinvigorated with a tropical inspired design featuring oak panelling and olive-hued velvets. The fresh interior is framed by large white French doors, which open onto the stunning Fountain Terrace patio. On arrival we're warmly greeted and presented with a Tea Forté infused towel and palate-cleansing iced tea piccolo before being escorted to our table. The Orchard Vanilla iced tea was an exceptionally refreshing start, followed by a glass of NV G.H. Mumm Cordon Rouge Brut Champagne, which really provided a sense of arrival and celebration.
On our visit, there were a limited number of diners partaking in High Tea and we were seated in the centre of the large dining space. Ideally, we'd have preferred to sit on the terrace, by the window or in the bar for a little more ambiance.
High Tea is presented on a grand three-tier high tea stand laden with treats accompanied by a beautifully printed menu outlining the immersion experience.
Resort Executive Chef Hamish Watt joined the team earlier this year, following a broad career spanning both locally and internationally posts. Hamish commenced his career under Neil Perry at Rockpool, before moving to London where he worked across several fine-dining restaurants including the prestigious Kensington Place Restaurant. On returning to Australia, Hamish ran the kitchen at the Botanic Gardens restaurant before undertaking his own venture, followed by stints at several resorts before commencing at InterContinental Sanctuary Cove Resort. Based on this experience, diners can expect to see menus featuring innovative Australian cuisine with a European touch, heroing fresh native ingredients.
We start High Tea by devouring the savoury selection, which included spanner crab with saffron mayonnaise and oyster mushroom with goat's labneh, both were richly decadent and a change from the traditional cucumber sandwiches. However, the slow-cooked 12-hour Toowoomba Beef Brisket Doughnut was the real standout for us, packed full of flavour.
Scones included both a classic and cranberry selection with jam and cream taking centre stage of the middle tier.
The sweet selection were as you'd expect to from a traditional 5 star hotel and included salted caramel choux with orchard vanilla tea cream, a coffee and chocolate opera cake, berry tart with ruby chocolate ganache and coconut and white ginger pear tea mousse. The flavours blended together well without any individual item shining through as the hero.
With prior notice, InterContinental Sanctuary Cove Chefs can handle dietary requirements with ease and provide a menu specifically designed to be vegan, nut-free, gluten-free and dairy free and includes items such as coronation chickpea, chargrilled zucchini sandwich and quinoa falafel, pea pureé and fresh shallots.
We highly recommend you opt for a 'Pear-tea-ni' cocktail to compliment your High Tea immersive experience. The cocktail is skilfully infused with Tea Forté White Ginger Pear blend tea by the resorts skilful mixologists.
As the first Australian hotel to feature Tea Forté expect elegant flavours served in purpose-designed teaware to ensure the journey travels beyond the luxury handmade tea itself. The tea selection includes black, herbal, green and white teas and we chose the Orchid Vanilla and White Ginger Pear.
Afternoon Tea at InterContinental Sanctuary Cove Resort transforms High Tea into an immersive experience thanks to their collaboration with virtuoso of the tea world Tea Forté.
InterContinental Sanctuary Cove High Tea Menu: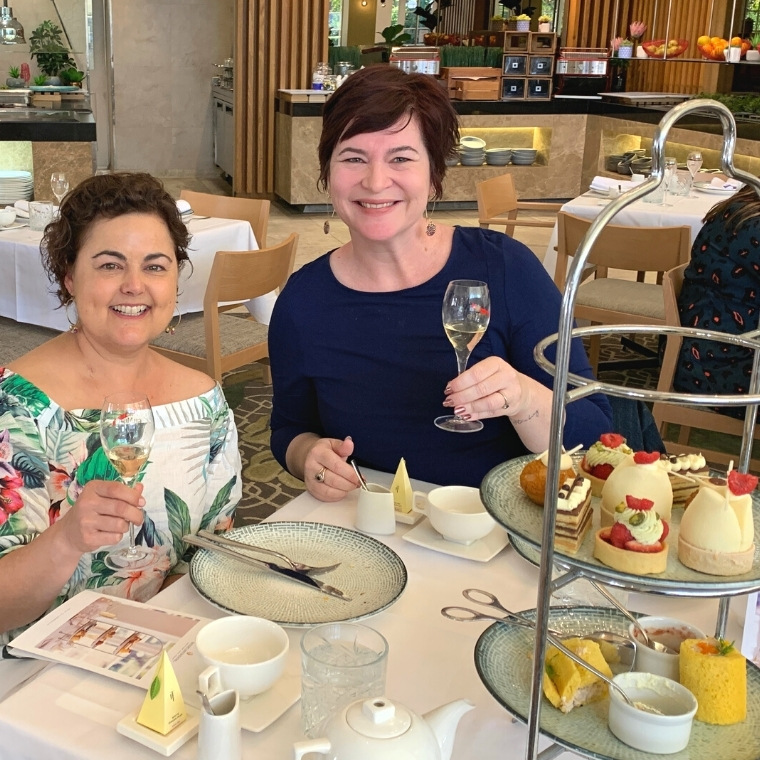 Refreshment:
Piccolo of Seasonal Tea Forté Iced Tea
Savoury:
Spanner Crab, Saffron Mayonnaise,
Tobiko Goats Labneh, Oyster Mushroom, Melon Radish
Slow-cooked 12-hour Toowoomba Beef Brisket Doughnut
Smoked Tasmanian Salmon Mousse with Fennel and Cucumber
Sweet:
Salted Caramel Choux, Orchid Vanilla Tea Cream, Caramel Sauce
Coffee, Chocolate Opera Cake, Hazelnut Cream, Milk Chocolate Tuile
Berry Tart, Ruby Chocolate Ganache, Pistachio Cream
Coconut and White Ginger Pear Tea Mousse, Almond Cream, Apricot, White Chocolate
Scones:
Classic Scones
Cranberry Scones
Jam & Cream
High Tea in Queensland – find more experiences
in our High Tea Venue Directory