The La Boca Bar and Grill have been trialling their Argentinian High Tea each month on a Sunday afternoon.
I can guarantee for the next few paragraphs I will be overusing the word MOIST…because the dishes were just that and the High Tea was delicious with some outstanding flavour combinations!
We started with the savoury Empanadas. The pastry was buttery and melted in your mouth with fillings including beef, corn, ham and cheese. They came with a Chimichurri dipping sauce, which really is an Argentinian Pesto and was nice too.
The Argentinian Scones were more like an American biscuit, but they were soft and delicious inside and had a hint of honey in them. We used the jelly to put on them with the cream. The jelly was served in thin slices with amazing flavour combinations including pumpkin + almond and sweet potato + coconut.
The sweet elements were moist, tasty and stirred up major excitement in our tastebuds! Churros with caramel sauce were added to our menu today and were so fresh.
The Turron or the Argentinian Nougat was so soft and moist. It was heaven in our mouths! The Mantecol or the Brownie was the same with the flavours of caramel and peanut butter oozing through this amazing sweet treat.
Everything is made fresh on site by Chef Nicolas Arriola. He should be very proud of his heritage and bringing it to the people of South Australia. $39 is a more than reasonable price point. You will leave the La Boca Bar and Grill Argentinian High Tea feeling very satisfied and full!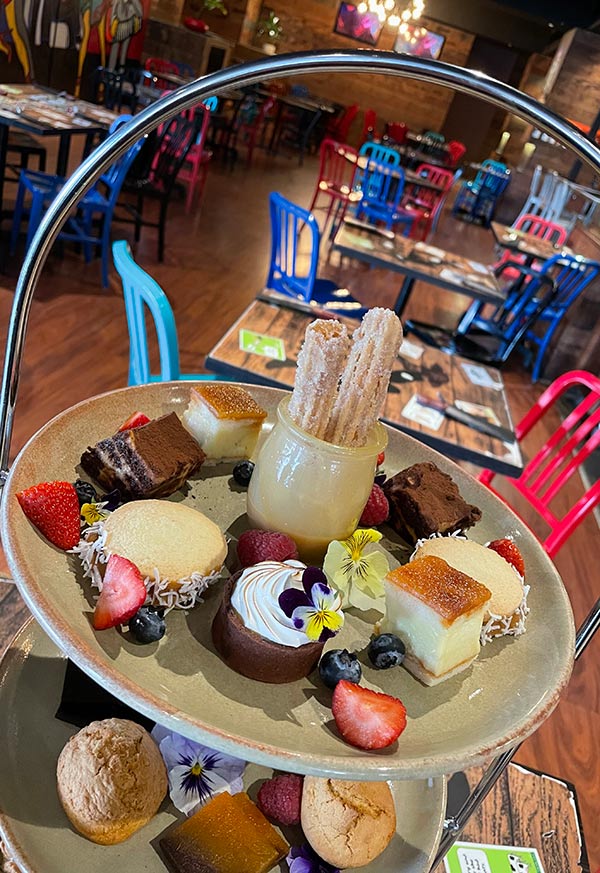 La Boca Bar & Grill Argentinian High Tea Menu
Nivel superior
Beef Empanada
Ham & Cheese Empanadas
Corn Empanada
Segundo nivel
Berliners
Alfajor
Quince Paste Jelly
Pumpkin And Almond Jelly
Sweet Potato And Coconut Jelly
Double Cream
Primer nivel
Marroc
Mantecol
Argentinian Nougat (Turron)
Balcarce Tort
Tea and Coffee is included. For an additional cost you can purchase wine and/or cocktails. They do a pretty good cocktail too!
The menu is subject to change. Please advise dietary requirements at the time of booking.
High Tea Adelaide – find more experiences in our High Tea Venue Directory