Brasserie Le Cordon Bleu's High Tea is about students getting practical experience and putting their skills to the test.
Brasserie Le Cordon Bleu is a cooking school and this venue is part of the school. It is a training restaurant and is open every 3 months. It is situated in the central city at the bottom of Cuba Street.
Brasserie Le Cordon Bleu's High Tea is about students getting practical experience and putting their skills to the test. The food is prepared by the Diplôme De Pâtisserie students and the service is by the Bachelor of Culinary Arts and Business students. Our beautiful High Tea was served by three students and each explained the beautiful plate they had delivered. Even the butter and cream for the obligatory scone where piped and explained.
The occasion for this High tea wasn't only to give the students practise but a fund raiser for the Mary Potter Hospice. The theme for this fundraiser was Strawberries and they featured throughout the menu. The table was decorated with a large bowl of strawberries and we had a strawberry on our glass of champagne. All proceeds went to the Mary Potter Hospice.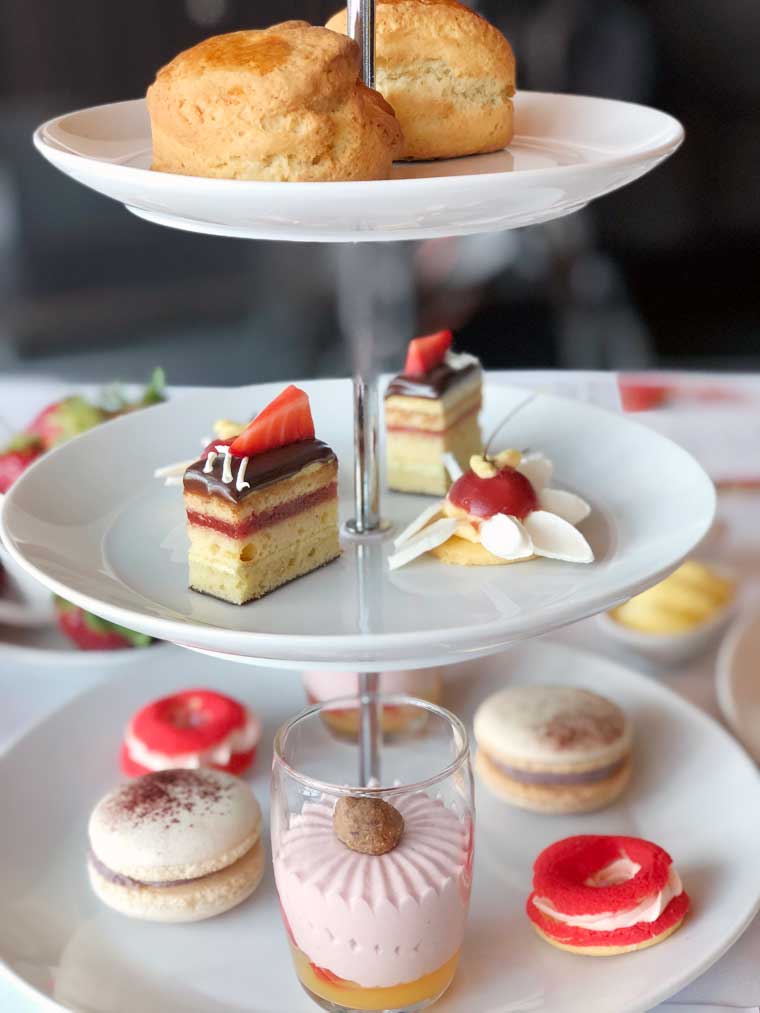 The world famous Le Cordon Bleu cooking school opened in Wellington in 2012 and the Brasserie Le Cordon Bleu training restaurant has become part of Wellingtons foodie scene, as have the weekend or day classes. It is a great addition to Wellington and a way to showcase local produce.
The Mary Potter Hospice High Tea was of a high standard displaying excellent skills. The savoury components were served on a seperate plate to the traditional tower. The tower was laden with treats of a French origin, along with the scone. There was not a sandwich in site.
This High Tea was excellent and I am hard pressed to pick a favourite. From the savoury offerings I liked the skill showcased with each item. Using the strawberry theme in a strawberry port wine jelly to go with the wonderfully light and tasty duck mousse was genius. The red capsicum foam on the bruschetta was delicious and the ricotta gundi was clever. With the scone we were very happy to have both whipped butter and cream and used both with go good dollop of jam. The scone was well cooked and had a crunch on the outside while retaining fluffiness on the inside. With the scone being the bridge to the sweet layer, after eating it we were hard pushed to know where to start.
After much deliberation we started with the cute Mentonnais, it was lovely. Its neighbour, the St James was just as good with its different layer. Every sweet morsel included the strawberry theme. The Paris-Brest had a lovely coating of strawberry dust. I was pleasantly surprised by the Verrine and really enjoyed it, this would have been my last choice at a buffet but I think it may have made my number 1.
This High Tea and the other meals served at Brasserie Le Cordon Bleu are a lovely way for students to use their skills. It is worth making sure you follow their Facebook page to see notifications for when they are happening. The students we met were lovely and appeared eager to show their skills. It was a great experience and I would certainly return.
Le Cordon Bleu Wellington High Tea Menu: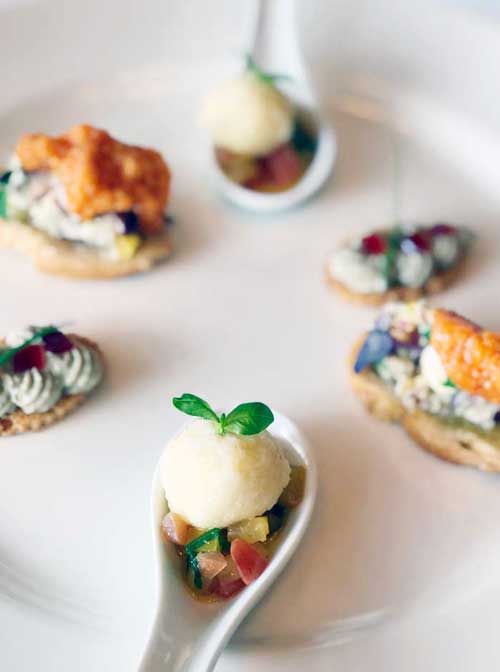 Canapes:
Vegetable, feta and olive bruschetta
Ricotta gnudi with tomato and basil salsa
Duck liver mousse on brioche, strawberry Port wine jelly
Mini Gateaux:
Paris-Brest- choux pastry filled with strawberry cream
Mentonnais- shortbread, lemon diplomat cream, strawberry jelly, meringue, candied grains
St James- sponge Mona-Lisa, pistachio, chocolate strawberries
Verrine- strawberry, verbena, grapefruit
Petits Four:
Almond macaron, white chocolate hibiscus and strawberry
Scones:
Scones with butter, cream and jam
A gluten free High Tea can be requested with notice.
The table was laid with a white linen table cloth, the tea ware was also white. The tea served was fair-trade tea from Leaf T, a New Zealand based company who uses local native ingredients such as Kawakawa, Flight Coffee, Antipodes Water, Six Barrel Soda and Champagne were also available. The atmosphere was relaxed and people were happy to be indulging in the fine and fancy food.