A good high tea is more than just the food – although that definitely helps! When we visit new venues, the room and the outlook also play a big part in our overall impression.
The Lord Ashley Room at the Crowne Plaza in Terrigal has a great menu hosted in a lovely room. Bathed in natural light from the large windows that look out over Terrigal beach, it's easy to settle in to the space for a relaxing afternoon on the Central Coast.
Plush furnishings are dotted around the room, with a selection of comfortable chairs and low tables for more intimate settings, with chesterfield couches and armchairs for larger groups. There's also an open fire, which in the cooler months would definitely be the best spot in the house!
On our visit we were seated right by a window, bathed in natural light, overlooking the comings and goings of the hotel forecourt below and the beach across the road. Our glass of sparkling wine arrived quickly and we enjoyed the view and drink while waiting for our food.
The menu is served on two separate stands, so there's not a lot of room to move on a table for two, but we managed! And while two sounds like a lot, don't worry, they're not crammed full. Everything has enough room to be nicely presented and is quite easy to select with the tongs provided without disrupting the rest.
As you can see from the menu below, it's quite a classic selection of flavours. The sandwiches were all enjoyable, the salmon wrap in particular was quite interesting. It reminded us of a Caprese salad.
The scones were flavoured with lemon zest which made them some of the most original we've had in quite a while. If you're not a fan of jam, feel free to leave it off and just slather the scones in the accompanying cream – the lemon flavour will enhance them nicely.
We were told that the house specialty is the pecan cheesecake, and it was absolutely delicious. It was served like a deconstructed dish, the base crumbled with a piping of cheesecake mousse and some candied pecans on top. We could have eaten several more.
In all, if you're looking for an excuse to escape Sydney for the weekend, we'd gladly recommend a trip up to Terrigal to spend an afternoon in the Lord Ashley room.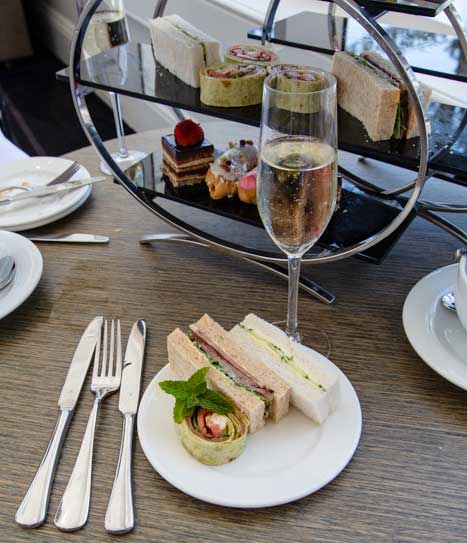 Classic High Tea Menu:
Lemon scones with vanilla cream and jam
Pecan and palm treacle cheesecake
Gâteau Opéra
Macarons
Petite éclair
Chicken and leek pie
Quiche Loraine
Finger sandwiches: Smoked salmon, bocconcini, tomato, and basil; Rare roast beef, horseradish cream and rocket; Cucumber, cream cheese and chive
Options available: Classic, Gluten Free, Vegetarian or Expecting Mum's
Bookings are essential, 24 hours in advance.