Located 1 hour and 45 minutes out of Melbourne, Australia, Maldon is a town that the gold-rush era didn't forget.
Famous for its annual fairs and festival, including the Maldon Folk Festival, Maldon Easter Fair, Maldon in Winter and even its very own TEDx, Maldon is also on the map for a remarkable high tea venue in that of Maldon Rose.
Maldon Rose was established in 2021 – at the height of the COVID pandemic. Some would say it's nonsensical to launch a new hospitality offering during Victoria's strict long-living lockdowns, yet Kimberlei Mcclure and her team of four daughters proved that thoughtful, unique and love-filled venues will always have a place.
In terms of atmosphere, Maldon Rose is an Instagram and TikTok lovers' paradise with its bright and sweet pastel interior, which the team painstakingly restored themselves. With a Cath Kidston English Rose aesthetic, themed window displays (think Paddington Bear, HRH Elizabeth II and Disney) and an extensive collection of Robert Gordon's Liberty ceramics – everywhere you look is a visual feast. With such a backdrop, it's no wonder the venue is so popular for special occasions such as baby showers, hen's parties and anniversaries (my husband and I celebrated our six-year anniversary here). This visual feast is only offset by the actual feast.
We'd argue the key to a good afternoon tea service firstly rests on the quality of the scones. And for Maldon Rose, it succeeds without a doubt. Kimberlei's scones have won multiple awards, including the Easter competition two times in three years. They're perfectly sized, fluffy and don't break apart when you have laden them with jam and clotted cream, which are too handmade at Maldon Rose. Savoury accompaniments are also made from scratch: we enjoyed a beetroot and feta tart, a spinach and cream cheese tart and a tomato and basil filo as part of a special pescatarian service.
The sandwiches do a beautiful job and the top-tier desserts deliver too. During our visit, we enjoyed a mini pavlova with banana, orange and strawberry, a raspberry and granola pink panna cotta, plum tea cake, carrot cake with walnuts and homemade shortbread biscuits.
Maldon Rose offers a range of beverages led by its tea brand of choice in Harney & Sons. The popular Paris tea, a fruity black tea with vanilla and caramel notes, is served bottomless with afternoon tea. However, we recommend branching out to some of the speciality drinks such as the Paris fog tea latte, rose latte, lavender latte or trusty London fog brewed with Earl Grey tea. For coffee lovers, Allpress Espresso is on offer meaning you won't have to go elsewhere for your daily cup of craft brew. Maldon Rose is a dry venue so if you want something with a bit of bubble, try the rose lemonade or bottled sodas.
With the seasonal menus, rotating window displays and competitive pricing, there's always a fresh reason to visit Maldon Rose. A bimonthly or quarterly visit for non-locals wouldn't be overkill. Drop-ins are welcome for coffee, tea and à la carte but bookings are essential for full afternoon tea service.
Summer High Tea Menu: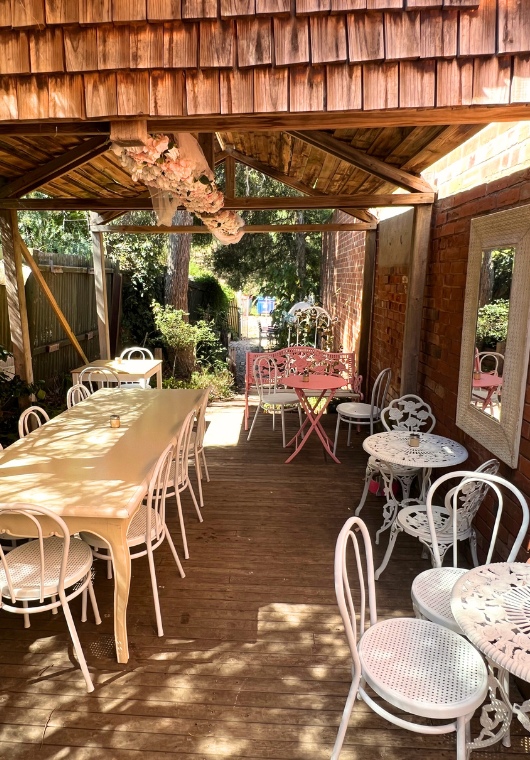 Sweet:
Scones with Chantilly cream & raspberry jam
Macaron (raspberry, Nutella or salted caramel)
Summer fruit panna cotta
Petite Pavlova with seasonal summer fruits & passionfruit
Savoury:
Mini summer quiches
Selection of petite sandwiches including:
Smoked ham & Swiss cheese with relish
Cucumber & creme fraiche and dill
Egg & Dijon mustard
Turkey, brie & salad with cranberry
Drinks:
Your choice of Harney & Sons or All press coffee
Specialty drink upgrade additional $2
High Tea Victoria – find more experiences
in our High Tea Venue Directory