Immerse yourself in this newly revamped East Meets West Afternoon Tea experience at Mo Bar at Mandarin Oriental Singapore, while enjoying the breath-taking skyline of the Marina Bay.
Boasting captivating views over Singapore's Marina Bay, MO Bar's reputation for serving award-winning regionally curated cocktails has allowed them to clinch Asia's 50 Best Bars 2020 & 2021. Chances are, if you are a cocktail connoisseur, you have already heard of this swanky, sophisticated sanctuary hidden on the hotel's 4th floor.
Yet our True High Tea connoisseurs would tell you about Mo Bar's other offering, their ever-changing luxurious afternoon tea which oozes indulgence. The team aims to refresh their menu every 6 months so you can look forward to something new each visit!
Chic, contemporary and soothing environment was just the right vibes to kickstart our East Meets West Afternoon Tea experience
While settling down and getting comfortable in those plush comfy seats, we were immediately treated to the Cantaloupe Granite with Lime and Mint. Not only was this exceptionally refreshing in this scorching Singaporean heat, it also wet my appetite for the barrage treats to come.
As they were serving up the second course, I was immediately drawn to the perfectly Rolled Rye Crepe with Smoked Salmon but the highlight for me was the Black Truffle Toast. Definitely the most luxurious chicken sandwich I've had, the chicken was blended and thickened with crème (almost like the consistency of a thick mousse) giving it a remarkably tender, soft and smooth texture. If only there was a bit more yuzu mayonnaise to help balance out the strong truffle taste.
What came next seemed like a creative twist on the usual classic sandwiches. The Beef Sandwich was well flavoured and soft, with a tinge of tanginess that came from the pickled vegetables. My favourite was the Crab Masala on a Semolina Puff! The garlic chutney seemed unassuming but it packed a punch. The overall combination was tasty but I just wished it had a bit more of everything so that I can savour it even more. Finally, the Cucumber Sandwich was a nice refreshing end to the third course of the afternoon.
Finally, the sweet moment … I could not keep my eyes off the perfectly piped chestnut cream atop this Chestnut Sponge Cake, which consisted of five beautifully made layers. I never expected acai blueberry to go so well with chestnuts but it sure did help with cutting through the creaminess and earthy taste of the chestnuts. Another dessert that consisted of very strong flavours was the Makrut Lime Chocolate Mousse. It was accompanied with a calamansi cremeux which added a nice zesty sensation to the overall rich chocolate.
We ended this course with the Earl Grey Baked Cheesecake with perfect layers of puff pastry and the coffee praline was sure to jolt anyone out of a food coma which also complements what would have otherwise been an overwhelmingly rich dessert.
A high tea is never complete without scones! When I saw the Bonito and Anchovy Scone on the menu, I couldn't really wrap my head around how that would taste. Boy, you are definitely in for a surprise because for one, it is the most exotic flavoured scone I've had and it tasted absolutely delicious. Pairing them with the jams was not necessary because it's that good on its own. I also particularly like that their scones were fun sized as I was this close to getting into a food coma. Definitely save some space for the scones!
We were there on a Friday afternoon, Mo Bar was as full as our tummies were when we left. So between the constantly updated menus (Current menu runs till end of the year) & their massive following, I urge you to secure your reservations early as the place is almost always packed.
High Tea Menu: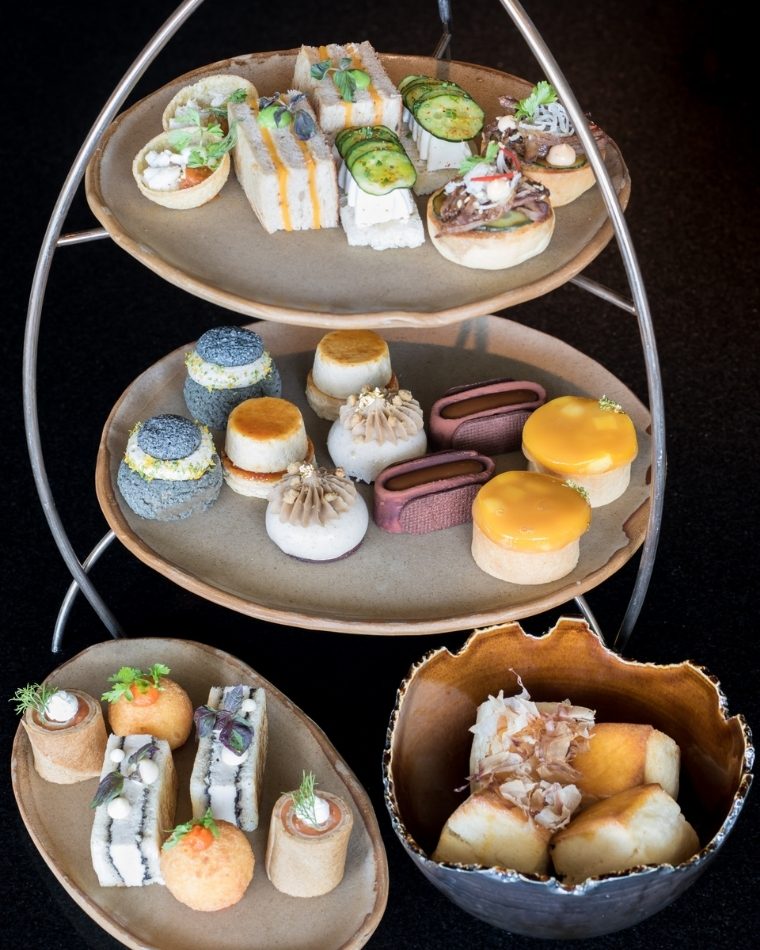 Starter:
Cantaloupe Granite with Lime and Mint
Savoury:
Rolled Rye Crepe | Smoked Salmon | Dill Cream Cheese
Black Truffle Toast | Chicken Mousseline | Yuzu Mayonnaise
Deep Fried Polenta | Mozzarella | Romesco Sauce
Grilled Tillamook Cheese | Multigrain | Avocado Puree
Pulled Beef Sandwich | Siracha | Pickled Vegetables | Coriander
Crab Masala | Semolina Puff | Garlic Chutney
Cucumber | Cream Cheese | Crispy Sourdough
Sweets:
Black Lemon Infusion | Earl Grey Orange Marmalade | Charcoal Choux
Chestnut Sponge | Acai Blueberry Confit | Cinnamon Mousse | Chestnut Cream
Makrut Lime Chocolate Mousse | Macadamia Praline | Calamansi Cremeux
Mango Compote | Coconut Frangipane | Sable Tart
Earl Grey Baked Cheesecake | Coffee Praline
Vanilla Scone
Bonito and Anchovy Scone
Chocolate Bar
You may highlight any dietary requests while making your reservations, preferably 2-3 days before your visit so the kitchen can make the necessary arrangements.