Hilton Hotel in Surfers Paradise is just over a decade old with a crisp, classy and comfortable interior.
Ms Margot's Bar & Eats was created as a place for guests to relax, indulge and connect. The Signature High Tea menu items are inspired by guest's favourite dishes from the Hilton's all-day dining menu. So that means, if you love the High Tea as much as we did, you can order bigger portions!
Our host Yuriko was amazing. She was friendly, attentive and makes a mean hot chocolate. Ten stars Yuriko!
The Signature High Tea menu was a mix of traditional and modern dishes. All items are made fresh daily on site.
I am a fan of Bao, so it was great to see this on the menu. The S & P Soft Shell Crab was perfect for the Surfers Paradise and Queensland climate.
The most interesting dish was the Haloumi, Honeycomb, Fig and Aioli. Such a great combination of salty, sweet and refreshing flavours. Loved this combination on my palate.
Scones with Cream and Berries were light and fluffy. The Raspberry Jam was pure berries and delicious.
Petit Four included classics such as Tiramisu and Lemon Curd Tart. The texture was light and fresh with a huge flavour punch.
The Salted Caramel Truffles melted in your mouth. We could have easily ordered a box of these to take home.
We had a look around following foyer of the Hilton Surfers Paradise. There was a lot of impressive art on display by David Hart. Yes, the son of renowned artist, Pro Hart.
If you are in the neighbourhood or planning a trip to Queensland, make sure you add Ms Margot's Bar & Eats High Tea to your itinerary.
Ms Margot's Signature High Tea Menu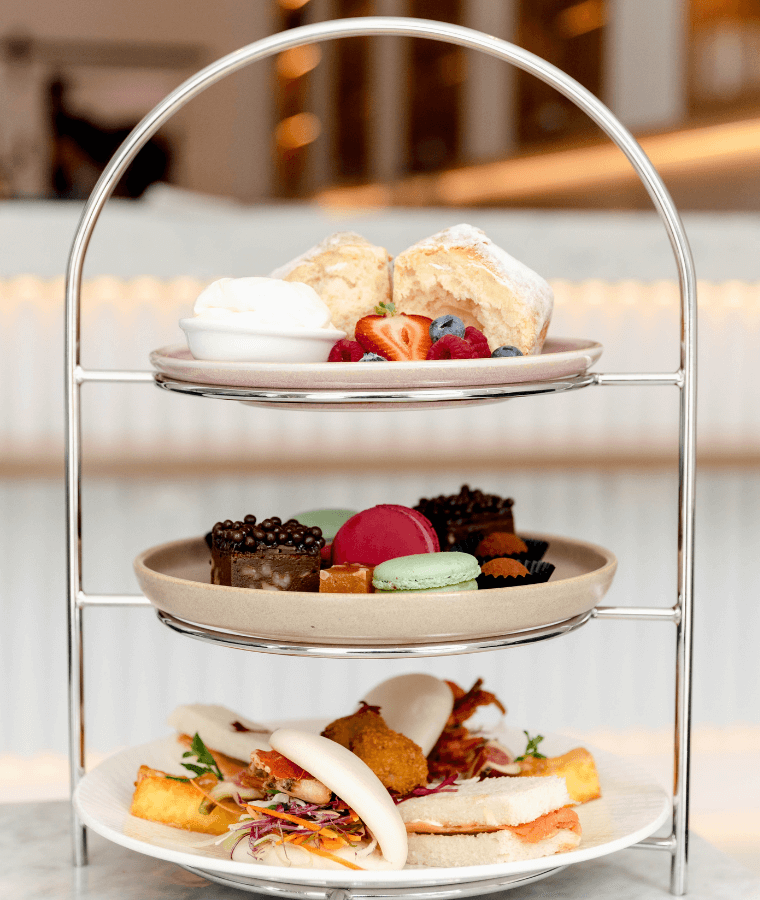 (items may vary)
Sweet:
Scone, Cream & Berries
Macarons (GF)
Petit Cakes
Salted Caramel Truffles
Savoury:
Savoury Haloumi, Honeycomb, Fig & Aioli (GF)
S&P Soft Shell Crab Bao Bun
Pumpkin Arancini (GF)
Smoked Salmon & Cucumber Open Sandwich
Tea and Coffee:
Dilmah Vivid Tea Selection: English Breakfast, Earl Grey, Green, Chamomile, Peppermint, Oolong, Jasmine
Vittoria Barista-made Coffee: Cappuccino, Latte, Flat White, Long Black, Short Macchiato, Long Macchiato, Mocha, Espresso, Piccolo
Chai Latte, Hot Chocolate
High Tea on the Gold Coast – find more experiences
in our High Tea Venue Directory