You'll get a taste of the high life when you take high tea at No35 at the Sofitel Melbourne on Collins.
Billed as "Melbourne's Highest High Tea", No35 is located on level 35 of the Sofitel Melbourne on Collins and while the décor is somewhat dated (think red carpet and lots of marble), the view is seriously impressive.
Floor to ceiling windows have the dual benefit of showcasing expansive views of Melbourne and casting beautiful natural light across the restaurant.
With the Yarra River, Federation Square and Arts Centre as our backdrop, we are offered a glass of French sparkling wine upon arrival and given the choice of several black, green and herbal teas from the Madame Flavour range.
View this post on Instagram
For those inclined, there is also a selection of wines, beers and cocktails.
The restaurant is full and the vibe is chatty, with more than the usual smattering of men.
The high tea itself is served on a traditional three-tier stand, with freshly baked sultana scones served separately, accompanied by generous portions of jam, cream and lemon curd.
It's a very pretty looking offering, with pops of colour from the top tier desserts beckoning.
The savoury portion of the menu is satisfyingly traditional – the chicken with mayo and ham with honey mustard finger sandwiches are done to perfection.
Adding a bit of fun to proceedings is a creamy charred corn with chipotle served in a cone.
Moving up to the warm savouries, those with a spicy palate will appreciate the zing that comes with each taste of the cheesy jalapeño bite – and if you're not a fan of spicy food, start with a small nibble!
If you're looking for something a little tamer, the buttery pastry of the feta, carrot and dill quiche is also a winner. The desserts on top include a variety of traditional high tea elements with a twist – including a rather delightful apple and kiwi opera slice and a marshmallow pop featuring white chocolate.
The classic flavour combination of chocolate and raspberry is used to great effect in the tartlet, and the sultana scones were another nod to classic high tea fare.
But perhaps the most unexpected delight comes from the pianist who keeps the restaurant entertained throughout the entire two-hour seating with an eclectic and fun array of music that ranges from Queen to Elton John and even ABBA.
He also helps those celebrating big events, with many renditions of Happy Birthday and even Mendelssohn's Wedding March for a couple celebrating their wedding anniversary.
Offering up a great views and a great menu, No35 puts the high in high tea. Definitely one to add to the list of must-trys!
No35 High Tea menu: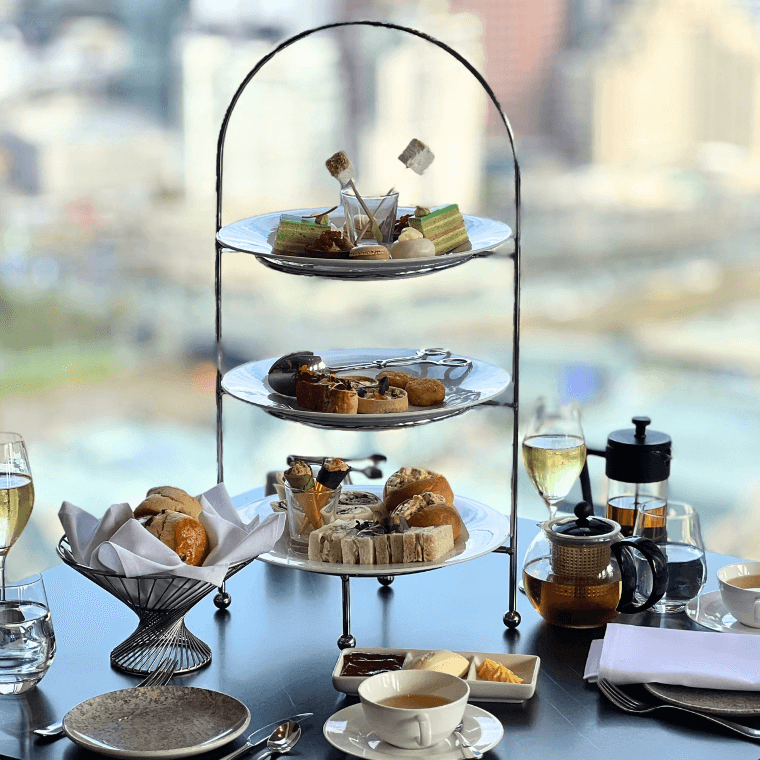 Savoury:
Black pepper crushed egg with kewpie mayonnaise (v)
Charred corn with whipped cream & chipotle (v)
Chicken, celery, toasted pepita seeds & mayonnaise (ndi, h)
Gypsy smoked leg ham with honey mustard (ndi)
Roast beef, horseradish cream & mixed leaf lettuce (ndi)
Feta, carrot & dill quiche (v, h)
Cheesy jalapeño bite (v, h)
Pork & fennel roll with smoked tomato relish
Sweet:
Vanilla, yoghurt & soy caramel entremet (ngi, h)
Veliche Belgian chocolate & raspberry tartlet
Finger lime marshmallow pop (ngi, h)
Apple and kiwi opera (ngi, h, v)
Macaron (cn, ngi, h, v)
Freshly baked sultana scones served with Tahitian Chantilly cream and homemade preserves (h)
High Tea Melbourne – find more experiences
in our High Tea Venue Directory