Wellington has recently been voted the most liveable city in the world and the views from One80°Restaurant and Lounge Bar show why. From the outside the hotel it is pretty nondescript, but take that lift up 7 floors and this wonderful High Tea with marvellous city views are yours.
One80°Restaurant is a hotel restaurant and is largely set to cater for this. However, when High Tea is taken the window tables are laid and the views are used to their best. The focus is on the beautiful Wellington harbour. This High Tea turns a hotel restaurant turned into a beautiful place to enjoy a great selection of food at leisure whilst gazing out at the city and harbour.
On our arrival we were seated and our napkin laid upon our laps, we were given the menu, water and a glass of sparkling wine was poured, a non-alcoholic drink was also offered. The tea is a brand I was not familiar with but excited to try as it uses New Zealand ingredients, the brand was NZ Live. I enjoyed a green tea with Kawakawa named Kakariki Green. This was served in a lovely black Zero Japan teapot and hot water or more tea was offered throughout our dining experience. My companion requested a coffee and was delighted with the coffee art as it was topped with a bear in the foam. That was a lovely touch.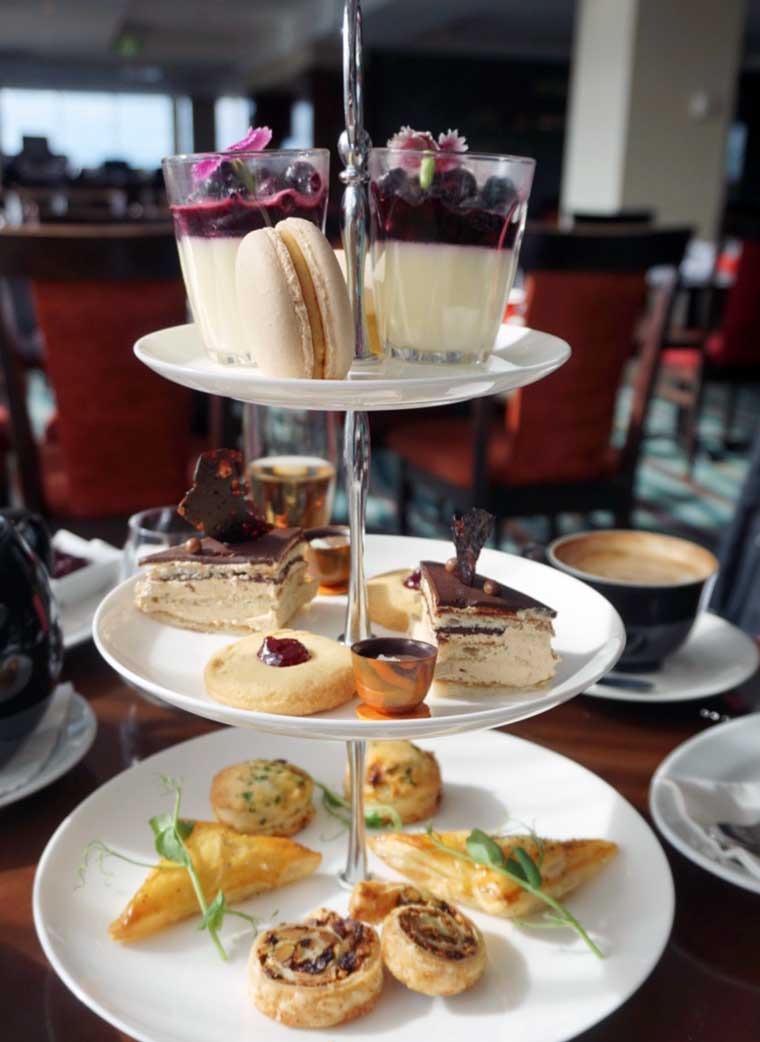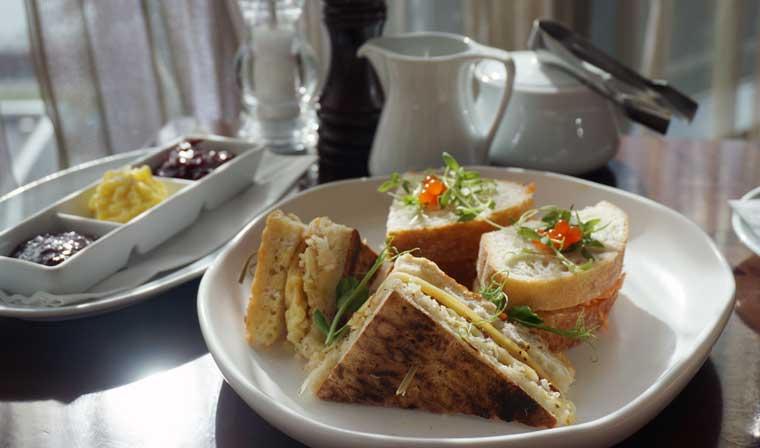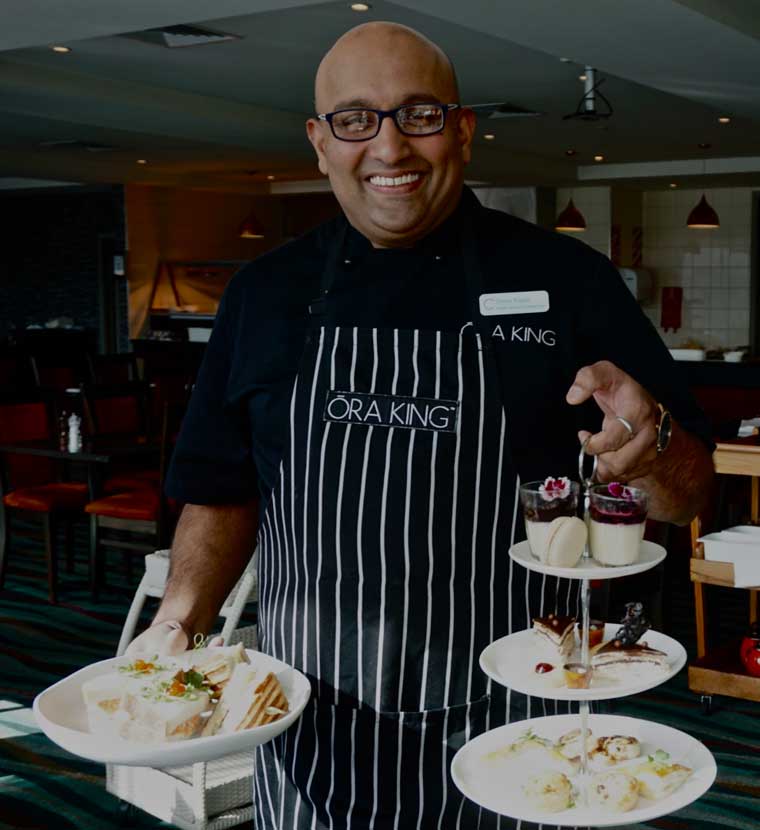 The High Tea was delivered by Executive Chef Chetan Pangam. He originates from India and enjoys 'crafting indigenous flavours of New Zealand with Indian, French and international tastes of the world'. The buffet area of the restaurant was busy with his fellow Chefs freshly assembling the High Teas as One80°Restaurant filled with people. The word certainly seems to have got out about this lovely venue and the excellent food. As time went on the atmosphere was buzzing with happy people and several larger groups were seated.
Chef Chetan explained the High Tea and left us to eat our way through the tower. We started with the delicious sandwiches which were of a size that they were served on a side plate. The fresh white bread served with the delicious Ora King Salmon and chive cream cheese was house made and the kind of bread that I could accidentally eat a whole loaf of, the crust had a perfect crunch and the bread was perfectly fluffy. The Rueben with pastrami from the local supplier Ontrays was also delicious. The sandwiches were the most I have enjoyed a sandwich at a High Tea and we both liked that they were a decent size, in fact everything was of generous portions but not too big. Other savoury delights were a perfectly balanced Pithivier and a nice and cheesy savoury scone which we both enjoyed with the whipped butter and added the side serve of beetroot chutney.
The sweet layers were also delicious and of a high standard. We started with the Cinnamon Palmier which was a great jump to the sweet side. Next the Indian influenced Shrewsbury Jam Cookie was consumed and it was particularly buttery, short and oh so good. Indian flavours were also represented in a very delicious and perfect balanced beautiful Chai Chocolate. The Opera Gateau and the pretty Blueberry, Vanilla and Thyme Verrine were excellent. To finish we had the generously sized and perfect Salted Caramel Macaron.
This High Tea was very impressive and would delight all ages and genders. It is a High Tea I would certainly consider for a family event, out with the girls or even a double date. People were wearing both fancy and everyday clothes and the atmosphere was chatty and happy.
One80° Restaurant High Tea Menu: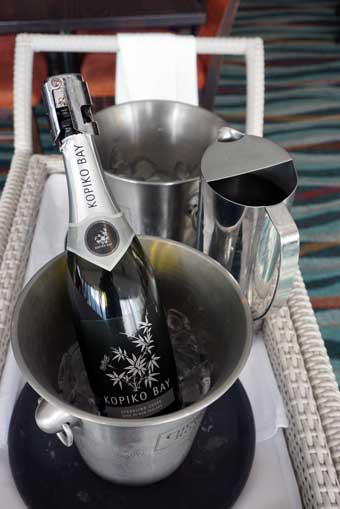 Sandwiches:
Ora King Salmon, chive cream cheese on house baked white bread
Beef pastrami, sauerkraut, cheese on toasted rye Rueben
Savoury:
Savoury scone and whipped butter
Pumpkin basil feta Pithivier
Sweet:
Cinnamon Palmier Shrewsbury jam cookie
Opera gateau
Chai chocolate with sugared mint
Blueberry, vanilla and thyme verrine
Salted caramel macaron