Spring is here and so is the Oxi Tea Room's latest seasonal High Tea menu, Greenhouse.
This venue has earned a reputation for creating unique High Tea experiences, each pushing the boundaries through distinctive flavours, playful presentation and a sense of theatre.
Previous menus include a Vincent van Gogh-inspired fare, celebrating Lunar New Year 2023: Year of the Rabbit, and most recently Escape, a culinary journey to 10 different countries.
Greenhouse, inspired by the fruits and ingredients that typify Spring, is no different. The theme is evident from the get-go, with the industrial-looking space sprouting indoor plants left, right and centre, giving you the impression that you are indeed sitting in a Greenhouse.
It's a small venue, with only 16 seats inside and some alfresco tables to two out front, so bookings are essential.
Pleasingly, this high tea places a strong emphasis on the tea.
In homage to the owners' background, Oxi specialises in premium Kenyan black teas and Taiwanese oolong teas, and also offers a select curation of blends and other teas from Japan and South Africa.
Upon arrival, we are presented with a rather intricate tea matrix that breaks down the 30 teas on offer into tea varieties and tasting notes. To help select the perfect brew, you are invited to take a tea tour at the front counter where you can smell the different tea leaves on offer and ask questions.
Every serving of tea is served two ways – a modern method with a teapresso and a traditional Chinese hand brew. The tea leaves from the hand brew are placed on the table alongside your teaspresso, allowing you to indulge in the aromatic blend prior to it being brewed for your second serving.
Before the main event we start with warm potato bread, burnt butter, dried fruit and mushroom floss. We're encouraged to immerse ourselves in the food and "get our hands dirty" (read: eat with our hands) to get the full Greenhouse experience.
We're also invited to pop our phones under the bowl, which opens a game where you need to unlock clues to work out what order the high tea should be eaten in. But don't fret: if this isn't your vibe, you can also just follow the Greenhouse map on the back of the tea menu.
Then arrives the full Greenhouse high tea menu, served on a long slate.
This Instagrammable menu is a true visual masterpiece that takes you on a whimsical meander around sweet, savoury, tart, salty and unami flavours, with a strong focus on Asian flavour combinations.
Head Pastry Chef Johnny Ping said every Oxi High Tea focused on deconstructing traditional high tea by creating a fusion of different elements and textures.
There are some real standouts – in particular, a Magical Mushroom fashioned to look like a little toadstool, with a soy sauce meringue topped with a mushroom soup foam that melts in your mouth.
There's also a rather magical-looking gold-sprayed kaffir lime leaf served alongside a clear coconut jelly dome that perfectly represents the dessert's name, Morning Dew Drop.
Other honourable mentions go to the very tart lemon-whipped ganache and candied lemon masquerading as a lemon sitting atop some biscuit crumb; and the perfectly formed Black Tea Forest cherry that nailed the cherry to dark chocolate ratio.
The recommended sequencing is a little confusing – with flavours jumping from sweet in one dish to savoury in the next – and some of the items aren't at all what they first seem.
Take the Pungent Pink Tulip, which appears to be a prettily decorated cheesecake but is actually a Rockling fishcake with pickled radish and caviar.
Nevertheless, on the whole this creative menu pushes the boundaries in a fun and interesting way, and Oxi Tea Room is ideal for tea aficionados and those looking for an out-of-the-box high tea experience.
Please note, while the venue caters for halal, vegetarian and nut-free, it does not offer gluten-free, vegan or dairy-free menus at this stage.
Oxi Tea Room: Greenhouse menu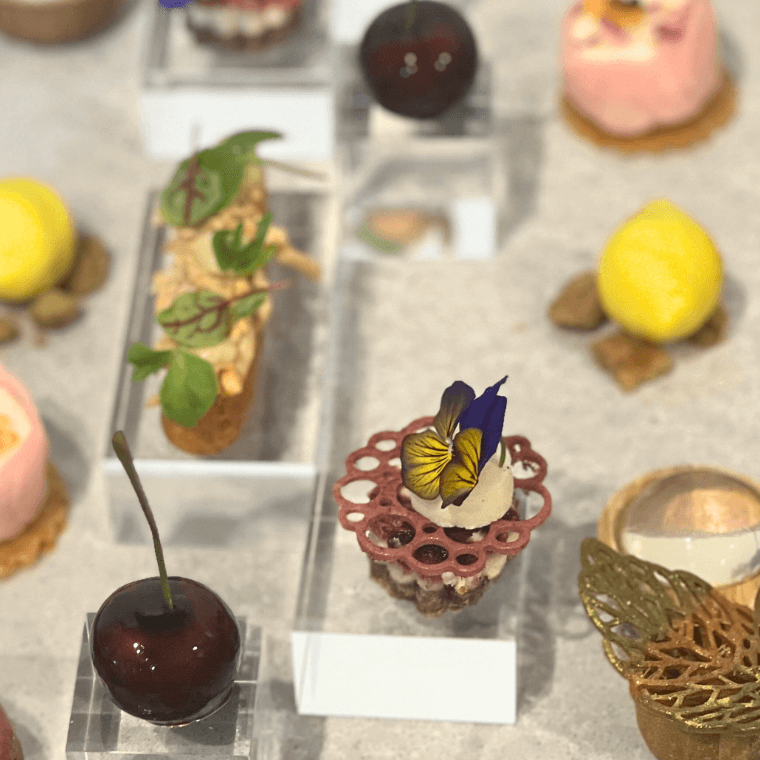 PRE-HARVEST:
Potato bread, burnt butter, dried fruit, mushroom floss
GREENHOUSE MENU:
Chunky Fruit Crate: raspberry and rose shortcake, vanilla chantilly, mixed fruits
Devious Carrot Head: poached fennel, carrot puree, crunchy biscuit
Magical Mushroom: soy sauce meringue, mushroom soup foam, mushroom chips
Black Tea Forest: morello cherry, choc sponge, kericho black tea
Luscious Lemon: lemon whipped ganache, candied lemon, tea tart crumb
Abondoned Burnt Log: torched gougeres, smoked chicken, snow pea
Pungent Pink Tulip: housemade fishcake, caviar, pickled radish, filo pastry
Morning Dew Drop: coconut jelly, kaffir lime leaf, coconut tuile
Oozy Flat Peach: floral sencha mochi, three peach compote (blood, white & flat)
Robust Purple Lotus: tofu cheesecake, blackcurrant biscuit, baked cheesecake
High Tea Melbourne – find more experiences
in our High Tea Venue Directory