It's official – following a string of seasonal high tea services, Pullman on the Park Melbourne is now offering high tea as a year-round experience.
Served just off the lobby at the hotel's restaurant, The Cliveden Bar & Dining, the setting is quite modern and moody with dark wooden floors, smoky mirrors and floor to ceiling windows that, depending on where you're sitting, show views of either Fitzroy Gardens or Jolimont train station.
The Pullman on the Park Melbourne has recently undergone a $40 million renovation and while the interior is impressive – it was, after all, awarded the 2022 Design Inn Award for Hotel of the Year (refurbishment) – the brick façade remains dated.
Inside, it's clear that the Pullman is aiming for a traditional high tea experience, with the set-up including white linen tablecloths and napkins, white Noritake tea ware with scalloped gold trim, a milk jug and bowl full of sugar cubes.
There's also two Beerenberg jam jars sitting on the table that, disappointingly, have already been used for other high tea services. Smaller, single-serve jam pots or jam served in a nice bowl would have been a classier touch here.
We're offered a glass of Chandon Blanc de Blanc on arrival and there are five tea varieties to choose from.
High tea is promptly served on a three-tier stand with buttermilk and raisin scones served to the side and wrapped in a linen napkin to keep them warm.
All the traditional finger sandwich fillings are there – chicken, salmon, egg and cucumber – however, the bread-to-filling ratio is a little off and sits heavily as a starter. The highlight here is the truffle mayonnaise added to the poached chicken sandwich, while the curried egg is also quite good.
The real standouts in this menu are the desserts. Those with a sweet tooth will love the dark chocolate mousse cake (unfortunately the biscuit base is too hard to cut through) and the citrus meringue tart delivers with fresh and tangy flavours.
Pistachio fans will get a kick out of salty pistachio centre hidden in the middle of the cream-filled choux pastry.
At $89 per person (or $109 with free-flowing sparkling), this sits among Melbourne's most expensive high-tea menus, however the experience doesn't quite hit the mark.
Pullman on the Park High Tea Menu: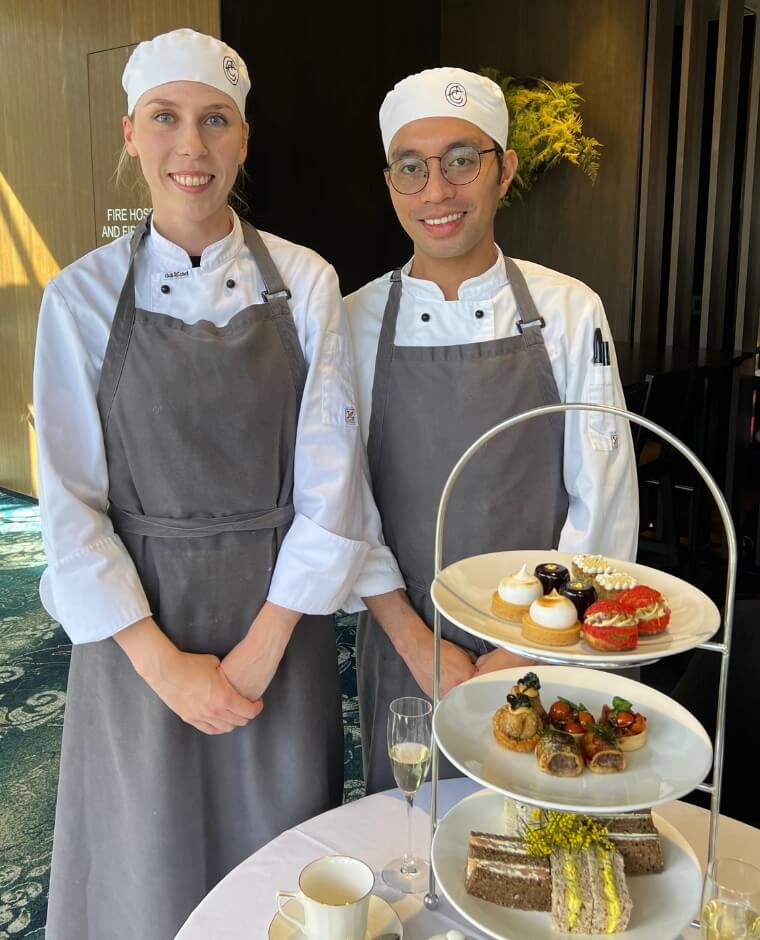 Finger Sandwiches:
Free-range poached chicken, tarragon and truffle mayonnaise on white
Salmon gravlax with citrus crème fraiche on rye
Spiced egg with chive and mayonnaise on multigrain
Whipped cottage cheese and compressed cucumber on rye
Warm Savouries:
Home-made pork and nashi pear sausage roll with bush tomato relish
Confit tomato tart with Mount Zero olives, lemon thyme and aged balsamic glaze
Chicken and corn empanada with chipotle mayonnaise
Sweet Selection:
Citrus meringue tart
Chocolate mousse cake
Choux with pistachio praline and pastry cream
Poppy seed cake with strawberry gum and whipped cream
Freshly Baked Scones:
Homemade buttermilk and raisin scones served with strawberry rose petal preserve, apricot and lavender jam and whipped cream
High Tea Melbourne – find more experiences
in our High Tea Venue Directory