The Queen of Adelaide High Tea takes place in the iconic Early Settler building on Grote Street. It is the perfect setting for this high tea with velvet lounges and chandeliers on display in store.
Owner Carolyn Hardlitschke's attention to detail is outstanding. From the silver napkin rings to the gold cutlery, she doesn't miss a beat. The Queen Adelaide High Tea is classy and classic.
The High Tea started with a glass of pretty, pink lemonade. I had a pot of tea from local tea company the T Bar, who have blended a special Queen of Adelaide tea.
All items are freshly made on the premises. As soon as we took a bite of the ham and cheese croissant, I knew it was made from scratch; so fluffy and buttery. You won't ever buy a store bought one again.
The jelly cake (which looks like a pink lamington) brought back so many childhood memories. I used to call it a butterfly cake because the top of the cake looked like a butterfly. Whatever you call it, it was light, moist and tasty.
The scones were traditional, just like your nanna used to make. The jam was pure fruit and tasted like it was picked straight from the tree.
The chocolate mousse heart washed with gold is a delicate work of art. So fine and melts in your mouth. I could eat these for days!
There were too many items on the menu to mention here, but all of them were fresh and tasty. The servings were generous, and you will leave feeling like a Queen; satisfied and classy.
The Queen of Adelaide High Tea Menu: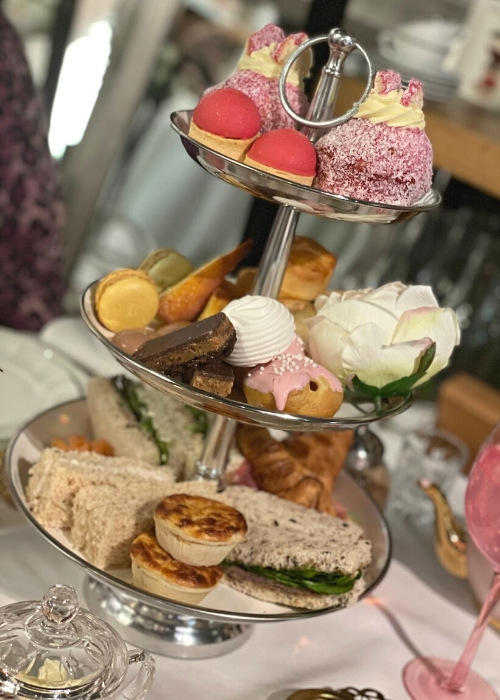 (items may vary)
Savoury:
Ham and Cheese Croissant
Mini Quiche Lorraine
Sandwiches – chicken + lettuce, roast beef + lettuce, tuna + mayonnaise
Salmon and cucumber round
Sweet:
Macarons
Meringue
Crème Puff
Jelly Cake
Orange Cake
Chocolate slice
Mini dome tart
Lemon Tart
Chocolate Mousse Heart
Scones with Jam and Cream
Bottomless coffee and tea
Please advise of any dietary requirements when making your booking.
High Tea in Adelaide – find more experiences
in our High Tea Venue Directory