Situated in Melbourne's unique shopping destination, St. Collins Lane, Runya's Room invites you in to a charming and cultivated glimpse of a 1970's Parisian tea house, with a casual High Tea.
Update: Runya's Room closed in July 2018
Runya's Room plays host to traditional High Tea and a range of Middle Eastern ad European inspired dishes. Tucked away from the bustling city streets of Melbourne, Runya's Room, provides a warm yet relaxed welcome from their team. The champagne high tea is served with Veuve Clicquot, and a pot of Harney & Sons tea or coffee.
Runya's Room exudes elegance with a pressed tin roof, warm pink fittings, and eye-catching window displays, making for an ambient and visually pleasing dining experience. It's premier location in the heart of Melbourne provides the perfect afternoon tea venue to relax and unwind after a long day exploring all of the city's delights. However, its small location means a long walk without a toilet facility being available.
Upon arrival we were sat in an intimate (but ultimately very small) nook with staff ensuring everything was set to perfection (but without linen on the table). We were promptly presented with the traditional High Tea; a three-tier stand showcasing an exotic array of hot and cold canapes on the top tier, a selection of sandwiches in the middle tier, and brightly coloured sweets on the bottom tier, with a side serving of scones with jam and vanilla cream.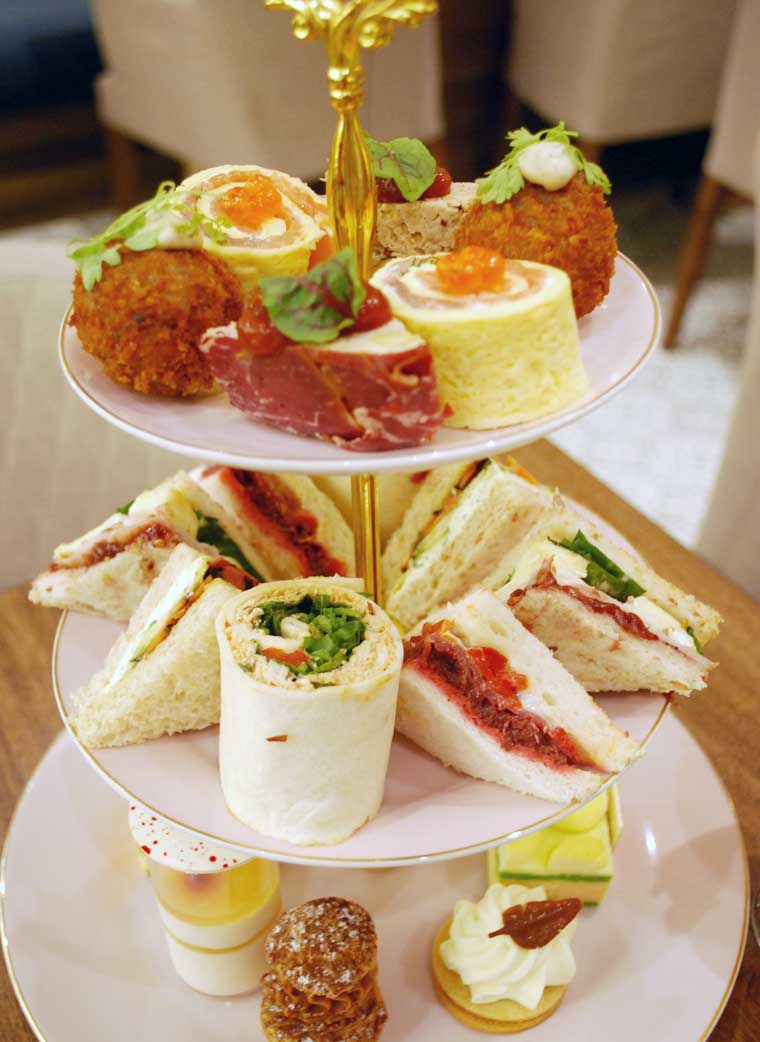 The savoury items were the highlight for us. The semi-dried tomato and mushroom arancini balls were absolutely divine, with a textured crunch on the outside and the soft flavoursome filling, coupled with truffle mayonnaise, they were faultless. The inclusion of both hot and cold canapes ensured variety and certainly caters to different tastes and palettes. The salmon and egg roll with salmon caviar had an unusual texture, but the cold canape was perfectly balanced and a surprising delight.
The middle tier, featuring chargrilled zucchini and carrot sandwiches, and turkey and brie cheese sandwiches, while still nice, was no competition in comparison to the canapes. The chipotle chicken and roquette in roti bread was quirky and had an element of spice, highlighting the Middle Eastern fusion in the menu. All of the sandwiches were a perfect, biteable size, not too much yet not too little. Unfortunately, the bread was not as soft as we would've liked, it was a crusty and didn't have the element of freshness required for them to be excellent.
The final tier, the bottom tier, offered an array of vibrant sweets. Despite, the unusual colour palette of blood peach and pineapple slice (very bright yellow and green), we were excited to indulge. The petit choux Paris breast was the best of the sweet, the cream centre worked perfectly with its chewy crust. However, the other desserts on the tier was where the High Tea fell short. They were nowhere near the calibre of other premier tea rooms in the area. To finish, we had the rose water and date scones and then orange blossom scones, to be served with jam and Chantilly cream. I do wish bigger portions of the jam and cream were served, so that we were both able to enjoy a lot of topping.
The large selection of Harney & Sons premium tea, showcases the diversity of flavours included in the menu. Served on local Cristina Re tea ware, the Supreme Breakfast Black had a comforting taste and was the perfect finish to a beautiful afternoon.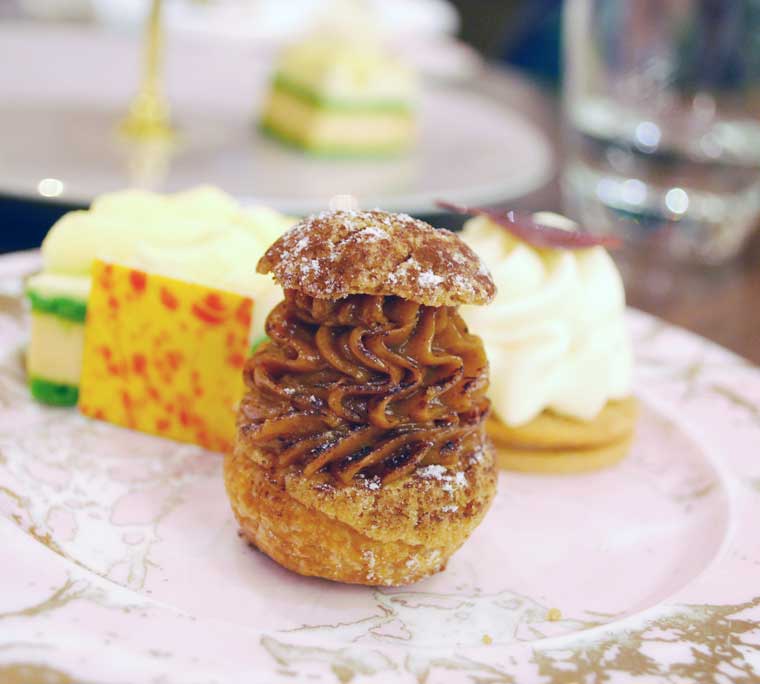 The aura surrounding Runya's Room, is of a casual nature of staff and more of a café feel. Linen on the tables would have been a nice touch to increase the ambience, but the overall feel was pleasant and relatively informal.
Altogether, Runya's Room's high tea was enjoyable and provides an all-inclusive and enjoyable experience for different styles of dining including relaxed. At $75 a person, it is not a great value High Tea but is still a good place to visit for an after-shopping experience. Bookings are not essential, allowing patrons to drop in, however the small nature of the venue means a smaller group would be more suited.
Runya's Room High Tea Menu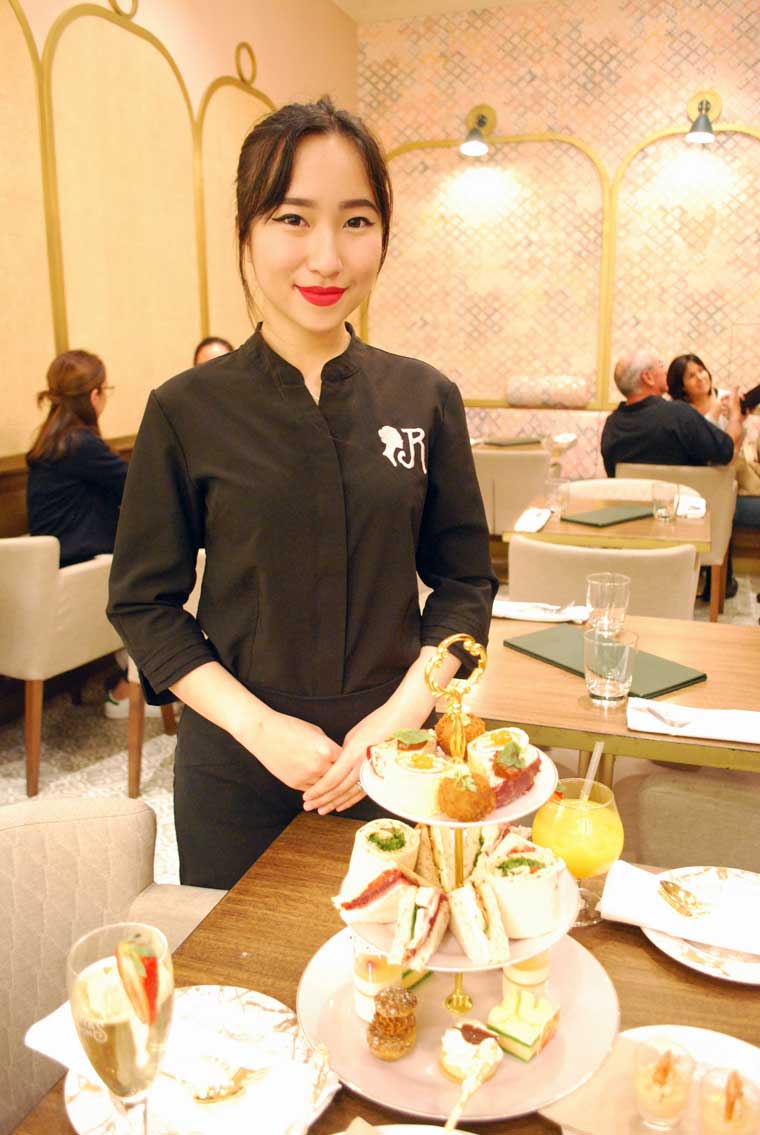 Cold Canapes:
Salmon and egg roll with salmon caviar.
Chicken, pistachio and Pastirma terrine with tomato relish.
Hot Canapes:
Semidried tomato and mushroom arancini balls with truffle mayonnaise.
Chilli and garlic marinated prawn glass with cocktail sauce.
Sandwiches:
Chargrill zucchini and carrots with herb cream cheese in wholemeal bread.
Turkey, brie cheese, cranberry sauce and spinach sandwich on multigrain bread.
Chipotle chicken, mayonnaise and roquette leaves in roti bread.
Pastirma, beetroot relish and roasted peppers sandwich in white bread.
Sweet:
Petit choux paris brest.
Coconut cardamom panacotta with pink grape fruit jelly and black currant (g/f and nut free).
Blood peach and pineapple slice with mint.
Almond short bread with palm sugar caramel, dark chocolate crème brulee & a white coffee whip.
Scones:
Rose water scones and date.
Orange blossom scones with jam and Chantilly cream.
Served with a glass of Veuve Clicquot plus your choice of coffee or Harney & Sons tea.