There's nothing quite like basking in winter sunshine, while sitting on the veranda of a beautifully restored Queenslander. This is one of those perfect Brisbane days. The only thing that could make this even better is high tea.
Spicers Balfour Kitchen & Bar have you covered, serving up a modern twist to the classic afternoon tea, but with enough traditional charm to satisfy the most ardent high tea enthusiasts.
Served on four plates; a three-tiered sweets' stand, as well as a stand alone platter for your savouries. The first thing that struck me was the array of colours popping off our plates. The miniature yellow, pink and orange brioches of chicken and mustard, and roasted capsicum skordalia were quaint and lovely but relatively tame in comparison to their savoury counterparts. The spanner crab tart with avocado mouse, smoked trout bruschetta and pork terrine with pickled onion, were the stars of this show. The pork terrine, which is not something I've been served before as part of a high tea, was particularly pleasing with the pickled onion cutting through the fat of the terrine perfectly.
Next, we enjoyed the scones with Chantilly cream and berry jam. While pleasant, the scones were a little dry and crumbly making it difficult to add your cream and jam without them falling apart. However, this did not stop us from devouring the serving.
Like the savouries, which were unique and elegant, the sweets selection was equally so. We were served some classics like assorted macarons, lemon curd tart and a chocolate bon bon. And the not so classic Portuguese tart and a pate de fruit, which, with its sugared coating, would surely satisfy even the sweetest of tooths. For me, the addition of the Portuguese tart was delightfully pleasing. Having always been a favourite of mine, I'm always placed in a state of happiness whenever I'm given the opportunity to eat one. And yet, I think this is the first time I've seen one on a high tea menu.
While there's certainly lots to be enjoyed about this experience, the atmosphere and beautiful location are its biggest draw card. Less stuffy hotel, more of your trendy inner-city Brisbane. This dining experience is chic and stylish. It screams treat yourself and look good doing it.
And be sure to have a glass of champagne too. Because you on that gorgeous veranda deserves a glass of champagne.
Balfour Signature High Tea Menu: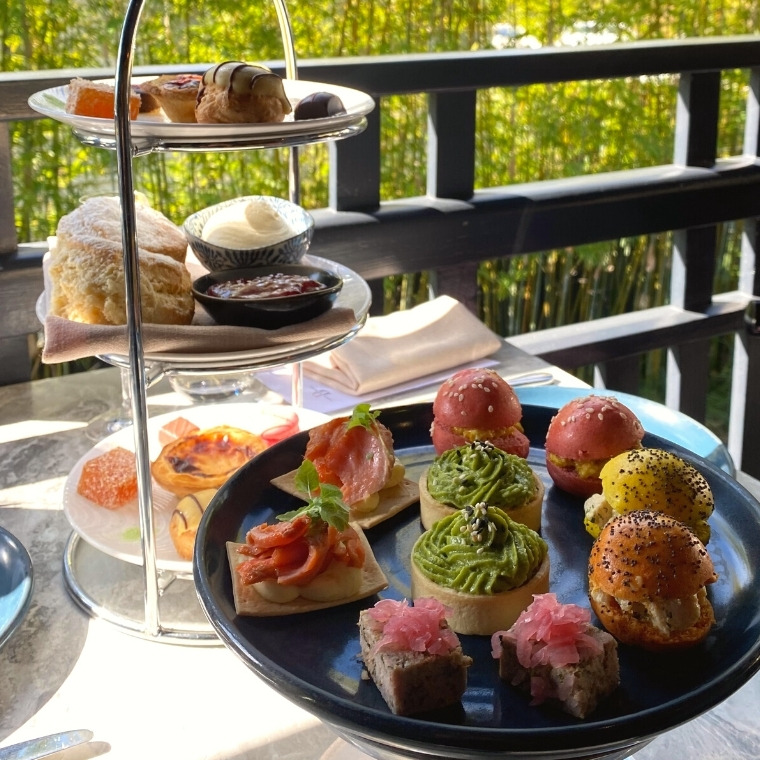 Sweet:
Assorted macaron
Portuguese tart Lemon curd tart
Chocolate bon bon
Pandan cake with pandan glaze
Pate de fruit
Savoury:
Chicken & mustard brioche
Roasted capsicum skordalia brioche
Spanner crab tart with avocado mousse
Smoked trout bruschetta
Pork terrine with pickled onion
Scone:
Balfour freshly baked scone
Chantilly cream
Berry & apple jam
High Tea Brisbane – find more experiences
in our High Tea Venue Directory