Stamford Plaza Brisbane's Spirit of Queensland High Tea is the quintessential sunshine state experience.
Stamford Plaza Brisbane's Spirit of Queensland High Tea is filled with nostalgia and is like a delicious tour of the state, showcasing the best of Queensland on a plate.
Set in the elegant surrounds of the grand hotel lobby, the Spirit of Queensland High Tea is a must-try for locals and visitors alike.
The table is clothed and elegantly set with an arrangement of natives and pineapples setting the scene for the Queensland themed High Tea. We're welcomed with a glass of Sirromet NV Sweet Rosé, however I'd recommend you bypass the Queensland drop and upgrade to the NV Piper-Heidsieck Brut Champagne for a greater sense of occasion.
Executive Pastry Chef, Eilidh Fitzsimmons has created High Tea with a local twist inspired by the flavours of the Sunshine State.
The High Tea extravaganza starts with Stamford's signature curry puff, apparently these flavoursome pastries are served at all Stamford hotels and is a recipe handed down for generations, tracing its roots back to Singapore however the strong flavours are at odds with the subtle notes of the Queensland High Tea to follow.
The savoury selection includes a dainty Daintree barramundi, leek and dill mini quiche, a traditional cucumber finger sandwich and the simplicity of the Champagne ham and seeded mustard sandwich was executed to perfection.
Scone lovers will rejoice in a selection of three flavours – Stanthorpe cider apple and raisin, Queensland blue pumpkin and wait for it…Cheese and vegemite! It may sound unexpected, but the nostalgic flavours of the vegemite work perfectly in these savoury delights.
The sweet temptations tier, however, is where Chef Fitzsimmons really shines. The showstopper is most certainly the 'Essence of Queensland', initially created for Queen Elizabeth's 2011 visit to Brisbane, Stamford Plaza was invited to serve afternoon tea on board the official boat which ferried the Queen down the Brisbane River. In recognition of the Queen's visit to Brisbane and a tribute to Queensland and the wonderful produce available, the Essence of Queensland was created.
The Essence of Queensland is a complicated eight layered tropical delice (gateau) featuring Innisfail bananas, Bundaberg rum, Bowen mangoes, Sunshine Coast finger limes & golden raspberries and Mareeba pineapples. Now a permanent fixture on the Lobby High Tea menu along with other superb Queensland inspired treats, all of which are prepared onsite by Chef Fitzsimmons and her team of international pastry chefs.
In an industry that is known for its transient nature, incredibly Eilidh Fitzsimmons is celebrating 17 loyal years at Stamford Plaza Brisbane, having joined in 2003. Eilidh previously trained in the UK at the prestigious Mayfair Hotel and studied at the highly-regarded Westminster College and started her career in her homeland of Scotland where she has fond memories of her Granny Mary MacKinnon who loved to bake scones for family and friends every day of her life, inspiring a young Eilidh.
Brisbane locals will feel nostalgic for the 'Day at the Ekka' a deconstructed strawberry sundae served in a glass, a nod to the famed strawberry sundae served annually at Brisbane's show. We love a little sparkle on a High Tea stand and the Redland Bay Tart featuring local berries encrusted with edible glitter is a dazzling little morsel.
On our visit, the lobby was filled with guests celebrating birthdays and baby showers and the formal setting is perfect for both couples and groups.
With prior notice, the Stamford chefs happily handle dietary requirements with ease, even offering a dedicated "Guilt Free High Tea" where all items are low in saturated fat and low in sugar for those wanting a healthier form of indulgence.
Included in the High Tea experience is a selection of loose-leaf teas including Green Tea with Jasmine flowers, Rose with French vanilla and Pomegranate and Mint and coffee on request.
High Tea at Stamford Plaza Brisbane is a trip down memory lane for locals and allows visitors to taste Queensland on a plate.
Queensland High Tea Sample Menu: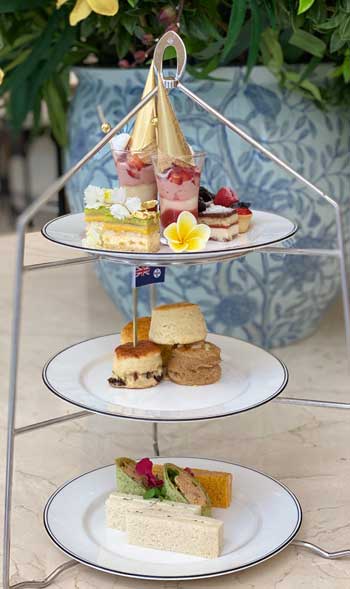 The Savoury Side:
Petite Daintree barramundi, leek and dill quiche
Classic cucumber finger sandwich
Mt Cotton chicken, sundried tomato and mayonnaise mini wrap
Champagne ham and seeded mustard wrap
Stamford signature curry puff
Sweet Temptations:
The Lord Lamington
A Day at the Ekka Sundae,
Essence of Queensland layered entremet
Redland Bay Berry Tart
Scones:
Stanthorpe cider apple and raisin,
Queensland blue pumpkin
Cheese and vegemite
(sweet scones served with Maleny dairy cream)
A selection of champagne and wines complements the menu perfectly, including some fine Queensland selections from Sirromet Wines.