Stamford Plaza Brisbane provides a top-notch classical hotel high tea experience with standout scones and great service.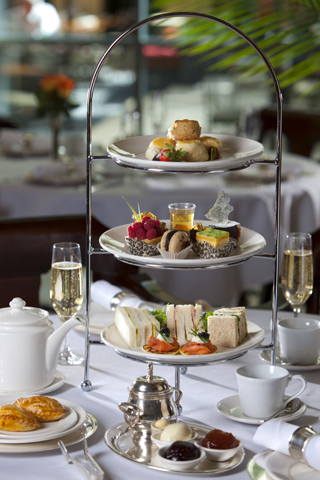 It's late afternoon and I make my way through Brisbane's centre to the city's latest high tea venue. The Stamford Plaza Brisbane has only been reopened for a few months following severe damage in the Queensland floods but you wouldn't notice. After a $20 million renovation, business is taking place as usual and everything seems as elegant and perfectly poised as it has been for years.
Upon entering the marbled-clad Lobby, I'm greeted with stunning floral bouquets and drifty sounds from a strings-wielding musical ensemble. Inspired by the Peninsula Hotel in Hong Kong, the Stamford takes cue from a colonial past and offers a high tea service fit even for the Queen. Yes, I'm not pulling out the standard idioms – the Stamford actually served high tea to Her Highness during the royal visit to Australia last year.
I meet my friend who's a fellow writer and now author, and we select the mid-range high tea complete with a glass of sparkling. At $45 a head, we enjoy delicate salmon blinis and non-greasy chicken curry puffs to start. We then enjoy the obligatory double serving of scones, but this time not-too overwhelming, as they are petite in size and varied. I spoil myself with the Valrhona white chocolate variety topped with copious amounts of fresh, homemade preserves.
Our knowledgeable and enthusiastic host Leah offers suggestions on which of the Dilmah loose-leaf teas should accompany each bite. We enjoy Green Tea and Jasmine as well as a personal favourite, Rose with French vanilla. A bespoke selection of cakes and pastries leaves us well and truly full. The Essence of Queensland is a Stamford signature and should be sampled by all visitors. I devoured the carrot cake and will be going back for more of the butterscotch mousse.
 Stamford Plaza BrisbaneAfternoonTea Menu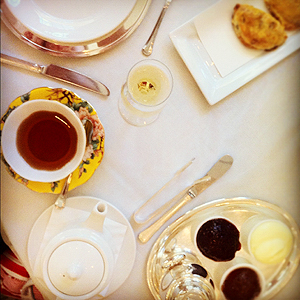 Honey roasted leg ham, seeded Dijon mustard sandwich
Poached chicken and roquette on wholemeal loaf sandwich
Cream cheese and cucumber with a hint of lime sandwich
Smoked Salmon and potato blini, caviar and crème fraiche
Handmade Stamford curry puff
Freshly Baked Scones: Buttermilk, Stanthorpe apple, date and nutmeg and Old fashioned treacle and valrhona white chocolate
Boutique preserves and Meander Valley double cream
Sweet treats: A bespoke selection of delicate cakes and pastries, including Stamford Plaza's Signature Essence of Queensland
Overall, the Stamford Plaza provides a top-notch classical hotel high tea experience with standout scones and great service.
The Stamford also offers a Morning Tea served with a view of the Brisbane River, please check the website for more information. Groups of up to 30 people can be catered for in the Lobby.