Located along the banks of the Yarra River and a stone's throw away from Melbourne's CBD, the Studley Park Boathouse is Melbourne's oldest operating boathouse.
Updated 2023: Studley Park Boathouse no longer serves high tea.
Having first opened in 1864, this wooden boathouse has been meticulously restored and now houses a restaurant, a cafe, kiosk and boat hire.
On Sundays the restaurant offers two high tea sittings – at 12pm and 2.30pm respectively – and on this particular Sunday the High Tea Society is seated on the upstairs deck overlooking the Yarra while families take to the water in rowboats and canoes, and ducks and geese bask in the warm summer sun.
The Studley Park Boathouse is currently also serving high tea in its new garden oasis The Summer Garden, a charming cluster of flower-adorned gazebos sitting on the banks of the Yarra decorated with park benches and boho furnishings.
The Summer Garden is a great location for those wanting to Instagram their experience and is ideal for bridal showers, baby showers and any other celebration.
Back up on the deck, where the tables are covered with white linen tablecloths and patterned Maxwell & Williams teaware, our high tea arrives.
The menu, served on a traditional three-tier cake stand with the scones served on a side plate, feature an interesting mix of classic high tea elements – think cucumber and cream cheese sandwiches, opera cake and macaroons – and classic Australian fare, including lamingtons, caramel slice and an iced carrot and walnut cake.
It's a menu that chef Anjur Bhasin changes up depending on seasonality and personal preference, with some savouries and petit fours perennial offerings and others changing on a regular basis.
Chaf Bhasin's personal favourite on this menu, a creamy lobster and prawn roll topped with caviar pearls and dill, is easily the standout dish.
Special mentions also go out to the fresh cream cheese and cucumber sandwich and the pork and apple panini.
On the sweet side of things, the opera cake is deliciously rich and the gold-covered coffee bean on top adds a luxe touch to this dessert.
The caramel slice is delightful, as is the lamington.
Due to the generous portions of this menu we found it impossible to finish everything that was on offer, but were pleased with everything that we tried.
At $49 per person with unlimited tea and coffee, this reasonably-priced high tea is great for those interested in good food, a good view, and perhaps a leisurely boat ride along the Yarra.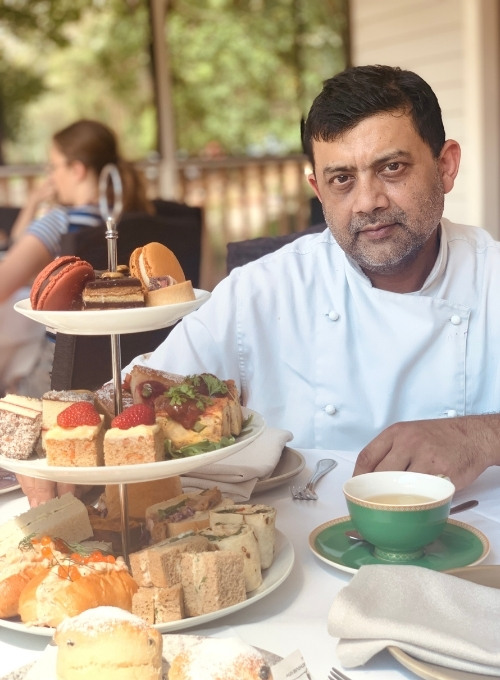 Studley Park Boathouse High Tea Menu:
Lobster and prawn roll
Pork and apple panini with rocket
Sweet chilli and cheese wrap
Tuna salad and tartare sandwich on rye
Classic cream cheese, dill and cucumber ribbon sandwich
Croque monsieur sandwich with ham, grain mustard and Swiss cheese
Caramel slice
Opera cake
Mini tarts
Macarons
Iced carrot and walnut cake
Vegetable frittata with tomato chutney
Lamingtons
Glazed danish
Raisin scones with homemade berry conserve and whipped chantilly cream
Gluten free and vegan options available, please advise at time of booking.
High Tea Melbourne – find more experiences
in our High Tea Venue Directory