High Tea at Teavine House makes a divine outing in the Gold Coast hinterland, ideal for group gatherings and special occasions.
Update April 2023: Teavine has closed
Step away from the everyday and immerse yourself in the serene setting, sprawling lawns and enchanting garden courtyard at Teavine House. Inspired by the romance and traditions of provincial France, Teavine House specialises in traditional high tea, group gatherings and special occasions.
Since 2011, Teavine House has been welcoming guests to its picturesque venue in Tallebudgera Valley on the Gold Coast, providing the perfect setting for countless treasured memories for visitors.
On arrival, Teavine's Manager Bhamini, seats us on the deck and shares her passion and knowledge about tea and tea service, having recently introduced a premium range of teas to the menu.
Usually we love a glass of bubbles with High Tea, however we quickly discover Teavine House isn't licensed, but you're welcome to bring your own wine (no corkage), which is great news if you've planned ahead and an affordable option for group gatherings.
Traditional High Tea is served with a sense of ceremony at Teavine House, with the staff ringing a bell as they deliver tiers of petite sweets and savoury treats to delighted guests.
The vintage three-tiered high tea stand arrives at our table overflowing with goodies and we start with the savoury selection.
The lower tier has a generous selection of warm savoury items including croissant with ham and cheese, mini quiche, Arrancini ball and carmelised onion tart with blue vein cheese. On our visit, the curry pastry while delicious overpowered the delicate flavours to follow. The sandwich selection included pinwheel with smoked salmon, cream cheese & lettuce, traditional cucumber and a delightful and delicate chicken salad and mayonnaise.
Next up, we dive into the top layer of scones. The large scones were the standout of the day and were served with strawberry jam and fresh Chantilly cream. Perfectly cooked with a crunchy outer layer while soft and fluffy on the inside. Our table devoured the scones while debating the age-old question jam then cream or cream then jam?
Save room for the sweet selection where you can expect such items as sticky date slice with roasted coconut, lemon and Italian meringue tart, wildberry cheesecake slice and a Japanese green tea matcha mousse.
All high tea items are created in-house by a team of chefs lead by Chilean Chef Cesar Cayo. While studying in Chile for a degree in Environmental Engineering, Cayo worked in kitchens and developed a passion for cookery. Combining his love of cooking and travelling, Cayo moved to Australia in early 2019 he now enjoys creating savoury and sweet foods in a fast-paced and busy environment.
With prior notice, Teavine's chefs will happily cater to dietary requirements such as vegan, vegetarian, dairy free, gluten free, nut-free and various allergies and combinations of dietary restrictions to provide creative options.
Tea and coffee is included in your High Tea experience and Teavine offer a selection of teas sourced locally and internationally. The recently introduced premium range includes a selection from India, China and Taiwan. We opted for a Coconut Black Tea from Sri Lanka whose subtle coconut flavours blended beautifully with the sweet treats.
Tea is served in an eclectic collection of vintage teaware, collected over the years by the owner Sonia including her large collection of Royal Doulton Old Country Roses.
Teavine House is a favourite venue for weddings, baby showers, bridal showers, birthdays and other special occasions or a delightful day trip from Brisbane and surrounds.
Teavine House Sample High Tea menu: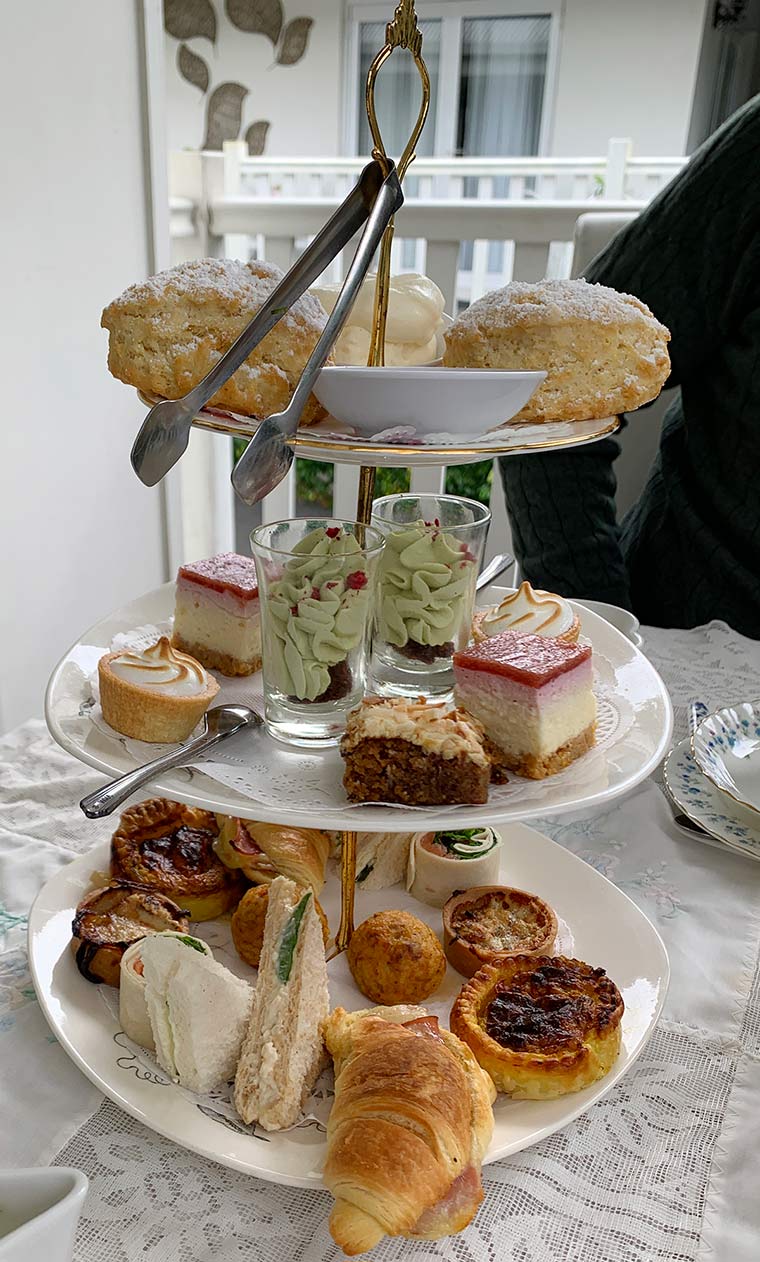 Sweet cakes and slices:
Sticky date slice with roasted coconut
Chocolate brownie with freeze-dried raspberries on topLemon and Italian meringue tart
Japanese green tea matcha mousse with a chocolate base
Wildberry cheesecake slice
Two large scones, served with jam containing a high fruit content of strawberries or raspberries, and fresh Chantilly cream
Warm savoury finger foods:
Carmelised onion tart with blue vein cheese
Arrancini ball with sundried tomato, pesto and parmesan cheese
Mini quiche with mixed vegetables and cherry tomatoes
Croissant with ham and cheese
Sandwich selection
Cucumber, cream cheese and chives
Chicken with salad and mayonnaise
Pinwheel with smoked salmon, cream cheese & lettuce
With artisan tea or speciality coffee.
High Tea Gold Coast – find more experiences
in our High Tea Venue Directory