High Tea at voco Gold Coast is a modern remake on traditional High Tea, featuring sandwiches garnished with waves or prosciutto and glitter-encrusted desserts, it's a fitting homage to the glitter strip locale.
Visitors flock to the Gold Coast for its laid-back, endless summer vibe, leaving behind formality and pretention, so it stands to reason that voco Gold Coast's high tea offering is similarly modern and relaxed.
Voco Gold Coast (formerly the Watermark Hotel) had the prestigious honour of being the first voco hotel in the world, launching a new contemporary brand for global hotel chain IHG. The name voco is inspired by the Latin term meaning 'to invite' and the modern lifestyle brand invites equally modern professionals and leisure-seekers, with a strong focus on sustainability and vibrancy to stay and play at voco Gold Coast.
This playful ethos is carried through to their dining offerings at The Social House where High Tea is served.
There's no traditional high tea stand here, instead tasty morsels are displayed rustically over various layers in a purely organic way, creating a kind of personal buffet station if you will.
There is no set menu; instead you're presented with a chef's selection of sandwiches, pastries and tarts, which change weekly. Personally, I prefer to peruse a menu and refer back throughout the experience as you taste to help decipher every delicious morsel, but let's just go with the GC flow shall we?
The first sleek tray of sandwiches arrives with not a cucumber sandwich in sight. The savoury selection included chicken, rocket and sundried tomato sandwiches, salmon & cream cheese brioche and prosciutto and avocado crostini. All three were made fresh to order, with the finest ingredients and was a quality start to the high tea experience.
Next we moved on to the plate of scones, a generous selection of plain and white chocolate scones served with homemade clotted cream and strawberry jam. Now, we don't see white chocolate scones too often for afternoon tea, but I'm here to tell you it's a winning combination!
With great excitement we progressed to the sweet selection, a collection of treats bursting with colour and fun. Today's selection included a chocolate tart topped with curls of chocolate, walnut fancier, lime macaron with honeycomb, berries and cream and last but not least apple and custard roulade. The sweet selection was all perfectly balanced, with no one dessert being too sweet.
The honeycomb is made from honey harvested from voco's very own rooftop beehives. Over 150,000 European honeybees forage in the surrounding parklands and gardens for pollen to produce voco's honey, which features Eucalyptus notes for true Queensland flavour.
Adding a little dazzle to dessert and in keeping with the glitter strip locale was the discovery of edible glitter on the raspberries in the berries and cream dish. The chocolate mousse was also a triumph, escalating this simple dish to new heights.
Head Pastry Chef Grant Turner confirms the High Tea menu changes weekly and the team keep it contemporary and fresh, changing with the seasons. They steer away from the traditional tiered setup and in-keeping with the Social House vibe, offer High Tea with a modern twist.
With prior notice, the voco chefs happily handle dietary requirements with ease, offering gluten free and vegetarian options. "Dietary requirements are very much the norm now and we cater for just about everything!" says Turner.
Tea and coffee is included in your High Tea experience and voco offer a selection of La Maison Douce teas including Earl Grey, English Breakfast and more plus strong coffee if you prefer.
High Tea at voco Gold Coast is the perfect treat for a special occasion, bridal shower or social gathering. Enjoy the high-life with High Tea re-imagined with contemporary flair at voco Gold Coast.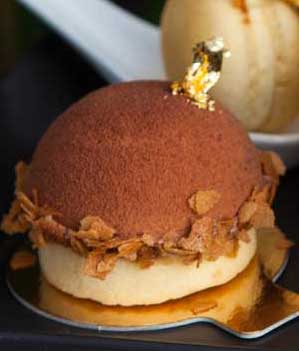 Voco Gold Coast High Tea menu:
Buttermilk scones & treacle white chocolate scones with double cream & house-made raspberry jam
House Brioche with smoked salmon & cream cheese
Chicken and roquette
Bruschetta of avocado & prosciutto
Queensland strawberries & cream
Honeycomb Macaron
Oreo & Baileys gateaux
White chocolate & banana express gateaux
Financier with lavender cream