The W Brisbane has done it again, delivering another superb afternoon tea that makes the Sunshine State proud.
With locally sourced ingredients, it was designed to encapsulate all things quintessentially Queensland. Telling the story of stormy Queensland days to long sunny days at the beach and golden sunsets, the Sunshine State high tea is one to tick off your Brisbane bucket list.
Beginning with a refreshing clarified pina colada cocktail made with Milton Silver Rum and garnished with gold dust and coconut shavings. This drink is a fun and delicious accompaniment to the savoury selection on offer, with five options to tickle your palette, each offering unique flavours and interesting ingredients.
My favourites included the Yeppoon spanner crab on rye, topped with punchy wakame. This was a real treat – not just the combination of flavours but texturally as well. I was also pleasantly surprised by the Toowoomba free range egg sandwich with confit garlic and aged cheddar. On the plate, this was probably the simplest in presentation, but it did not hold back on flavour. I particularly enjoyed the way the saltiness of the aged cheddar cut through the creaminess of the egg. While I was looking forward to the Townsville farmed lobster on brioche, which was deliciously meaty, it was outshined by the smoked duck mousse in the most delicious short crust pastry I have ever eaten. It was so buttery you could be forgiven for thinking you were eating a savoury dessert and the flavour combination with the sumac was perfectly balanced.
Next, we delighted in the raspberry and cranberry scones, which had a denser cake like texture but paired well with cream and homemade red fruit jam.
The sweet selection on the top tier is where the story is really told, kicking off an adventure for your tastebuds and imagination. The salted caramel mousse takes inspiration from endless days spent by the beach, fine golden sand, colourful coral and vibrant aquatic, the chocolate base is filled with macadamia and salted caramel mousse, topped with sand chocolate velvet spray, marzipan pearls and a chocolate seashell.
The aptly named exotic sunset marshmallow tart celebrates vivid Brisbane sunsets. The passionfruit marshmallow is cocooned with colourful shards of white chocolate designed to encapsulate the sun within.
Overall, this high tea is a delightful experience in what is fast becoming one of Brisbane's favourite hotels. High tea at the W Brisbane is always a treat and with regularly well-themed menus, they keep you coming back for more.
High Tea at the W Brisbane Menu: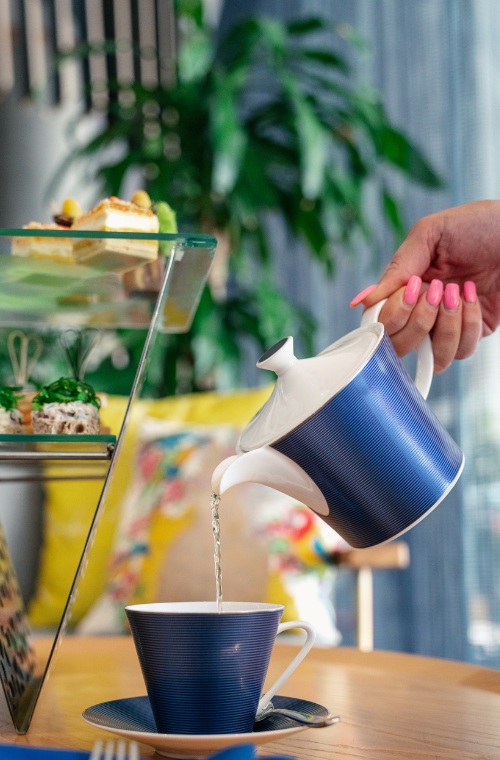 Savoury:
Yeppoon Spanner Crab, Wakame on Rye Bun (S, GFO)
Slow Cooked Lamb Pie, Short Crust, Red Wine Shiraz Sauce
Toowoomba Free Range Egg Sandwich, Confit Garlic, Soft White Bread, Aged Cheddar (GFO)
Smoked Duck Mousse, Cognac, Short Crust Pastry, Sumac (GFO)
Townsville Farmed Lobster on Brioche Bun, Cos Lettuce, Heirloom Tomatoes (S, GFO)
Sweets:
Salted Caramel Mousse, Chocolate & Macadamia Sand Jewel (GF, N)
Exotic Sunset Marshmallow Tart (GF)
Native Spice Infused Earl Grey Mousse, Kalamansi, Rosella (GF)
Queensland Rum & Banana Cake, Crunchy Pecans, Edible Moss (GF, N)
Raspberry & Cranberry Scones, Cream, Red Fruit Homemade Jam (GFO)
Queensland Puzzle Pieces on Belgian White Chocolate (GF)
High Tea Brisbane – find more experiences
in our High Tea Venue Directory