There's a high cheese to die for at Perth Crown's La Vie.
The first thing I noticed when I walked in was the plush red décor which perfectly matched the dulcet tones of Frank Sinatra playing in the background. Once escorted to my seat by the attentive, Maegan it wasn't long before I was presented with a champagne flight featuring four different bubbles; Chandon Brut, Ruinart Blanc de Blanc, Moët & Chandon Impérial Rosé and Veuve Clicquot Rich. To get the most out of every single drop it is a good idea to drink your tipples in order from left to right so each marries perfectly with the food.
The four-tiered tower with a difference then arrived which presented the cheese, accompanying nibbles and desserts to perfection.
I started at the bottom with the delectable baked Camembert fondue studded with rosemary and garlic, served with honey and an assortment of bread,crackers and Lavosh (flatbread). Trust me it tasted even better than it sounds. I could eat it with a spoon and may have at one point. This was hands down the best savoury of the day but that certainly didn't take anything away from the rest of the cheeses and savouries which were laid out as a grazing board over two tiers.
There was brie layered with fine herbs, walnut and maple, Warrnambool Heritage Cheddar, blue cheese and goat's cheese. To bring out the best in these cheeses there was also honey toasted pumpkin seed and apricot tarts, muscatels, quince jelly and fresh pears, plus thinly shaved prosciutto, coppa, cornichons, olives, rocket leaves and sun blushed tomatoes.
With a belly full of the best grazing board and champagne I've had in living memory I had just enough room for my final glass of champagne, the highly popular (and with good reason) Veuve and the three mouth-watering desserts on the top tier. I started with another winner, the sweet crust cannoli filled with ricotta cheese, vanilla cream and pistachio crumble which crumbled in my mouth before revealing the delicious ricotta and vanilla cream filling. Honey made another appearance, this time in a cheesecake and it certainly didn't disappoint, so creamy. I rounded off the afternoon perfectly with the house made slithers of white and dark chocolate nut fruit.
Everything from the décor, to the service and the menu was top notch. Don't be fooled into thinking it's not enough food, its quite the opposite and the champagne's pair perfectly with the food.
For an afternoon of top quality champagne's, food and decadence you can't go past La Vie's high cheese.
Packages start from $40 and go up to $70 per person for the champagne pairing experience which I highly recommend. Their high cheese is available Thursday to Sunday from 3pm to 6pm, book now for an experience like no other!
High Cheese Menu: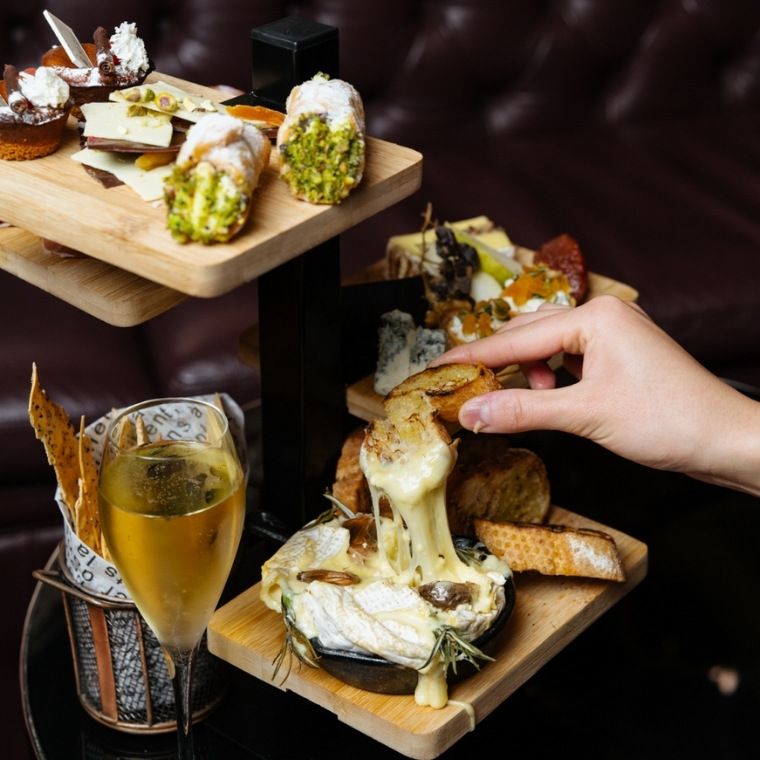 Baked Camembert Fondue Studded with
Rosemary & Garlic, served with Honey
Assortment of Bread, Crackers & Lavosh
Brie layered with Fine Herbs, Walnut & Maple
Warrnambool Heritage Cheddar & Blue Cheese
Goat's Cheese, Honey Toasted Pumpkin Seed & Apricot Tarts
Muscatels, Quince Jelly & Fresh Pears
Thinly Shaved Prosciutto & Coppa
Cornichons, Olives, Rocket Leaves & Sun Blushed Tomatoes
Sweet Crust Cannoli filled with Ricotta Cheese,
Vanilla Cream & Pistachio Crumble
White & Dark Chocolate Nut Fruit
Burnt Honey Cheese Cake