Nestled between lush pastures where woolly Merinos graze and red cockatoos screech overhead is a sweet Parisian surprise.
At Maison LASSAILLE there's a passionate pâtissier with a master's touch for macarons and petit gateau who made his way from Paris' 1st arrondissement to Metricup and the Margaret River Region's pastures and vineyards.
Romain Lassiaille moved here six years ago, chasing the sunshine, the unspoilt coastline and space.
Initially working his magic at the popular Pullman Bunker Bay overlooking the turquoise Indian Ocean, Romain has realised a dream of having his own venue along with business partner Romain Bouthier.
Since opening earlier in 2022, Maison LASSIALLE has provided visitors with decadent delicate desserts, colossal celebration cakes and now Parisian High Tea, with a salut to Western Australia's south west.
I asked Romain what makes a high tea Parisian. "Instead of using clotted cream for the scones, for example, I use Chantilly. I include madeleines and some macaron of course! There is always a French touch."
Add foie gras, choux pastry, gruyere cheese and brioche and you'll be transported from Margs to Montmartre.
There's no doubt the decadent selection of high tea treats is made by a dessert MasterChef. Pastry is melt-in-the-mouth, egg sandwiches hit a new high with sweet brioche and gold leaf, quiche is drizzled with white truffle oil and scones are served with vanilla chantilly and crème fraiche.
But this is no pretentious Paris salon, it's actually relaxed and friendly. Décor is downplayed and homey and looks to be evolving as the business grows. Vintage china and sunshine yellow roses decorate the table while cheery French sixties pop plays on a turntable.
Savoury and sweet are perfectly balanced, as are light and intense flavour. The classics are elevated – gravalax smoked salmon with lemon cream is served on a crunchy deep fried flower-shaped waffle, and choux pastry is filled with foie gras cream instead of custard.
A delicate pannacotta is decorated with fresh raspberry and baby marshmallow. A lemon caramel jaconde sponge includes a mousse made with thyme from the garden. Morsels are elegantly decorated with edible flowers including native Geraldton Wax.
Some of the world's best creative talent is attracted to this beautiful part of the world. Romain is supported by chef Eliza Thomas who is UK Michelin trained and has worked for five years with the inimitable Maggie Beer, creating recipes for the Great Australian Bake Off and her aged care food and education programs.
Romain himself has worked in Michelin star restaurants in Paris and the Gstaad Palace in Switzerland where he was Head Chef and honed his chocolate skills.
Dairy free and vegetarian high teas can also be created. We sampled a vegan pavlova made with chickpea and coconut cream with fresh fruit. It was divine. A pretty garden is also open for dining where your pampered French poodle or backyard 'bitsa' is also welcome.
There's a wonderful selection of desserts, cakes, pastries, biscuits and macarons, which will be beautifully packaged to take home, as well as gourmet pates, cheeses, jams and condiments for your favourite Francophile.
Merci beaucoup Maison LASSAILLE.
Maison LASSAILLE High Tea Menu: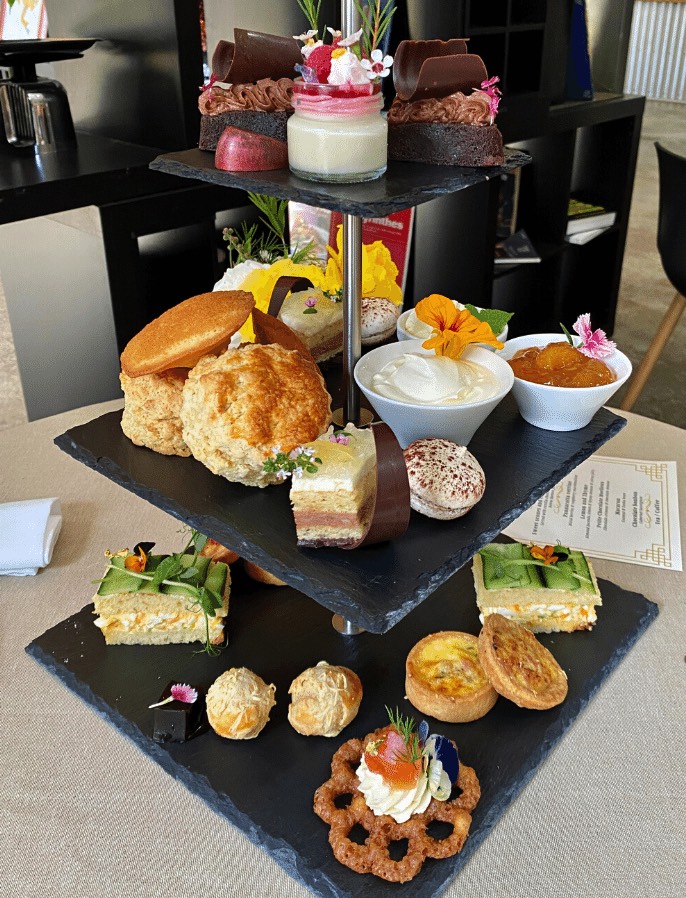 Quiche Lorraine – Onion, bacon & gruyere cheese, white truffle oil
Foie gras gougère – Nutmeg salted choux pastry & French foie gras cream
Egg mayonnaise and chive – Brioche stick, egg and French mayonnaise
Gravlax waffle – Salmon, cream cheese, dill & lime
Sweet scones and fresh lemon Madeleine – Served with vanilla Chantilly, crème fraiçhe &
Bonne Maman jam
Pannacotta verrine – Mixed berries & raspberry marshmallow
Lemon and Thyme – Almond jaconde, lemon & thyme mousse & citrus jelly
Petite Chocolate Moelleux – Chocolate crémeux & chocolate mousse
Macaron – Coconut & tonka bean (dairy free)
Chocolate bonbon – Cabernet Sauvignon (Fermoy estate)
Tea & Coffee:
Local Seven Seas Tea – Peppermint, English Breakfast, Rooibos, Chai, Green, Lemongrass, Jasmine and Earl Grey.
The Cape Effect coffee with almond milk, oat milk and decaf options.
BYO bubbles or Margaret River wine
(pop around the corner to Coward and Black Vineyards for a chilled bottle of Blanc de Blanc)