We do love supporting a local business in South Australia and Bracegirdle's House of Fine Chocolate are most definitely a success story.
Sue and Garry Bracegirdle opened their first store at the beachside Suburb of Glenelg in 2005 and currently have four more locations under their belt. They are known for their beautiful chocolates and desserts and have now branched out to serving light meals and high tea.
Mrs B's High Tea is most certainly worth the investment for $39. You can choose one hot or cold drink from their beverage menu. The regular cost of a hot or cold chocolate easily starts from $10. In my opinion, Bracegirdle's do the best Hot Chocolate in town. It's pure chocolate heaven in a cup!
The savoury element of Mrs B's High Tea was a Mushroom Quiche and a Cheese and Bacon Quiche. They were both crispy and delicious. Sandwiches included the classic salmon, avocado and crème fraiche and turkey and cranberry. The side salad of julienned carrot and beetroot plus lettuce, cucumber and tomato is a nice addition to the menu.
The sweet portion had various flavours of Macarons. Ours included Pistachio and Strawberry. The Raspberry Curd Meringue Tart was a great flavour combination and very tasty. Plain and Fruit Scones with Jam and Cream were a good size and the cream was fresh and delicious!
Bracegirdle's make the chocolate brownies at their McLaren Vale site. They are the best brownies I have ever tasted; so moist and decadent. They also support other local businesses, as all other high tea items are purchased from various local bakeries around South Australia.
Mrs B's High Tea also includes their delicious Bracegirdle's chocolates. There are some nice flavours and the designs are so intricate and pretty. The chocolates are handcrafted and made on site at Cross Road, Clarence Gardens, so you can watch them work while you are enjoying the offerings of Bracegirdle's. The chocolates have won numerous awards locally and interstate and we've heard that Prince William and The Duchess of Cambridge have sampled Bracegirdle's chocolates.
We were bursting at the seams by the end of the Bracegirdle's House of Fine Chocolate Mrs B's High Tea but couldn't resist squeezing in the final treat of chocolate covered strawberries! I could easily overdose on these.
While you are savouring your high tea, try leaving the store without buying additional chocolates to take home for later. It will be difficult not to fill your purse with them!
Mrs B's High Tea is certainly worth it. Even if it's just for the Hot Chocolate, Brownies and Chocolates, you won't regret it!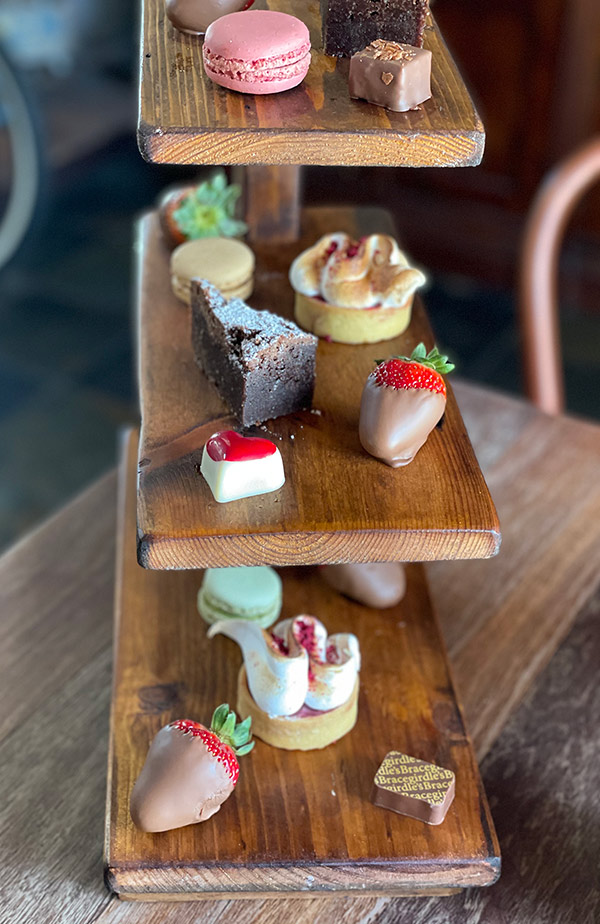 Mrs B's High Tea Menu:
One Hot (Tea/Coffee/Chocolate) or Cold drink
Quiches
Sandwiches
Macarons
Mrs B's Brownies
Fruit and Plain Scones with Jam and Cream
Bracegirdle's Award-Winning Chocolate
Chocolate Covered Strawberries
Mrs B's High Tea is available at all locations (excluding Marion) and items may slightly vary from store to store. We went to Bracegirdle's House of Fine Chocolate at Cross Road, Clarence Gardens.
Bookings are required, so visit or call your local store to check days and times or visit: www.bracegirdles.com.au.
Bracegirdle's cater for vegetarians, vegans and gluten free. Varied milk substitutes also available. Advise staff of your needs when booking the high tea.
High Tea Adelaide – find more experiences in our High Tea Venue Directory