This pink and pretty shop and tearoom offers a charming traditional afternoon tea on a tiered stand, accompanied by unlimited loose-leaf tea.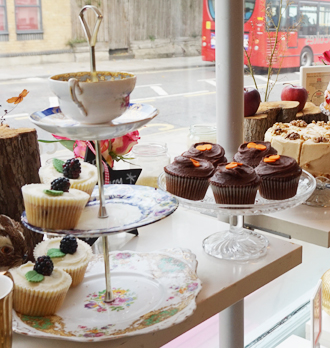 High Tea Society recently enjoyed a completely 'darling' afternoon tea at local favourite bake-a-boo in West Hampstead, London. This pink and pretty shop and tearoom offers a charming traditional afternoon tea on a tiered stand, accompanied by unlimited loose-leaf tea. Locals also regularly pop in for a takeaway slice of tart, a pre-ordered birthday cake or one of bake-a-boo's signature cupcakes. The front window alone, crammed with jars of tea, cake stands displaying sponge cakes, teapots and vintage cake knives, is enough to entice you inside bake-a-boo.
The smell of freshly baked scones greeted us as we arrived at bake-a-boo for their weekend afternoon tea. It's a small shop and tearoom, decorated in pastels with strings of old-school bunting overhead. Our table for two was set with fresh flowers, a candle and mismatched floral china that worked perfectly with the tearoom's very charming and slightly nostalgic feel. A playlist of 1920s style jazz music hummed along in the background, below the chatter of ten or so other guests, all women, who were also in the tearoom at bake-a-boo that day.
High tea started with the selection of tea, which is served in individual teapots and is unlimited throughout the afternoon tea. Tea choices range from the traditional, like English Breakfast or Earl Grey, to the more unusual, such as Almond Tea (infused with roast almonds) or Strawberry and Kiwi tea (which is an incredible bright pink colour).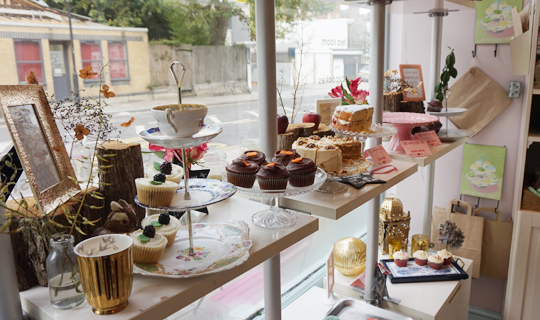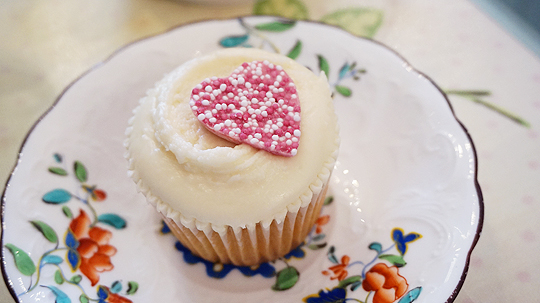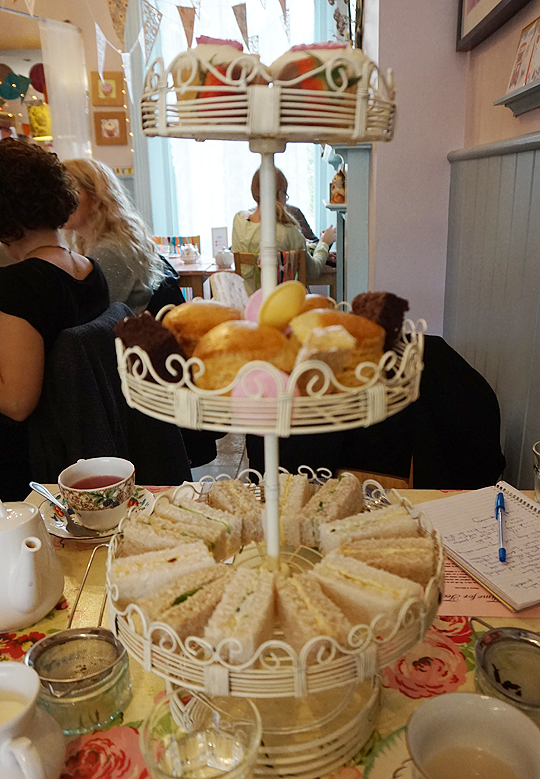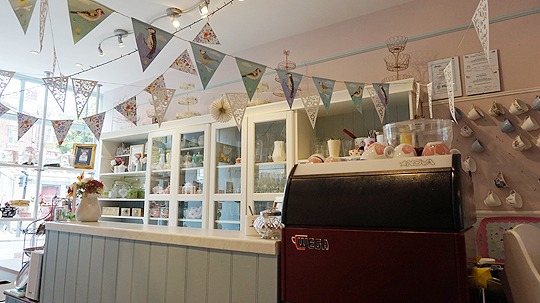 The afternoon tea itself then arrived on a three-tiered wire stand, which looks incredibly impressive, but does get in the way of conversation with your dining companions a little bit! The first tier had a selection of classic finger sandwiches on it, including cucumber and cream cheese, egg and mayonnaise with cress, cheddar cheese with caramelised onion, and hummus with rocket. The bread was fluffy and the sandwiches were really well presented, though perhaps could have done with more filling. The cheddar cheese sandwich was particularly good, with a really bitey yet creamy cheddar inside it.
The second tier of the stand included scones (two per person), as well as chocolate brownies, shortbread biscuits and an English sweet called 'flying saucers', which are essentially a little edible parcel of sherbet. The scones arrived at the table warm and, by the time we'd made our way through the sandwiches, they were at perfect eating temperature. Strawberry jam and whipped cream was served in cutesy little glass jars in the shape of hearts, and additional jam or cream was available on request. The shortbread was super buttery and, though not that exciting, was very well done. The brownies were the light and fluffy type, but still packed a serious chocolate punch, so they got a big tick from me. The only thing on the stand that wasn't so wonderful was the flying saucers. They just don't stand up to the quality of the rest of the high tea. My guess is that these are a childhood nostalgia thing for British high tea guests, but their oddly soggy exterior and lacklustre sherbet did not win over this Australian!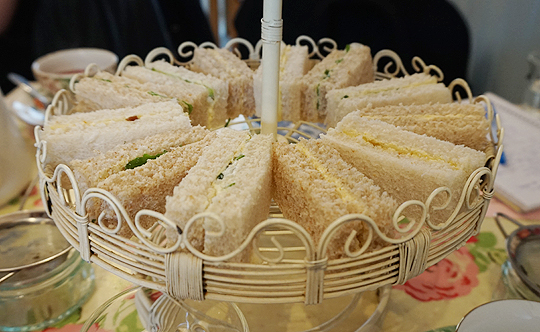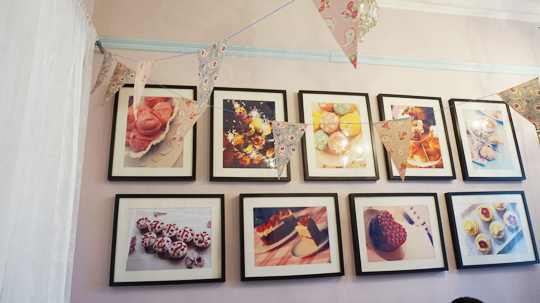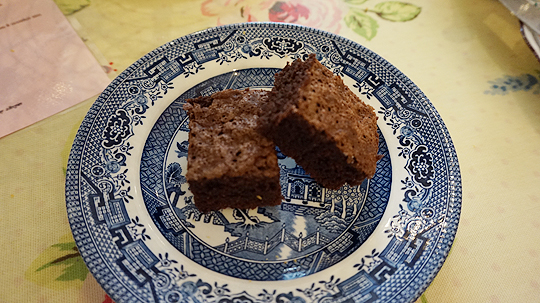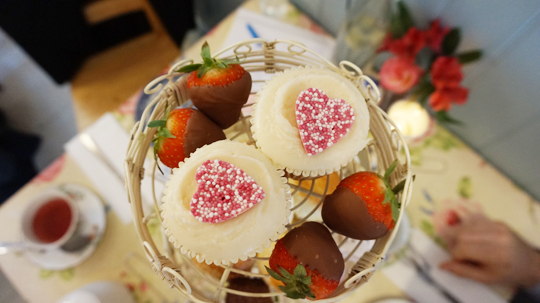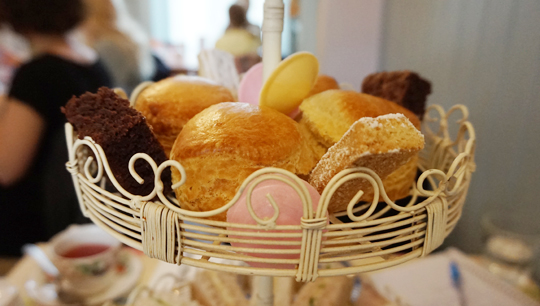 Finally, the top tier of the stand featured milk chocolate dipped strawberries and two vanilla cupcakes with pretty chocolate heart shaped decorations. Both were superb. The strawberries were huge and very juicy. The cupcakes were fluffy, with a delicious whipped vanilla buttercream icing. The cupcakes alone, available in flavours like Oreo, strawberry cheesecake and blackberry sponge, make bake-a-boo well worth a visit.
The service at bake-a-boo is relaxed and very friendly. The staff are obviously high tea fans themselves, really embracing the vintage feel of the shop. They were constantly checking in to see if we needed a fresh pot of tea or an extra serve of jam. Bake-a-boo is licensed, so a glass of champagne or prosecco can be added to the high tea at an additional cost if you feel like celebrating.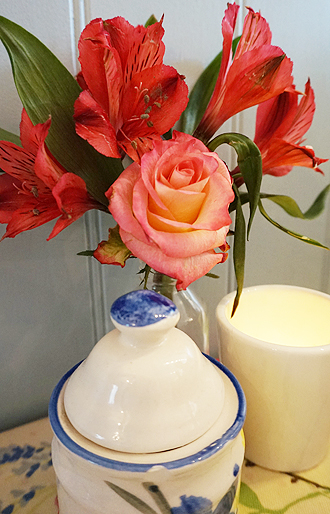 Bake-a-boo's High Tea Menu:
A selection of finger sandwiches
Scones with jam and fresh cream
Iced vanilla cupcakes
Chocolate dipped strawberries
Mini brownies
Traditional shortbread biscuits
Flying saucer sweets
Unlimited pots of tea
The entire afternoon tea is vegetarian friendly. Special vegan, gluten free or sugar free afternoon teas are also possible.
Bake-a-boo has been operating for nine years and its special event afternoon teas (such as Christmas/Festive season, Mother's Day and Valentine's Day) are hugely popular. This is a locals' secret that is no longer so secret. And it seems like the perfect venue for a girls' day out, a baby shower or a more relaxed hen's event. Bake-a-boo has a small private events room at the back of the shop, which again books out well in advance. For a truly girly and delicious treat, bake-a-boo's afternooon tea is a great choice.