Dukes has been central to the St James/Mayfair area for many years and we've been told its famous Dukes Bar was the inspiration for James Bond's infamous martini.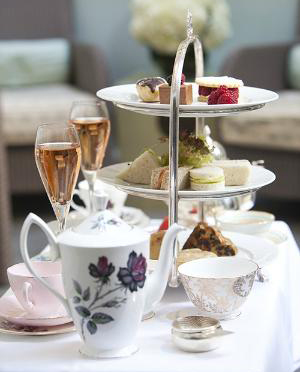 High Tea Society had the delightful experience of taking afternoon tea at Dukes Hotel in the heart of London. Dukes has been central to the St James/Mayfair area for many years and we've been told its famous Dukes Bar was the inspiration for James Bond's infamous martini. The history of the Dukes courtyard can be traced back to 1532 when King Henry VIII bought a convent at the bottom of the hill and replaced it with St James's Palace.
However, we weren't there for the rather tempting martinis or the Tudor connection as it was rumoured that Dukes also do a wonderful afternoon tea. Having experienced the service with a casual drop in before, your author knew it would be good, but it turned out to be a delightful afternoon with beautiful sandwiches, cakes and tea.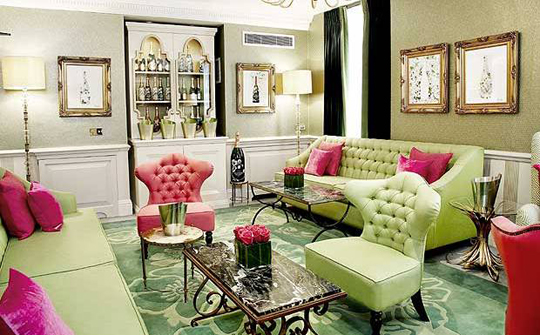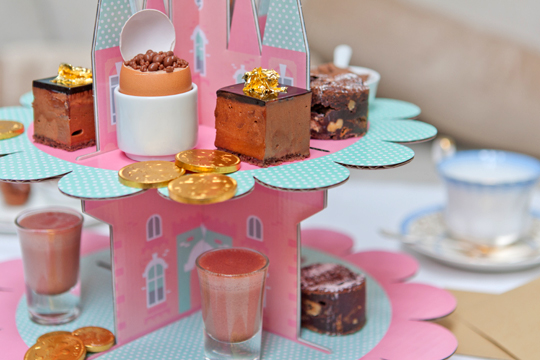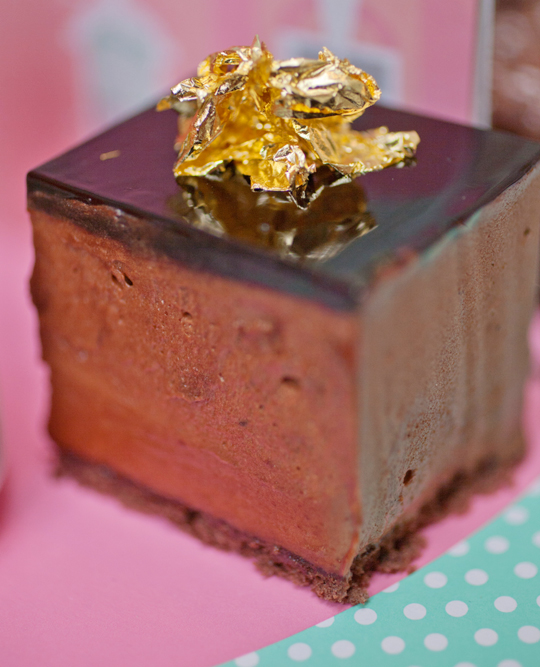 The afternoon tea begins with a selection of sandwiches. In this case we were presented with the classic Scottish smoked salmon, ham and tomato, cucumber with cream cheese and a very good Coronation chicken, especially fitting as it was 60 years since the Queen's Coronation that weekend.
We were then presented with a cake stand of perfectly formed scones, sensational doughnuts and outstanding pastries. The pastries were a sublime carrot cake (of which we asked for seconds and nearly thirds!), rhubarb crumble, lemon meringue pie and a remarkable chocolate mousse with popping candy on top which sparkled when put in our mouths.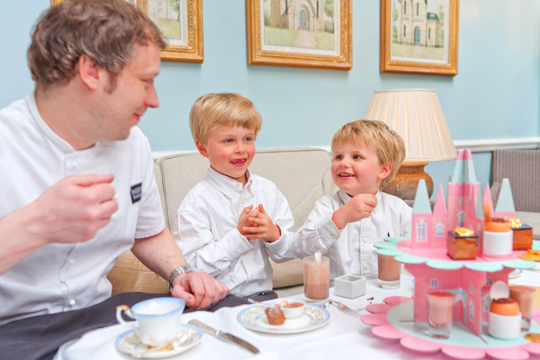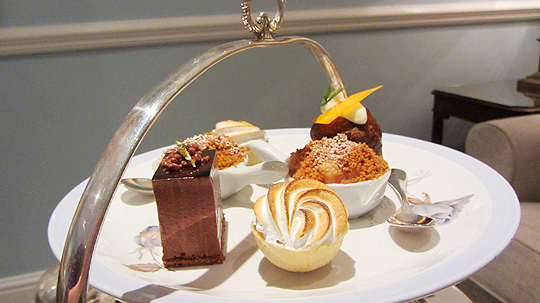 The service at Dukes could be unbeaten. The waiters took care of our needs and were friendly but not intrusive. Teapots were refilled seamlessly while we relaxed on comfortable couches and wing-backed chairs, unaware of other guests also partaking afternoon tea in the conservatory. It was hard to believe that we were deep in central London, a stone's throw away from Piccadilly, Bond Street, Trafalgar Square and Buckingham Palace.
The food was of excellent quality. Nigel Mendham has designed Dukes menu and is resident chef at THIRTY SIX which serves classic British food with a modern twist. Nigel Mendham was recently awarded three AA Rosettes.
We were served Dukes own blend of tea. We both chose a black tea, one being the Dukes house blend, the other a refreshingly light rose scented black tea.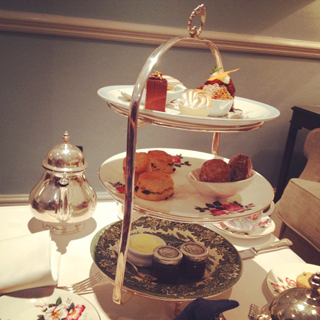 Dukes Hotel Afternoon Tea Menu
Sandwiches: H. Forman's Scottish smoked salmo, Ham and tomato, Cucumber and cream cheese and Coronation chicken
Selection of pastries
Warm fruit and plain scones with strawberry jam and clotted cream
Served with your choice of tea – from a variety we chose: Dukes Blend 1908 or Dukes Rose Blend
The tea ware was a classic British design and was refreshed during the service. It was served in two of the greatest silver teapots we have seen.
Live music was not played but this didn't impact the experience as we were relatively unaware of the other guests.
Dukes is able to host a range of events. From 1 July 2013 until 1 July 2014 they are able to arrange a children's afternoon tea which includes a night in the hotel for a family, tickets to Charlie and the Chocolate Factory musical at the Royal Drury Lane Theatre and special chocolate themed afternoon tea.
One would feel comfortable attending afternoon tea at Dukes in any form of attire, though the code of the day was smart casual.
Dukes afternoon tea was just lovely, very private and good value, set in the heart of London. The food and tea was sublime. If looking for a classy and intimate celebration, or even just a quiet afternoon in the heart of London this would be the ideal venue. The service was excellent and the High Tea Society very highly recommends it.