Franklin Villa is a true Australian afternoon tea experience - the menu could have been taken from a Women's Weekly cookbook circa 1980's.
Editors Note: July 2017 Franklin Villa has closed.
Classic Australian treats including rum balls, chocolate hedgehog, lemon slice, mini quiches and sausage rolls decorate the cake stand.    a restored late 19th century Queenslander in a leafy inner city suburb of Brisbane.
Franklin Villa was built in 1856, the current owners purchased the property in 1983 and spent more than ten years restoring it back to its original glory.
The teaware is an assortment of vintage items, with floral table clothes and napkins. The hosts Lainey Loneragan & Bernadette Bagley-Proctor where deliteful and made us fell right at home.
Franklin Villa host etiquette classes for adults and children, covering aspects of table manners and acceptable behaviour for family social occasions. Lessons conducted over an a la carte luncheon.
A lovely way to spend an afternoon on the veranda over looking the city of Brisbane. This is a perfect place to take your mum for afternoon tea.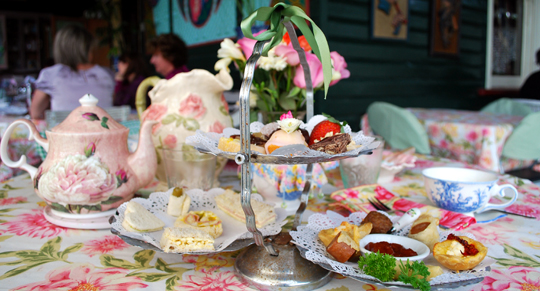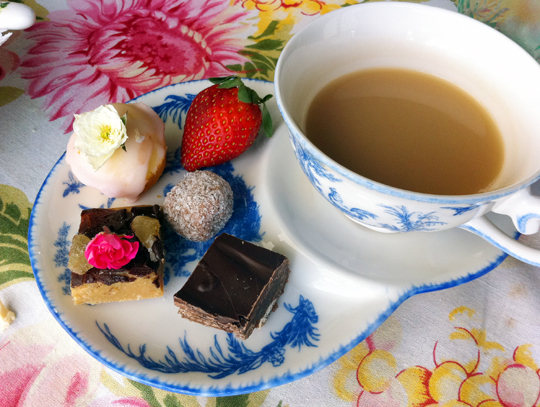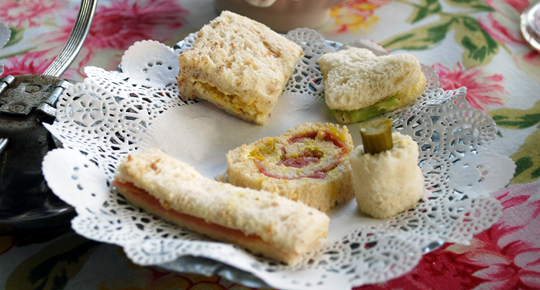 Franklin Villa Afternoon Tea Menu:

Fresh sandwiches: marinated fresh asparagus rolled in fresh bread; ham with wholegrain mustard; heart shaped cucumber sandwich; pastrami pinwheel with sweet mustard pickle; old fashioned egg with mayonnaise.
Quiches made with King Island double cream with roasted capsicum topped with fetta and sun dried tomato.
Beef balls – beef mince mixed with onion, allspice & yoghurt
Home made sausage rolls served with home made mango chutney
Lemon slice with vanilla icing & shaved lemon peel
Ginger slice with ganache & crystallised ginger
Apricot noodles rolled in white chocolate
True ball rolled in coconut
Vanilla butter cup cake with frosted icing
Chocolate brownies with white, milk & dark chocolate
Nerada tea