We took a trip to the most expensive square on the London Monopoly board as we enjoyed a Veuve Clicquot Champagne afternoon tea at Mews of Mayfair.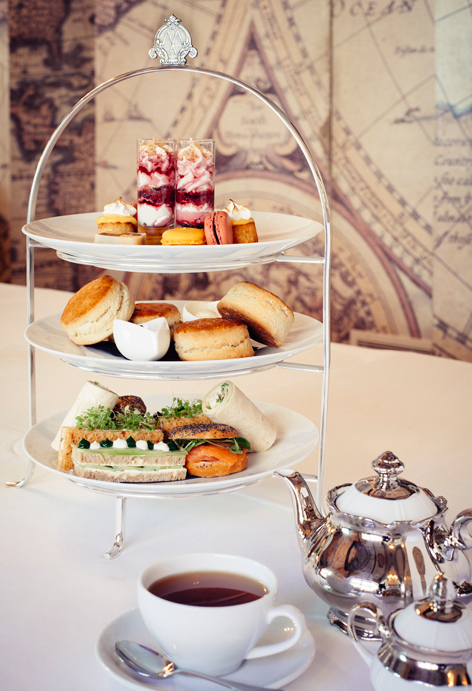 Set in this most exclusive part of town, just a scone's throw from the shopping mecca of New Bond Street, you'd be forgiven for perhaps missing Mews of Mayfair.
But this is obviously a destination for those in the know because as we arrived at its Lancashire Court home, there was barely a seat spare in this most narrow of al fresco dining areas.
Arriving on a late April Saturday afternoon, we were to immediately put the staff of Mews to the test, moving tables not once but twice (not because the tables weren't good, but just that it was a little cold in the outside courtyard).
Where we ended up was directly facing the cocktail bar, close to the kitchen door. Whilst not the most picturesque of tables, it was fantastic for watching the bar and floor staff buzz busily around us. For the entire sitting the kitchen door never stopped with plates being run outside and no doubt to all four floors of this deceptively large restaurant and bar.
But we here for tea, a relatively new offering from Mews although their tardiness to the tea party no way detracts from the skill in presenting their take on this quintessential pastime.
We had barely sat down before being presented with two generous glasses of buttery-sweet non-vintage Veuve and our tea orders were taken, a pot of English Breakfast and one of fresh mint tea.
Both were served in a way I'd not seen before, with the leaves being held in a very small pot, accompanied by a larger pot of boiling water. There felt a certain enjoyment in the alchemy of being able to regularly mix the water into the smaller to create the perfect, personal cuppa.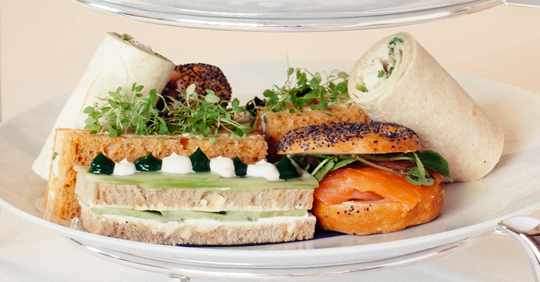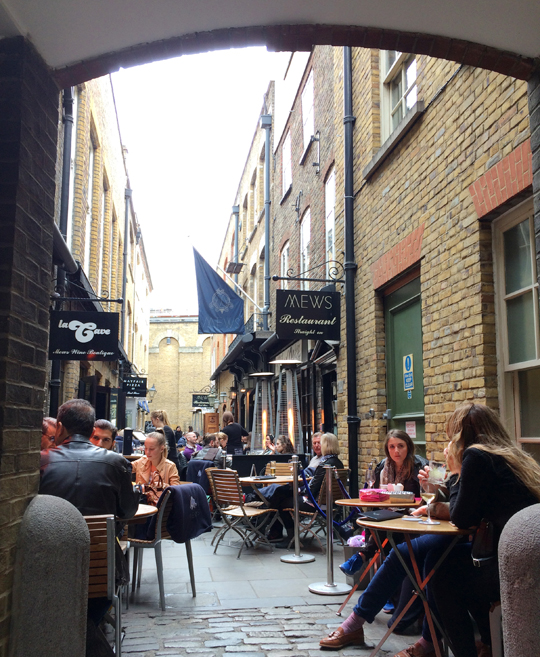 The leaf teas – black, green and herbal – all from the Rare Tea Company, are truly global in their make-up, with my English Breakfast coming from Malawi, and others from Italy, India, China, Madagascar, Columbia, South Africa, Sri Lanka and even England itself!
And then came the food – the traditional three-tiered affair with the added touch of the top handle featuring Mews' grand M logo. You feel no expense has been spared getting this afternoon tea off the ground.
I'm going to work backwards, from top to bottom, as I feel the savouries deserve to be the headline act on this review.
'Delicate' accurately describes the small selection of sweets on offer here – two types of macaron (the flavour entirely dependent on what the chef has decided to make), a slice of Battenburg (with delightful natural colours instead of the usual yellow and pink); a one-bite sponge with sharp lemon curd and soft Italian meringue; and a shot glass with creamy custard and refreshing rhubarb sitting on summer berries.
In the middle, the scones. Good scones, I find, can go one of two ways – light and airy or dense and solid. These were definitely the latter and almost rock cake-like in their consistency. Served with clotted cream and home-made strawberry jam, they were seen away with ease.
But the bottom plate held the real delights here; a chicken Caesar salad wrap was a strong offering; the cucumber sandwich (with cucumber both inside and out) and smoked salmon bagel took it to the next level; but the Burford Brown egg mayonnaise sandwich on sundried tomato bread was stunning – easily the finest egg sandwich I've ever encountered. Another round was ordered, to make sure…and this just confirmed the initial thought!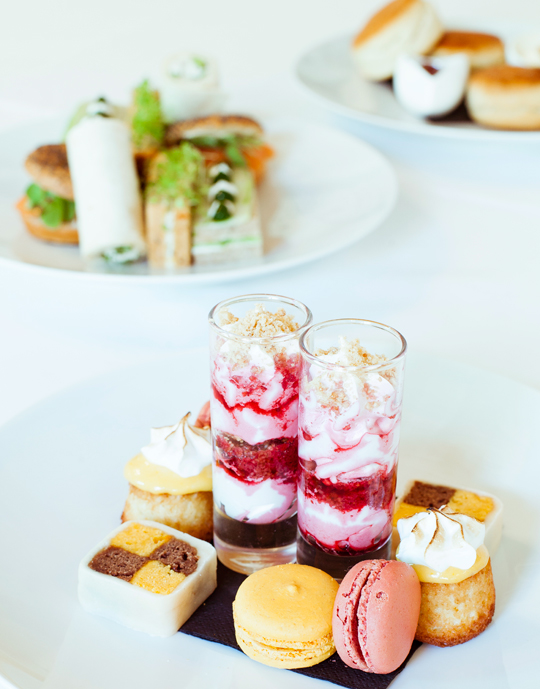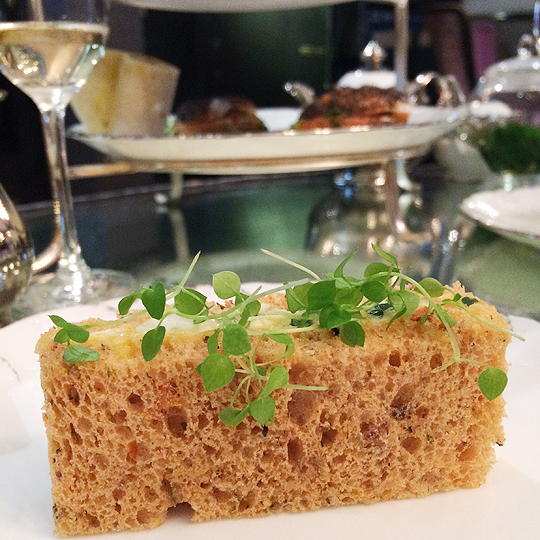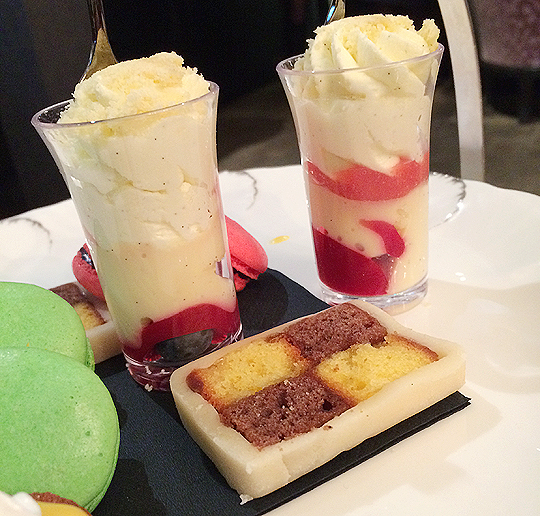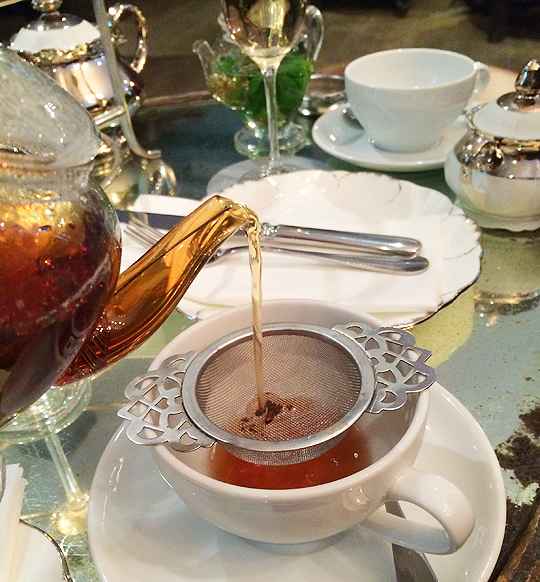 As a savoury-minded person dwelling in the sweet world of afternoon teas, finding a tea with a strong plate of sandwiches is a sad rarity, so Mews of Mayfair hits the spot.
The afternoon tea barely scratches the surface of this place – you can come here to eat, drink and be seen at all times of the day, and their (slightly awkward) website even says you can dance the night away too. It's all very swanky, very hedonistic, very Mayfair.
No wonder the board game makers at Waddingtons felt the need to put Mayfair right at the expensive end of the Monopoly board – a spot this tea also occupies with the Champagne version coming in at £45, where a good deal of the high-end offerings in London sit.
Yes, this isn't cheap, and other £45 options offer unlimited Champagne, but for its location, quality of service and product, and perhaps just for the egg sandwich alone, Mews of Mayfair is a success.
Pass go. Collect £200.
Mews of Mayfair Afternoon Tea Menu
Lambert & Jackson Smoked Salmon, Poppy Seed Bagel
Philadelphia & Cucumber, Caramelised Onion Bread
Cotswold Chicken Caesar Salad Wrap
Burford Brown Egg Mayonnaise, Sundried Tomato Bread
Two Types of Homemade Scones
Strawberry Jam, Clotted Cream
Selection of Homemade Fancies and Cakes
Loose Leaf Tea or Cafetiere Coffee (£2.50 supplement)