All in all, St Ermin's was a delightful experience, and you really can't beat a bit of intrigue and espionage with your afternoon tea!
Just a short walk from the Houses of Parliament, the Thames and Buckingham Palace, the four-star St Ermin's Hotel may not be as well known as other historic hotels in London, but it has a fascinating history that involves spies and betrayals, covert war meetings and rumours of a secret tunnel to Westminster.
We were there to sample St Ermin's honey-themed afternoon tea – a selection of sandwiches, pastries and desserts – so called because it uses home produced honey, harvested each September from the hotel's 200,000-strong army of rooftop bees. You can also attend one of their beekeeping workshops (protective bee suits provided!), finishing up with a honey cocktail in the bar.
The approach to St Ermin's is pleasingly grand – through wrought iron gates, up a long tree-lined courtyard, past the polite doormen and into the large lobby, with its elaborate marble staircase and chandeliers.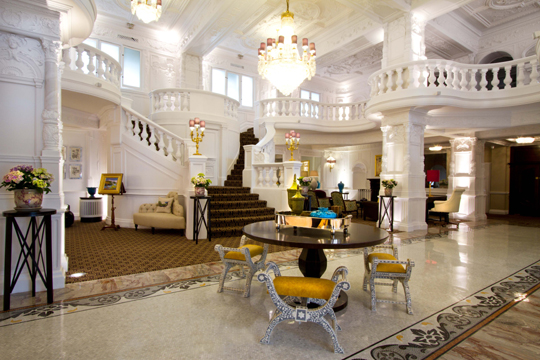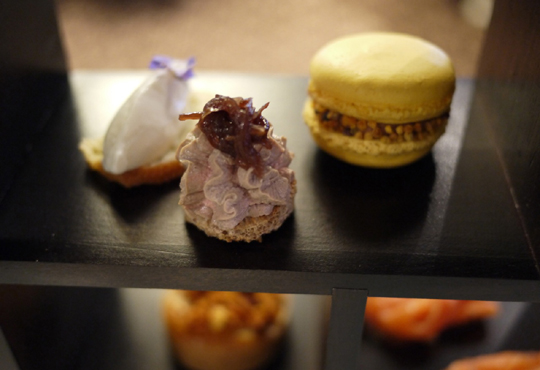 Afternoon tea is served in the demure tea lounge on the first floor, which overlooks the mezzanine. It's traditionally decorated, with ornate white wall friezes and glass cabinets.
Settling into the comfy tub chairs, our afternoon tea began with a selection of miniature scones, served with mini jars of clotted cream and lemon curd.
There were 13 world teas to choose from, including Chinese Lapsang Sounchong, Japanese Green Sencha and South African Rooibos Orange. We were so dazzled by the selection, that my tea companion and I retreated to the safety of St Ermin's own blend. It was served in a classically decorated china teapot and pretty pink tea cups.
Some honey-themed delights arrived next, this time displayed in a modern, geometric dark wood tower. Each compartment housed an intriguing item – some of them honey-sweet, some intensely savoury.
On the sweet side, the bright yellow chocolate and bee pollen macaron was especially beautiful and tasted divine, while the mango bavaroise was silky smooth and refreshing. On the savoury side, the stand-out morsel was the rich duck liver on honey fig bread. However, my one recommendation would be for some more regular closed sandwiches (there was only cucumber and mint) to balance out the fancier offerings.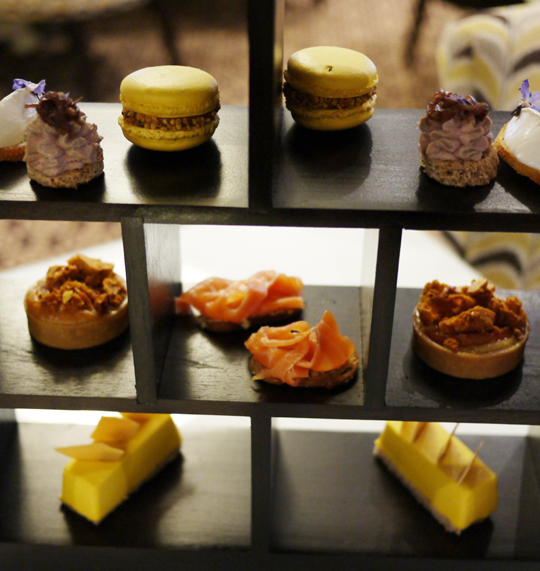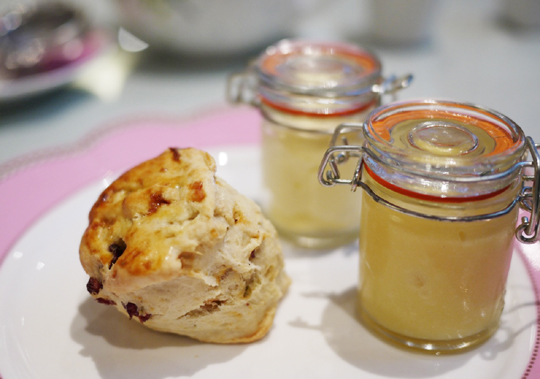 In spite of its grand surroundings, we found afternoon tea at St Ermin's to be a relaxed affair, with attentive but not overly fussy tea service from waiting staff. On this occasion, we didn't linger for a honey cocktail, but they sounded very appealing, with names like Ginger Hunny (Honey, St Germain, apple juice, rum, soda, ginger liqueur) and G&T for my Honey (Gin, crème de cassis, lime, honey, tonic).
It was lovely to know we were sampling honey that was as pure and locally sourced as could be. Honey bees always fly within a three-mile radius of their hive, meaning St Ermin's honey is probably partly sourced from the Queen's back garden.
The honey tea is replaced by a Winter Wonderland-themed tea for the winter months, and there's a Classic tea offered all year round. The hotel has also created a superheroes afternoon tea for kids called InfiniTea, served on a batman-shaped stand with Superman brownies and Kryptonite strips.
As for St Ermin's history: well, Winston Churchill and his cabinet held meetings and planned war missions from the hotel, British spy Guy Burgess is said to have passed secret papers to the Russian KGB in the hotel bar, and MI6 has used it as a base in the past. The secret tunnel has been much talked about, but never officially confirmed.
All in all, St Ermin's was a delightful experience, and you really can't beat a bit of intrigue and espionage with your afternoon tea!
St Ermin Afternoon Tea Menu

Freshly baked scones with clotted cream and homemade jams

Cranberry & roast nut
Mature cheddar
Lightly salted

St Ermin's Hotel, London

Savoury pastries

Lobster tart
Spinach and blue cheese

A selection of closed and open sandwiches

Honey goats' curd
Maple mustard salmon
Cucumber & mint
Duck liver on honey fig bread

A selection of sweet pastries

Apricot tart
Milk chocolate & bee pollen macarons
Peach, honey & yogurt mousse
Mango bavaroise, caramelised white chocolate

A selection of Newby teas