High Tea Society mixed modern art with traditional afternoon tea as it enjoyed a Champagne offering at the Saatchi Gallery's Gallery Mess on London's achingly trendy King's Road.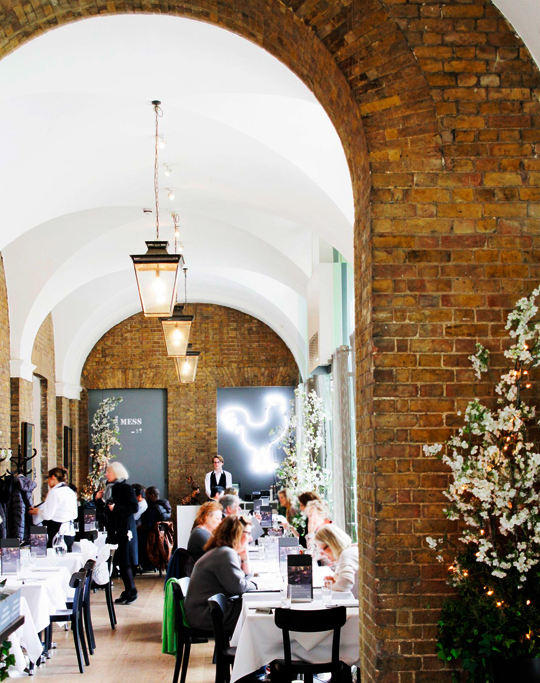 Turn any corner in London and you'll come face-to-face with history. Kings, queens and great men of state take regularly take centre-stage but our more recent past can be equally fascinating.
Although the King's Road goes back to the 17th century reign of King Charles II, it was in the 1960s that it really found its name as the place where modern fashion, led by the likes of Vivienne Westwood and Mary Quant, was born.
The two mile stretch that cuts through the heart of the Royal Borough of Kensington and Chelsea maintains its fashion credentials to this day, and since 2008 has also boasted the Saatchi Gallery – a beautiful and imposing military building from 1801 that now houses the vast contemporary art collection of Charles Saatchi – one half of Saatchi & Saatchi – famed for his work to promote Margaret Thatcher in the 1980s, promotion of young artists such as Damien Hirst and Tracey Emin in the 1990s, and marriage to Nigella Lawson in the 2000s.
But although the art is fascinating (and free to see) we were here to broaden our waistlines and not our minds, at the wonderfully named Gallery Mess, the restaurant, bar and cafe which boasts menus by Rhubarb Food Design.
I had originally been asked to try the fun-looking, cupcake-decorating Little Artists' afternoon tea for children, but as I have no kids of my own (or any ready access to borrow any for the afternoon), I was forced to take the grown-up Champagne version instead!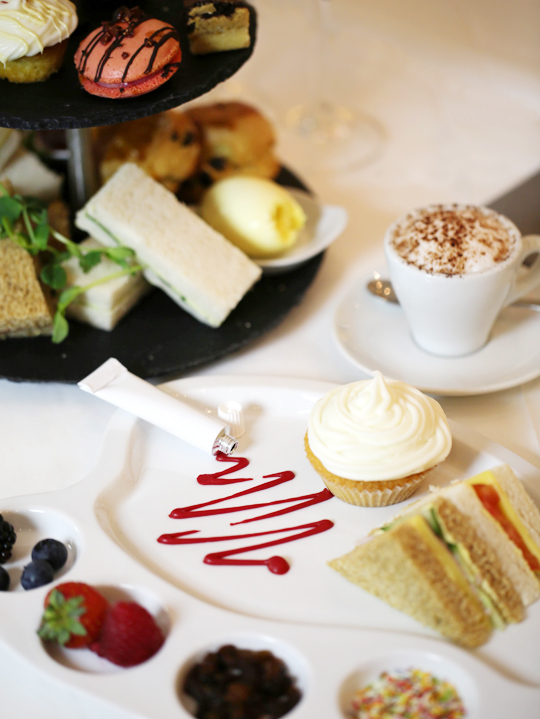 The first thing to note about Gallery Mess is that it's anything but messy. Exposed brickwork, a series of rounded arches and ceiling vaulting draw the eye down the long corridor of a dining area, and tables are set with simple white cloths and elegant cutlery and crockery. But the formality of the space belies a relaxed atmosphere, being enjoyed by diners on a bustling Saturday afternoon.
While some afternoon teas, especially those in hotels are destinations in themselves, the one here is part of a much wider food menu served throughout the day. While this does mean that the afternoon tea isn't given quite the same pedestal as some exponents afford it, there is much variety in the menu here and no feeling of the teatime slot being a mere afterthought.
The basic tea offers everything you'd expect – sandwiches, scones and pastries with a selection of teas. You can add a Prosecco or Champagne if you wish. If you're feeling particularly decadent you can request a jug of Pimm's or pot of Hendrick's gin tea.
And the core components of the tea do their job well – in an uncomplicated, worth-the-reasonable-price-tag sort of way.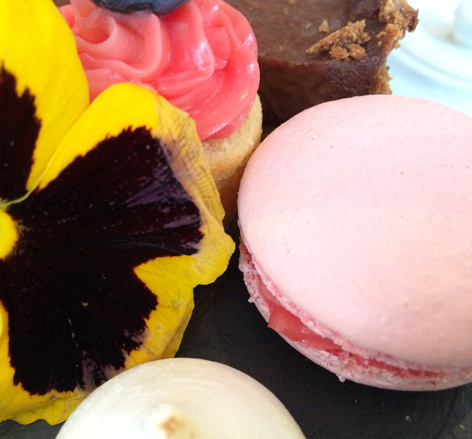 The sandwiches – Coronation chicken, smoked salmon and cucumber – were fresh, well-filled, straight-cut and crustless. The crumbly scones were warmed through, reassuringly light and served with the clotted cream and jam as you'd expect.
And the top plate of sweets finished everything of with aplomb – the icing on the strawberry cream cupcake left perfect tooth marks when bitten into, a macaron was both crunchy and chewy, and the most delicate slice of chocolate tart made it to my mouth just before collapsing onto the white table linen.
All-in-all, the food matched the atmosphere – relaxed, unfussy, and perfectly good without crossing to exceptional. Nothing was left uneaten, which is a good review in itself. It feels perhaps a little disappointing that extra sandwiches or scones are charged at £6.50 and £7 respectively, although I feel there is enough served first-time around not to warrant this option.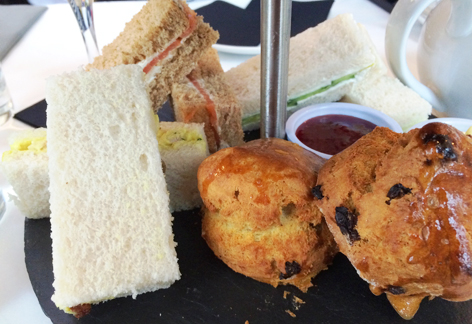 Gallery Mess definitely feels very child friendly (although one of the walls does boast a rather adult-themed neon light artwork). The Little Artists' tea looks superb and leaves me wondering 'why do the kids seem to get all the fun??'
Afternoon Tea at the Gallery Mess, Saatchi Gallery Menu

Selection of British sandwiches, warm scones with clotted cream, jam, strawberry cream cupcake, chocolate tart and a macaron with a selection of Tea Palace's finest selection, Assam, afternoon blend, chamomile, Darjeeling, Earl Grey, jasmine, Sencha green, wild berries or fresh mint tea. £15.50pp / £29.50 for two