Executive Chef Ben Purton has designed an afternoon tea to delight, all the classics are present, but with a contemporary twist.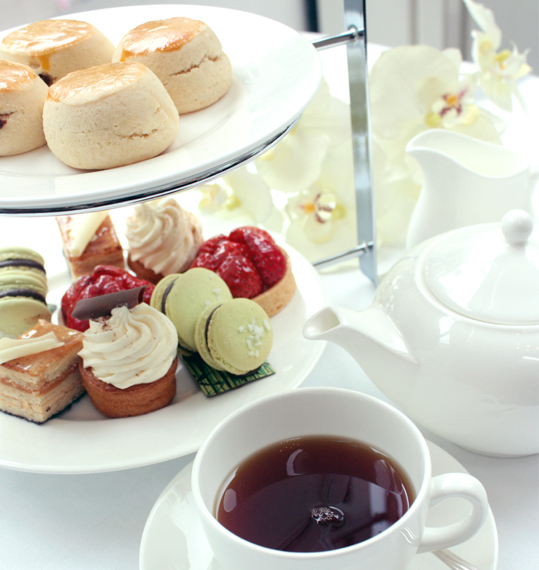 High Tea Society recently took afternoon tea at the Lancaster Hotel in London, steps away from London's Lancaster gate station, in a corner of West London overlooking London's leafy green Hyde Park.
Afternoon tea is served in the lounge of the hotel, a dimly lit area of dark wood, low chairs and coffees and a gentle hum of tinkling recorded piano in the background. It's a little bit more casual than my usual foray into afternoon tea and has attracted a varied crowd including families, couples and even a group of ladies celebrating a birthday.
Executive Chef Ben Purton has designed an afternoon tea to delight and the team have clearly had a bit of fun creating this menu, all the classics are present, but with a contemporary twist. Sandwiches are roast beef and horseradish, cucumber and the Egg & Cress comes in a mini choux bun. A fun addition to the savouries is a coronation chicken tartlet, crumbly pastry revealing a moreish chicken topping.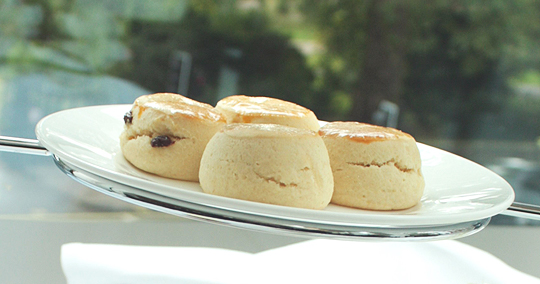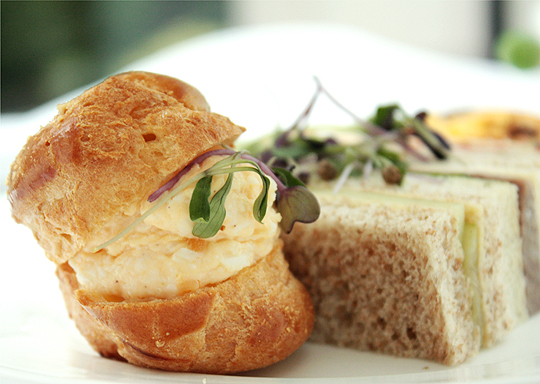 Amongst the variety of sweet treats are the traditional classic and raisin scones served warm with homemade strawberry jam and Cornish clotted room. There's a vast selection of sweet bites and we're like children in a sweet shop, unable to decide whether we start first with the chocolate truffle and raspberry lollypops with fizzy popping candy, pistachio macaroons, caramel and hazelnut tranches and a raspberry cheesecake.
We opt to start with a glass of Laurent Perrier champagne, all the better to relax and chat on the comfortable sofas and begin on our traditional silver service setting of savouries and desserts.
The Lancaster Hotel serve Novus tea in traditional Wedgwood china and when we're ready, the team comes with a mini personalised sand timer to make sure it's brewed to perfection, colour coded depending on the type of tea you've ordered. No longer are you reliant on the whims of an imperfectly brewed tea.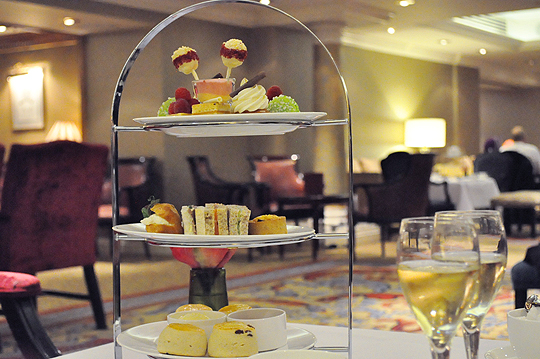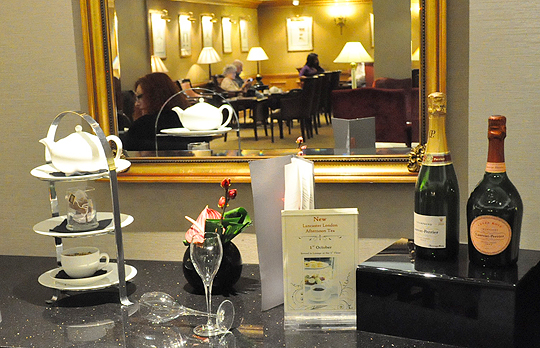 The staff are charming and yet relaxed, they're happy to take photos, chat about the desserts and I even learn that the hotel keeps its own bees, making up honey for the afternoon tea and more.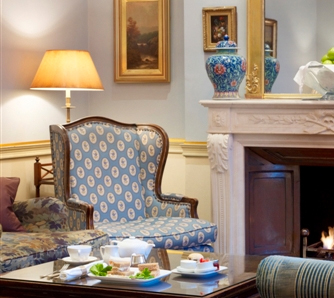 There's a small bar just off the lounge and there's a mixed group, some enjoying a quiet tipple, others grabbing a snack and there's even a group of businessmen rather incongruously tucking into delicate afternoon tea. Balloons are on offer to a group of ladies celebrating a special birthday and the charming staff even pass some balloons out to the children at a neighbouring table, eyes agog at the sight of balloons trailing around the room.
The food was fresh and inventive, amongst the savouries it was the coronation chicken tartlets that sang out loudly whilst on the dessert trolley, the macarons were the perfect small treat and the white chocolate truffle and raspberry lollypops filled our mouths with popping candy flavoured glee.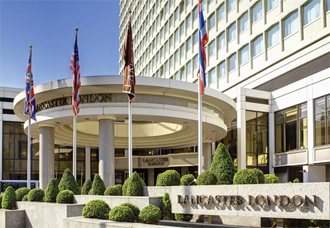 We spent a very charming afternoon indulging in champagne and dining out on the decadent treats served. It's not the most glamorous of settings and we're a little overdressed in our glad rags, but this is a comfortable setting with good quality food, teas and a selection of mouth watering desserts.
Lancaster London is undergoing upgrade works to take it to 5 stars and it's almost there, the lounge needs more light to show off it's prime location next to Hyde Park and it'll be as airy and light as any other high end afternoon tea when you want to celebrate.