High Tea Society recently took afternoon tea at the rather unusual venue of The Playboy Club in London.
Located in upmarket Mayfair, the afternoon tea is held at the iconic Salvatore's bar, so named for Salvatore Calabrese –self styled maestro bartender and mixologist to the rich, famous and royal.
In keeping with an establishment that takes its name from its cocktail master, the tea begins with Te'Freddo Teapot cocktails, served in heavy traditional stoneware teapots – you can choose between the traditional, Fruity, Floral or Spicy. I opt for the Fruity version of Lychee jasmine tea with lychee & peach liquers, which is just fruity enough to be refreshing with a little kick of a liquor chaser at the end.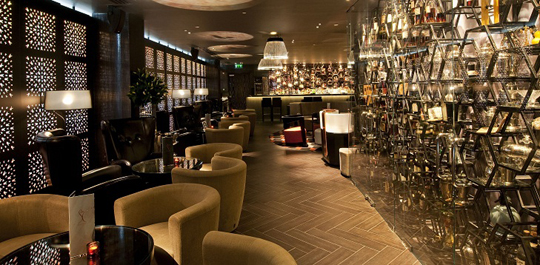 The iconic Playboy bunnies are on hand to serve you up a selection of savouries to complement the teas, these include Caprese baguettes, Mediterranean chicken in olive rolls and smoked salmon on warm fresh bread. The Mediterranean inspired flavours of the savoury selection is a refreshing change from the usual sandwiches and evoke a sense of home cooking, albeit in an upmarket London bar. The Mediterranean chicken was a favourite, warm and smokey in flavour, the richness of the sundried tomato complementing the olive rolls perfectly.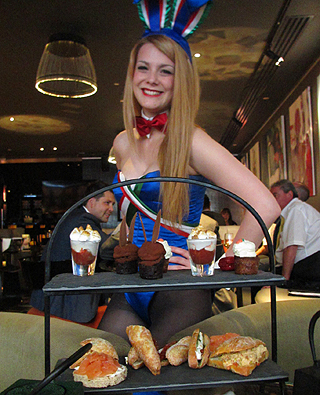 But the desserts were calling our name and we moved onto a mouth-watering selection of Yuzu Mochi, complete with a soft Yuzu flavoured ice cream centre, Berry macarons, Carrot cake, Verrine and in keeping with the Playboy theme, Bunny Ear Cupcakes – Chocolate and Guinness cake with chocolate cream. I particularly enjoyed the rich cupcake, washed down so easily with the Teapot cocktail that seemed to have hidden depths.
In keeping with the area, Salvatore's bar is sophisticated and classy, glass tabletops and durable white china, dimly lit with lamps and screens all wrapped with the Bunny silhouette and you can relax to the sounds of live piano playing Queen classics softly in the background. The bar is a glittering focal point, laid out with spirits and liquors of all different hues and flavours. For those in the know, the Cognac wall of Liquid History features Cognacs through the ages – there's even one dating Pre-Titanic!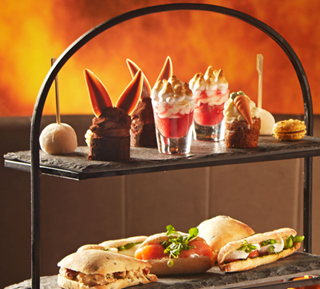 I'm not sure what I was expecting before coming to afternoon tea at the Playboy Club, but I came out pleasantly surprised. The food is very tasty with an original twist befitting an unusual venue that comes complete with Playboy bunnies and of a high standard. The cocktails manage to be both refreshing and pack a punch, a challenging combination that they do so well, perhaps not surprisingly given the resident bartender.
Dressed as the girls are in their bunny costumes, it's interesting that the place attracts a variety of people – groups of businessmen with bottles of vintage champagne, groups of women and couples alike catching up over cocktails and afternoon tea. The service is charming and sweet and the Bunnies are on hand for service with a smile.
Salvatore's Afternoon at the Playboy Club Menu


Teapot cocktails:
Traditional – English Breakfast Tea, rum and cognac infused with sultanas, fresh milk and honey.
Fruity – Lychee jasmine tea, pisco, lychee and peach liquers, white peach puree and orange juice.
Floral – Jasmine blossom tea, Hendricks Gin, agave infused with lavender flowers, Maraschino, orange blossom water and fresh lemon juice
Spicy – Sencha green tea, vodka, lemongrass, cardamon, eucalyptus, Cocchi Americano aperitif and lime flavoured sugar.
Savouries:
Caprese – Burrata Buffalo mozzarella, fresh basil pesto and cherry tomato served in a warm mini French baguette.
Mediterranean chicken – Roasted corn fed chicken, mixed olives, sun blushed tomato served in a mini mixed olive roll.
London Smoked Salmon – Curls of smoked salmon, chive and onion cream cheese served on a round olive oil toasted crouton
Sweets
Yuzu Mochi – A delightful chewy outer wrapper surrounding a soft Yuzu ice cream centre.
Macaron – Seasonal berry butter cream sandwiched between two almond cookies.
Bunny Carrot cake – Moist carrot and walnut cake topped with cream cheese icing.
Verrine – Layers of seasonal rhubarb, yoghurt mousse topped with pecan granola.
Bunny Ear cupcake – Chocolate and Guinness cake topped with chocolate butter cream and milk chocolate bunny ears.
Salvatore's Bar at Playboy Club
Address: 14 Old Park Lane, Mayfair, W1K 1ND, London, UK
To book high tea at The Playboy Club London please check website link here