A warm country- style atmosphere welcomes you as you enter the Richmond Hill Café & Larder (RHCL) for the afternoon tea event.
This is a casual and friendly café that serves up really good food.
Described as an afternoon tea rather than a high tea. The tables tops are bare, the china is no fuss and white, with simple white cake stands across the room. There's no fine bore china or frilly features, as this is an afternoon tea where it is all about the food.
We started with a glass of bubbles and where offered a bottomless pot of tea. With wonderful French pastries, savoury treats and scones with jam and clotted cream, the hearty and dainty treats looked so perfect on the cake stand. My favourite was the warm mini gorgonzola, mushroom and leek tart. The scones where possibly the best I have ever had.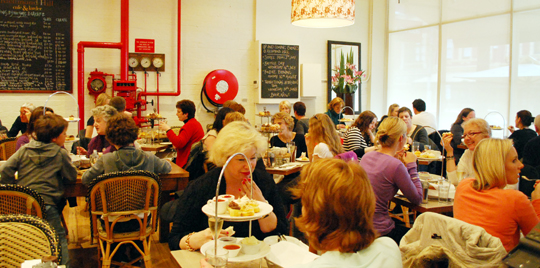 Richmond Hill Café and Larder Afternoon Tea Menu:

A glass of bubbles on arrival
Bottomless pot of T2 English breakfast tea
Finger sandwiches – roast beef and rocket, curried egg
Chicken, leek, pancetta and sweet corn pie with RHCL super tomato sauce
Mini gorgonzola, mushroom and leek tart
Lemon meringue tart
Quince and white chocolate trifle
Bee sting filled with pear and vanilla compote and crème patissiere
Mini cupcakes
House-made scones with strawberry and clotted cream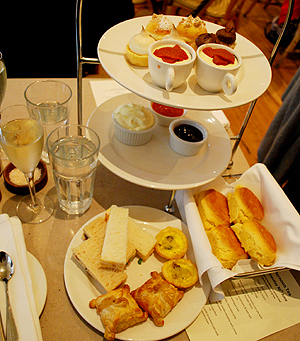 This is not an afternoon tea event to get dresssed up for, as it's a casual cosy afternoon tea.
Amazing food and good value. This is the afternoon tea for those that appreciate good food. There was a warm and friendly feeling, the staff were polite, efficient and well informed about the food.
Richmond Hill Café & Larder
Location: 48-50 Bridge Road, Richmond, Victoria, Australia
View the Richmond Hill Cafe & Larder website>>
The Richmond Hill & Larder no longer serve afternoon tea.