On a chilly winter's day in London, High Tea Society felt the need for an afternoon tea spread at The Royal Horseguards, a beautiful location that looks out to the London Eye.
We received a very warm welcome and left five hours later. It is one of those places that you could sit down with a great pot of tea and leave the world to do its thing, as we did.
The afternoon tea at the Royal Horseguards began with a smooth glass of Laurent Perrier champagne and a selection of sandwiches. The two in the party who took the gluten free option were impressed with what was provided to them and requested seconds. Those taking the classic afternoon tea received tuna in choux pastry along with light cucumber, salmon and Coronation chicken finger sandwiches.
Following the champagne and sandwiches, Novus tea was served from the world's most perfect silver teapots, our party having chosen white pear and ginger, fleur d'orient oolong and strawberries & cream black tea. The tea ware was the Royal Horseguard's own china, beautifully designed and when replaced, each person was consistently served with the design they had originally sat down with (we each received a different and unique design of tea ware).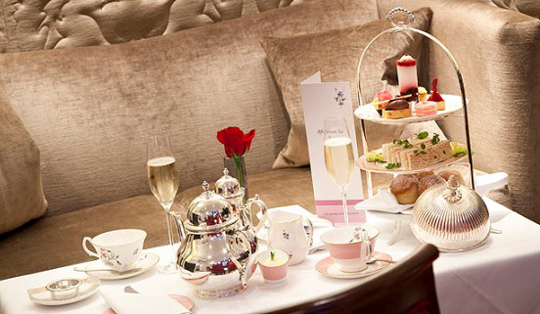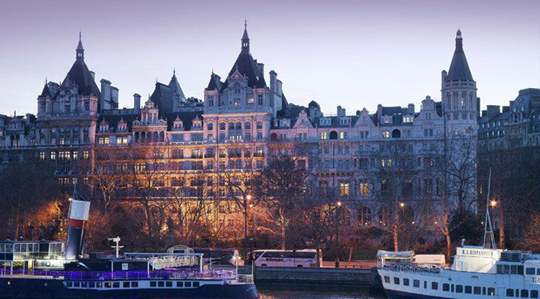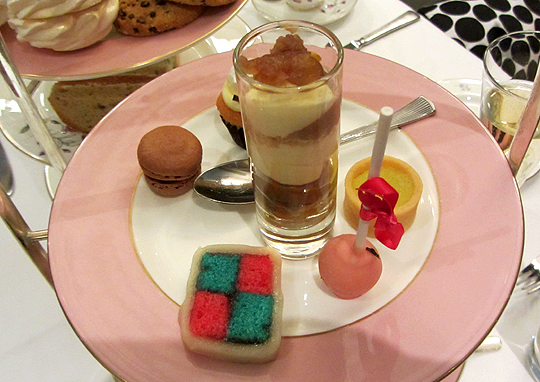 Both plain and fruit scones were served around 40 minutes into the service, both gluten and non-gluten free options being light and buttery with a deliciously tart homemade fruit preserve.
And before we knew it, we were munching on an array of cakes, the highlight being a caramel cheesecake that we would have asked for seconds of if we hadn't been so full. Also served were a passionfruit tartlet, lemon meringue cupcake, chocolate macaron and elderflower with raspberry Battenberg cake.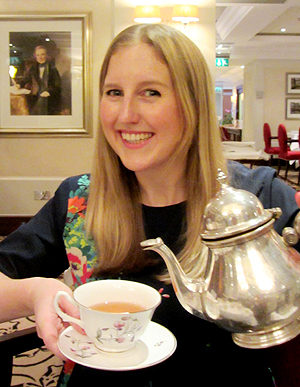 The service was five-star. We felt so welcome at the Royal Horseguards and at no point felt under any pressure to leave. It would be very easy to make yourself at home in this wonderful establishment and it is certainly somewhere we would visit again. Take your mum, your best friend, your dad, or like we did, just the girls for a good old natter; just make sure you wear a lovely tea dress to match the divine tea ware.
The food was of excellent quality, the gluten free options having being taken extra care to ensure that the bread wasn't dry and that they weren't limited in their choice. We particularly enjoyed the savoury choux pastry.
We chose the Signature Afternoon Tea which included the following:
– A traditional selection of finger sandwiches and contemporary savoury bites.
– Handmade cakes and delicate pastries
– Warm, freshly baked fruit and cinnamon scones, homemade fruit preserve and Cornish clotted cream
– Served with a pot of leaf or herbal tea of your choice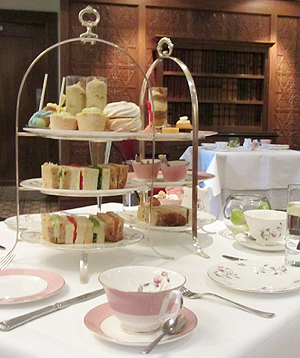 Novus tea was served. We were able to choose from a large and varied tea menu, with The Royal Horseguard's own china was used and it was beautiful.
The headquarters of the Secret Service during World War 1, the building that houses the Royal Horseguards has a big story to tell. The attention to detail from the glittering chandeliers and paintings of some of its former occupants to the contemporary design reflects this heritage.
On the day we visited a harpist was playing for afternoon tea guests. The Royal Horseguards hosts a range of events during the year and they are currently promoting both their Christmas tea and chocolate tea.
You would feel comfortable at the Royal Horseguards in jeans, a tea dress, a tuxedo or a ballgown. However, the general feel to the hotel was smart casual.
The Royal Horseguards, in its central London location was excellent value for money with delicious food served, however, the service at this hotel really excels and we would recommend the afternoon tea almost based on this alone.