Northern Ireland's Culloden Estate and Spa is set on the lush grounds of a 19th Century Gothic mansion and looking over the harbor towards County Antrim, the Culloden is in a league of its own in terms of quality, location and comfort.
High Tea Society was delighted to enjoy afternoon tea at Northern Ireland's Culloden Estate and Spa. Set on lush grounds of a 19th Century Gothic mansion and looking over the harbour towards County Antrim, the Culloden is in a league of its own in terms of quality, location and comfort. They served us a very traditional afternoon tea, and as we were there during the festive season it had a Christmas flavour to it.
The afternoon tea began with a glass of Mumm champagne which we drank while we were talked through the tea selection which we were able to view and smell and as a result ordered several teas each throughout our afternoon. We moved on to the cake stand which included an extensive selection of sandwiches and pastries, the highlight being the scones, something we realized during our stay that the Irish excel at.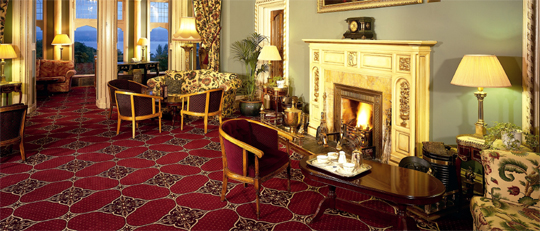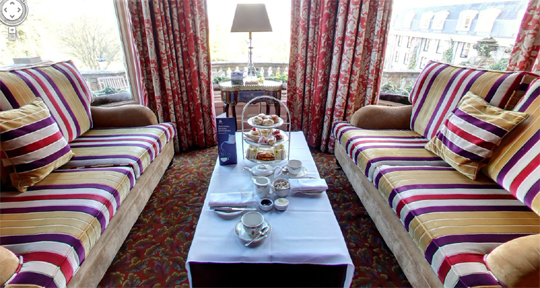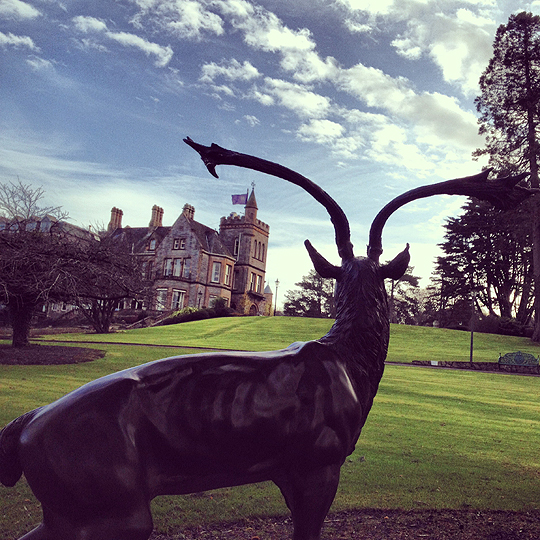 The quality of the food was excellent. Hastings Group, which the Culloden belongs to, is known throughout Northern Ireland for sourcing as much of its produce as possible from local sources. As a result, the ham, turkey and salmon, butter and cream went down well, knowing that it hadn't traveled far from its source to the table, the meat being especially flavourful. Hastings Group source their tea from Thompson's Family Teas, each one of the six that we tried being unique and delicious in their own right.
The final event for us was the pastries. As it was the festive season, most had a Christmas flavour to them; however, we were given a great idea of what they serve throughout the year. Of particular note were the pistachio and milk chocolate biscotti and the tonko bean and honeycomb pannacotta. The Christmas mince pies were buttery and very moreish, while we enjoyed the cranberry and white chocolate shortcake along with spiced cupcakes with divine vanilla cream.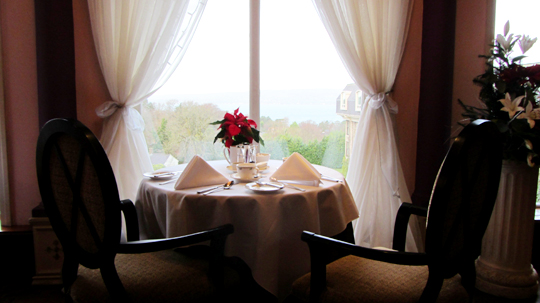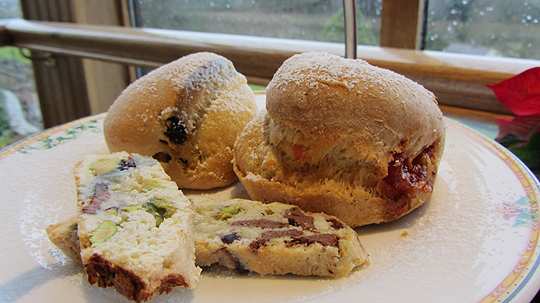 As mentioned above, the highlight for us were the scones. They were fresh out of the oven, moist and fluffy and oh-so-buttery. Eaten with cream and locally sourced raspberry jam made in small batches by Jean Clarke and her family in County Armagh, they were raved about and will certainly be remembered for a long time.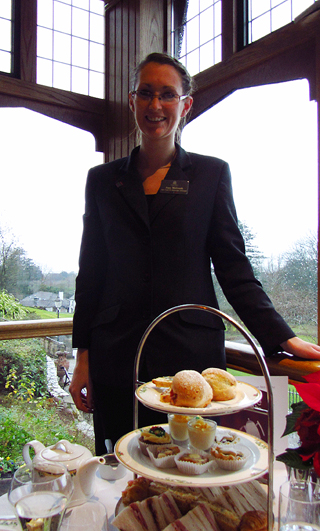 The Culloden was a remarkable hotel and the High Tea Society would especially like to thank Peter the restaurant manager for his down to earth service and staff that made us feel so welcome. Everyone was just so friendly in a really genuine way. We would recommend visiting the Culloden any time of year but could imagine sitting on the Culloden's balcony overlooking the harbour in summer would be particularly lovely and a way to appreciate Ireland's green even more.
The food was of fantastic quality, particularly the meats, preserves and dairy goods that were carefully sourced from local suppliers.
Thompson Family Teas, a local Belfast tea company was used and the High Tea Society was impressed with their quality. The high tea was served on Villeroy and Boch Adriana tea ware.
Culloden Estate and Spa Belfast Menu

Sandwiches:
Morgan's smoked salmon & horseradish croissant
County Down free range egg and mayonnaise
Ham and honey mustard
Turkey and chutney

High Tea at The Culloden Estate and Spa

Cranberry scones (these were perfection)

Pastries:
Baileys, tonka bean and honeycomb panacotta
Christmas mince pie
White chocolate and cranberry shortcake
Festive spiced cupcake with vanilla cream
Pistachio and milk chocolate biscotti

Tea: Thompson Family Teas
Set in an 19th Century Gothic mansion, the Culloden is an exquisite place to dine (and stay if you wish). The venue has been completely refurbished so feels modern inside with still a refined setting that makes you want to stand tall. Turrets are at both ends of the Manor and the grounds are green with an incredible view over the harbour looking out to County Antrim.
The Culloden Estate and Spa host a range of events throughout the year and are willing to accommodate special requests. Please contact the hotel for further details. We would also recommend making use of the Culloden's beautiful spa before your afternoon tea. You would feel comfortable in smart casual attire at the Culloden Estate.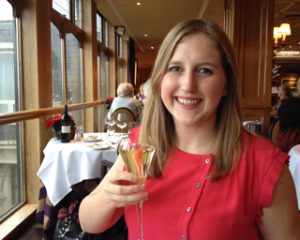 Set in a stunning location in a world-leading five-star hotel, the High Tea Society were made to feel extremely welcome at the Culloden. The service was exceptional as was the quality of the food. A lot of thought has gone into the details in every aspect of this exquisite hotel and we plan to return.