The Japanese High Tea is new to Ginza Miyako and is the only high tea of its type in the city. It is infused with traditional and modern Japanese flavours with a French influence.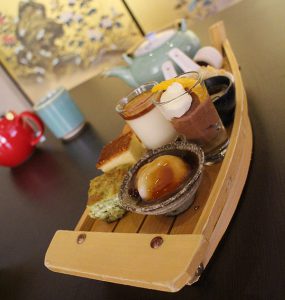 Head Chef Kazuki Ushiro San is a master of French Japanese cuisine and it really shows in the Ginza Miyako Fusion Japanese High Tea. Kazuki is extremely creative experimenting with different and delicious flavours with all of the food being extremely fresh.
It was such a treat to engulf yourself in the traditional Japanese seating, where you take your shoes off before entering the dining area and sit in the below ground tables.
High Tea began with a glass of complimentary sparkling wine. There was so much food in this high tea, so bear with me….it's definitely worth the wait!
The savoury component of the Ginza Miyako High Tea began with Tempura. The prawn was very generous in size and so fresh. Tempura vegetables included tasty zucchini and eggplant. I love Eggplant, so it was great for this to be included.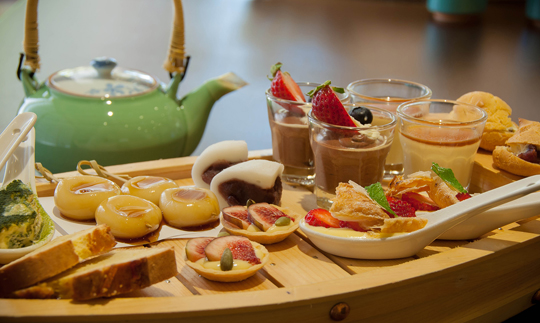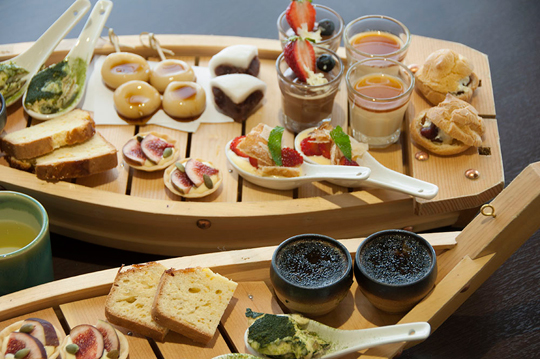 Beef sandwich with lettuce and tomato was more western and was maybe their equivalent of the cucumber sandwich. It had a nice flavour.
The chargrilled Teriyaki chicken was really tasty and melted in your mouth. Kingfish and Salmon Nigiri was so fresh. The California roll with fish roe was delicious.
The Chicken and Soy Soba noodles made of wheat and buckwheat flour were an acquired taste but were very fresh and light.
Sashimi King Fish and Salmon was served with a salmon roe wasabi dressing and was fresh and lovely.
The Egg omelette with seaweed salad and radish had a unique texture but was tasty.
If you're not a fan of raw meat, you won't love the Wagu Beef Tataki with Ponzu sauce but the citrus sauce complimented it nicely.
Chicken Karaage is better known as Japanese Fried Chicken. It was so delicious with the Kewpie Mayonnaise – finger licking good!!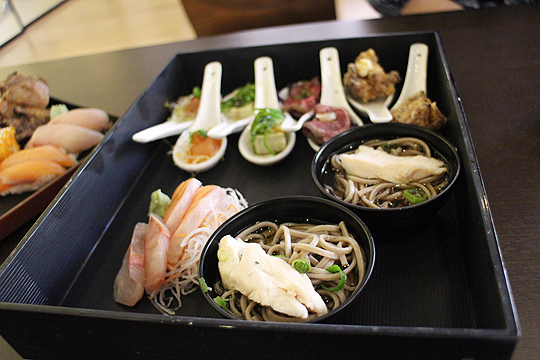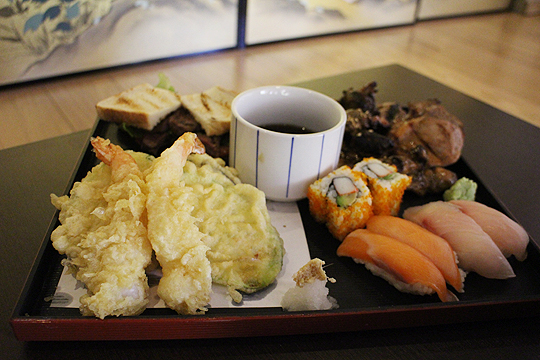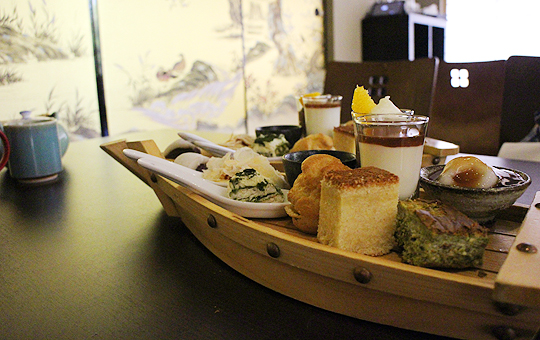 At this point we were full and weren't sure how were going to fit in dessert but, as soon as it was brought out in a gorgeous boat, we took one look at it and couldn't resist!
The Desserts are all made on site and they were spectacular!
Sweet Red Bean Mochi tasted similar to raw scone batter – but didn't we love sneaking in a taste of that as a child? I really liked it.
Strawberry Mille-feuille was so lovely with the flaky pastry and fresh cream. Green Tea Tiramisu was very cheesy but as someone who doesn't like the traditional Tiramisu, I enjoyed the Japanese take on this.
Don't let the grey colour of the Sesame Brulee put you off. This was delicious with the sesame setting off the sweetness of the Brulee beautifully with the lovely crunchy top. Chocolate and Mandarin Mousse was really fresh and a nice taste. Plum Wine Pana Cotta was the standout dish, with its freshness and smoothness. We could have eaten this for days!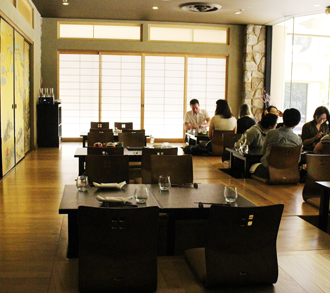 Red Bean Eclair with fresh cream was probably the High Tea equivalent to the scone and was really nice.
Yuzu vegan cake had a nice citrus almond flavour. It wasn't as moist as a normal cake due to the ingredients but the vegan fans will like it.
Baked Green tea cheesecake more cake like in consistency but I did like the flavour.
The raw Dough balls had a sticky, salty and sweet taste, which was very different to anything I had tried.
The Ginzo Miyako Fusion Japanese High Tea allows for unlimited espresso coffee or tea. The tea on offer was varied but their signature tea was served in a lovely traditional Japanese tea pot and cup which was the Genmaicha or Brown Rice tea. It is a green tea with roasted brown rice. It has a mild and savoury flavour. The hostess explained it was a detox and cleansing tea. This was definitely needed after indulging in the Japanese fare.
The service was excellent and the hostesses were very kind and patient when trying to help us understand everything on the high tea menu.
With the amount of food it is more like lunch than a High Tea so ensure you go on an empty stomach. Don't forget your shoes on the way out!
High Tea at Ginza Miyako Menu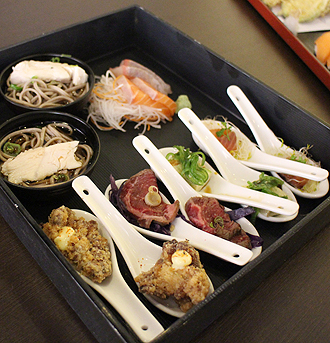 Savoury:
Tempura with soy sauce – Prawn and a selection of vegetables
Beef, lettuce and tomato sandwich
Teriyaki chargrilled chicken
Kingfish and Salmon Nigiri
California Roll
Chicken and Soy Soba Noodles
Sashimi King Fish with salmon roe wasabi dressing
Egg omelette with seaweed salad and radish
Wagu Beef Tataki with Ponzu
Chicken Karaage with Kewpie Mayonnaise
Dessert:
Red Bean Mochi
Strawberry Mille-feuille
Green Tea Tiramisu
Sesame Brulee
Chocolate Mousse
Plum Wine Pana Cotta
Red Bean Éclair
Eclair red bean with fresh cream scone equivalent
Yuzu Cake
Baked Green Tea Cheesecake
Sticky Dough Balls
Vegetarian and Gluten Free options are available with advanced notice.