One of the best things about getting out of Sydney to find regional high teas, is that the venues we visit always come with a little bit of Australian history attached. Lilianfels, who boasts Katoomba's three sisters as its neighbour, is no different.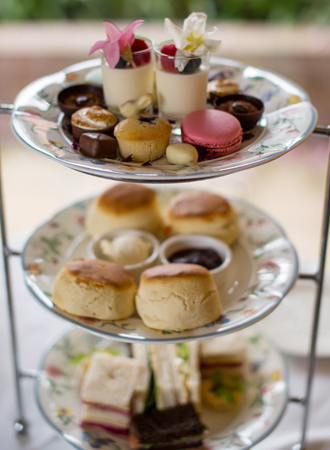 Formerly the residence of the sixth Chief Justice of NSW, Sir Frederick Darley, Lilianfels is set on two acres of manicured gardens. It's a 5 star resort, which also includes the hatted restaurant Darley's. The views from the grounds are stunning. Looking out over the Jamison Valley and World Heritage Listed Blue Mountains National Park, it was quite spectacular watching the clouds come and go in the valley on the weekend we visited.
Being a 90-minute drive from Sydney, it was the perfect excuse for a weekend break away from the big smoke. The hotel itself celebrates its Victorian origins and has an understated elegance of a bygone era. Our valley view room was decorated in period style and had the little touches that 5-star hotels have – fluffy bath robes, luxury toiletries, and best of all considering it's in the mountains, a towel warmer in the bathroom! The view straight down the valley was amazing to watch as the sunset.
After we'd checked in and settled into our room, it was time to head downstairs to the guest lounge for high tea. The lounge has two open fireplaces – which they were lighting as we arrived – it's a lovely reminder that you're in mountain country.
The general feel of the room is that of a manor house formal lounge. Plush lounges, low tables, high-backed armchairs. All in muted, relaxed tones. You get the feeling that you could really settle in for the afternoon on a couch in front of the fire, even if you're not having high tea.
The tea service ticks all of the luxury boxes: Noritake plates, Villeroy & Boch tiered stand and Wedgwood fine bone china teacups. It all adds to the sense of luxury and old world charm. The menu is quite traditional, but in a venue that is all about nods to its past, it suits the scene quite well.
The sandwich selection was smoked salmon on rye with truffle and rocket; curried egg and lettuce on white; and, pastrami, cheese, beetroot and horseradish on white. There was also an avocado in filo tartlet. The salmon and truffle was the pick of the tier. A lovely dark rye bread and the touch of truffle added a heady, luxurious element.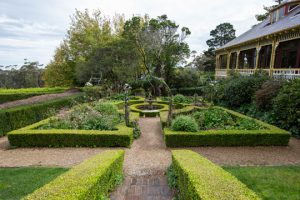 Next we worked our way through a quite substantial sweet selection. A vanilla panacotta decorated with berries and a lovely flower; a chocolate coffee mousse cup; raspberry and pistachio macarons; mini blueberry muffin; mini lemon meringue tart; and, being Easter Monday when we were there, Easter chocolates. We told you it was substantial!
Last up were the scones with strawberry jam and clotted cream. We've eaten a lot of scones in our time, and we're happy to say that these scones would be ranked in our top 10. A great crust and lovely crumb, the jam was nice and tangy to cut through the richness of the clotted cream.
Another nice touch is that the teapots and cups were pre-heated, and a silver pot of hot water was served alongside so you can top up your teapot as required.
Overall, Lilianfels is a fabulous destination high tea. If you can manage an overnight getaway, it's highly recommended. That said, if you're a local looking for a treat, it's a great excuse to spoil yourself too!