Martha's Pantry is a vintage tea house at the top of Cuba Street. It is set in a beautiful red brick restored heritage building and provides a traditional High Tea. The setting is very British tea house of old.
The name Martha's Pantry come from a relative of the current owners. The original Martha ran a drapery business from the site and was the Great Grandmother of the owners and when visiting note that the counter was the original drapery counter.
Martha was known for her amazing hospitality and when the idea for a High Tea cafe was first conceived, the name was the obvious choice. The building was actually set for demolition but a long legal campaign thankfully saved it. Martha's Pantry is now an institution in Wellington and often the first place mentioned when pondering a high tea.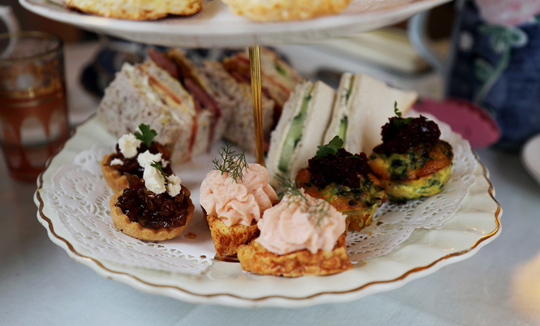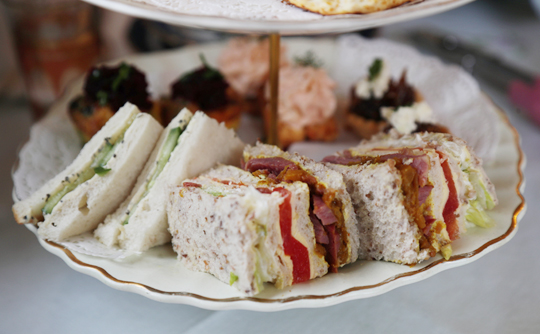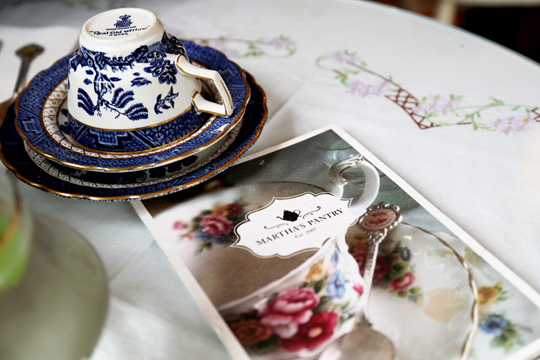 Our high tea began with the difficult decision of choosing a drink, a black board showed the choice on offer which included T-Leaf Tea, Supreme Coffee, hot chocolate, milkshake or even a spider. The T-Leaf Tea had its own menu and we selected Earl Grey Blue Flower and Jasmine Princess. We were given our own tea pot for each tea. My Jasmine Princess was novel, I was given a bud to either place in my cup or pot, it opened out in the water and gave a delicate jasmine taste.
The food arrived on the traditional 3 tier tower and we were talked through each level. The food is cooked in a domestic sized kitchen visible behind the counter and cooked using a standard domestic oven, incredible.

The bottom tier had a selection of savouries and all were delicious. The addition of homemade chutneys and onion jam was a very nice touch. I particularly enjoyed the savoury tart filled with onion jam, the pastry was perfectly short. The salmon mousse was light, fluffy and the cheese crostini was the perfect vessel. Everything was tasty and devoured.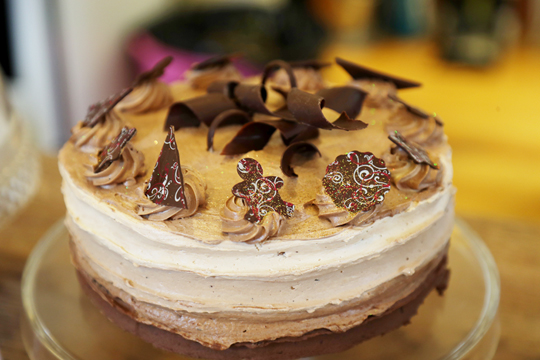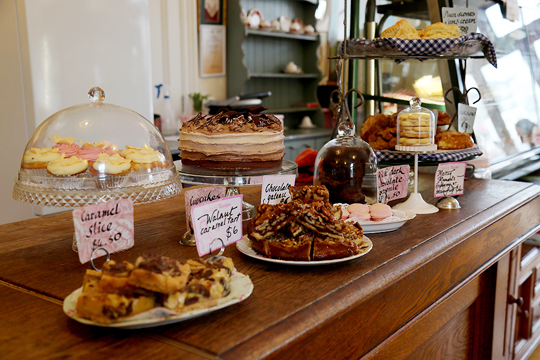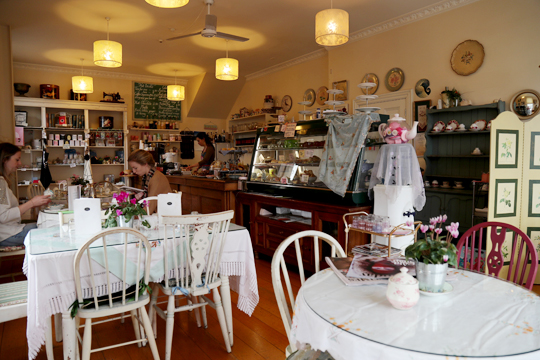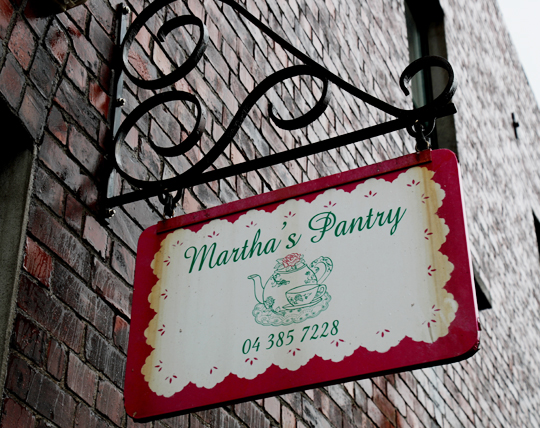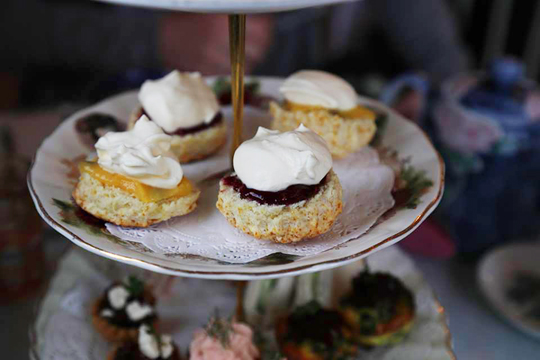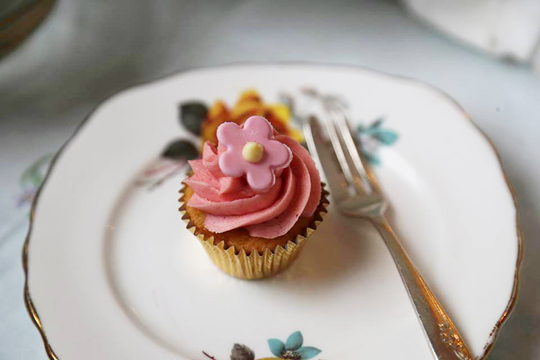 The second layer was the traditional scones. My dining companion and I are both British and know our scones, these were fresh and had the perfect mix of fluffy and light on the inside with a nice firm outer. Our one comment was that it would be nice to have a thicker cream or even clotted cream.

The top tear had us having an in-depth conversation about where to begin and what to save for last. We decided the passionfruit macaron would be our finale. To begin, we had the petite little cupcake with raspberry icing and noted how delicious the icing was with a hint of fruit. The opera cake was next and it was rich and decadent as an opera cake should be, this is one of their signature cakes and they should be proud. Our wait for the macron was the right decision and the perfect macaron finished of our wonderful experience.
Martha's Pantry High Tea Menu
Mini Cupcake
Sweet Selection with a Mini Macaron and Opera Gateaux
Traditional Scones served with Raspberry Jam & Cream and Passionfruit
Curd & Cream Cheese Crostini with Salmon Mousse & Dill
Savoury Tart filled with Onion Jam, Blue Cheese & Parsley
Spinach & Feta Frittata topped with Beetroot Relish
Cucumber Dainty with Cream Cheese & Fresh Mint
Traditional Corned Beef & Pickle Club Sandwich or Egg Club Sandwich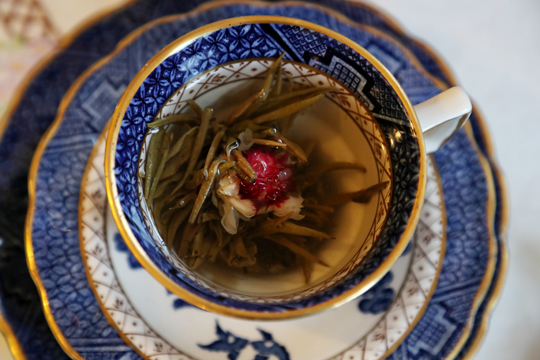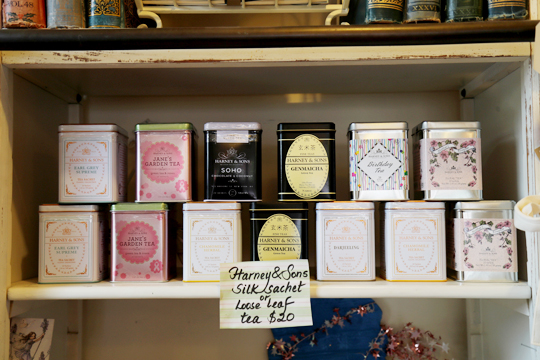 The decor is very old style tea room and the tea is served in fine English Bone China with vintage cutlery. The tables are covered with embroidered cloth and topped with glass. It is a place where a best dress could be worn or tidy casual. The room had a happy hum and everyone seemed to be having a lovely time.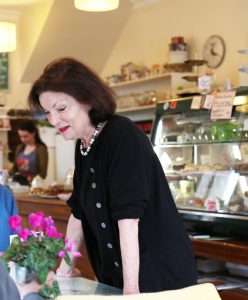 Martha's is not a large venue but can accommodate groups. The small space makes the whole experience a cosy one which ties in nicely with the family atmosphere created excellent and friendly staff generate.
Martha's Pantry High Tea was a delight. The high tea is excellent value and it was wonderful to have a made with love traditional high tea in a happy place.
Monica, one of the owners told us Martha's is about, 'a love of serving dainty food in a traditional tearoom setting with a smile'.