It's this attention to detail in the décor that really sets Nostalgia apart for its High Tea service.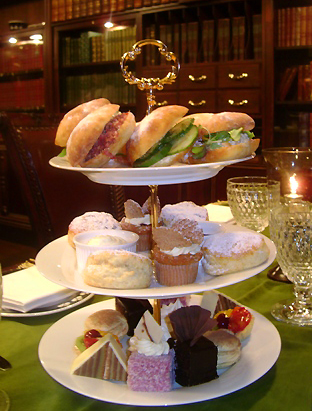 If you're looking for something a little different for a special occasion Nostalgia is well worth a visit.
It was a horrible rainy day when we visited Nostalgia in Auckland for high tea, but this made it all the more enjoyable as we stepped into its dark and mysterious depths.
From the exterior you'd never guess at the wonder that you'll find inside –Nostalgia is a true blast from the past with darkened, elegantly furnished rooms, tight passage ways and antique décor that matches the staff in shirts, ties and waistcoats. With a 1920s jazz soundtrack in the background it really is like you've stepped back in time.
Service begins with a choice of savoury tea from a list of the usual suspects: English Breakfast, Chinese Jasmine Green, Japanese Matcha green among others. This is delivered to the table in individual ceramic teapots festooned with playing card suit motifs that fit the Prohibition-era underground poker scene feel of the venue. Seated in the library on tall-backed chairs we were surrounded by ancient books, a fireplace, heavy clocks that chimed on the quarter hour and muted lighting. If hadn't been for the tray of treats that arrived shortly after the tea we would have been up out of our seats and off to explore!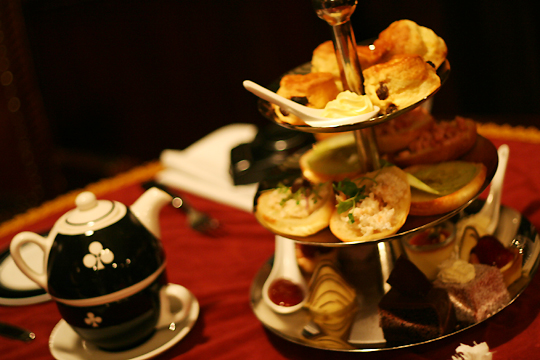 The appropriately-attired staff almost blend into the background, silent, yet attentive with teapots being filled at just the right moment. Discussions are in hushed whispers which lends to the atmosphere and one almost expects Bonnie and Clyde or the cast of Chicago to bust into the room in all their finery.
Everything at Nostalgia is made in house, from the breads right through to the delicate pastries by chef Richard Arboleda, who has won the coveted title of best NZ Pastry Chef of the year three times.
Starting with sandwiches Nostalgia does things a little different by serving the savoury course on tiny ciabatta buns, rather than club sandwiches as traditionally associated with High Tea. These kept things light, leaving plenty of room for the sweet courses to follow. Of the three sandwiches (ham, cucumber and seafood salad) it was the cucumber that stood out. Its perfectly thin slices of cucumber; lightly seasoned and anointed with oil, were that little splash of tradition and freshness that brightened up the first course, cutting through the stronger flavour of the seafood sandwich and palate-cleansing before the scones.
The scones themselves were light and fluffy and just the right size so as not to leave you feeling too full. The cream and jam, although a little hidden on the sweet course tier, were just the right sweetness to pair with the nicely raisin-filled scone. Once the savoury course has been dealt to and more serious conversation topics done away with, Nostalgia offers a second tea choice to accompany the sweet course.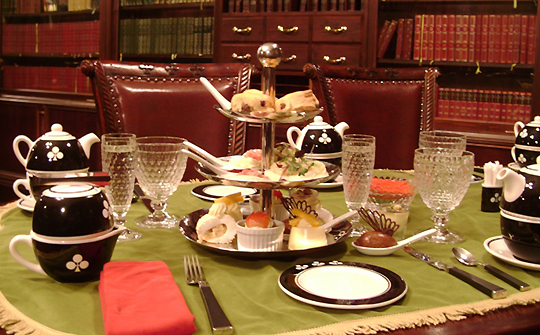 Where the savoury course teas are your regular inclusions on a High Tea menu Nostalgia sets itself apart with this second offering of whimsical spiced and flavoured teas from local and international producers to accompany an array of very decadent looking sweet treats. The Aladdin (Pratty's Tea) is a black tea flavoured with cocoa, caramel and almonds with a hint of apple; it's light but its depth of flavour is lovely and almost whisks one straight to Persia, its aroma evoking images of camels and deserts and hidden garden oases. The African Bush Vanilla Crème (Tea Total) is another of the rich sweet tea options, with waves of vanilla flavour and yet is caffeine free.
These teas provided the perfect intermission and introduction to the lower tier of the tea tray: a selection of chef Arboleda's sweet masterpieces. The pistachio-topped crème brulee was a wonderful accompaniment to the caramel notes in the Aladdin tea, and although the pistachios and the top of the brulee had softened quite significantly the very creamy brulee was a great start to the sweet course and had us wanting more. The creamy textures continued through the mango mousse and custard tart before switching tack with the very 'Kiwi' of afternoon tea treats, the lamington. It had been years since I had enjoyed a lamington and this was a perfect specimen: light and fluffy with just the right amount of jam coating and a light dusting of coconut. The standout dessert however was the chocolate fudge cake which was dense and rich and very chocolatey; a wonderful decadent way to end a lovely high tea experience. What appeared as a very basic chocolate cake from the outside was lovely and moist and deliciously fudgy right the way through.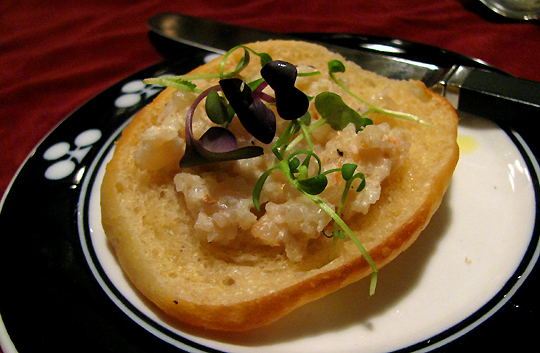 Nostalgia offers a range of High Tea options including those with your choice of a glass of bubbles or a specially created cocktail for events such as Hen's afternoons, birthdays or other celebrations and also include Gluten-free options if required.
Nostalgia High Tea Menu
Open-topped ciabatta buns with ham, cucumber and seafood salad
Freshly baked raisin scone with strawberry jam and cream, savoury scone with butter
Raspberry Lamington, Mango mousse, Chocolate Fudge Cake, Custard & Fruit Tart, – Pistachio Crème Brulee
Savoury Course Tea
Sweet Course Tea
From its days as one of Auckland's favourite dining spots through several decades as a local bar, Nostalgia went through significant renovation and redecoration before becoming the masterpiece that it is today. From its book-lined library walls to the elaborate light fittings in the red room and the dolly balcony on the stairs, an afternoon at Nostalgia really is like stepping back in time.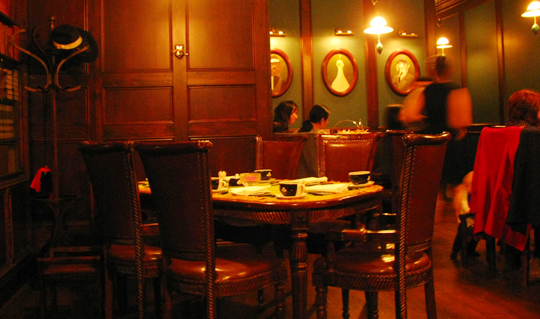 It's this attention to detail in the décor that really sets Nostalgia apart for its High Tea service. If you're looking for something a little different for a special occasion Nostalgia is well worth a visit – dressing up in 20s attire yourself is at your own discretion!
Nostalgia
Location: 108 Ponsonby Road, Ponsonby, Auckland, New Zealand
Bookings: Reservations are recommended either online via their website or on +64 9 361 5858
Website: http://www.nostalgia.net.nz