This range of unique Raw High Tea indulgences comes from a place of believing that celebrations don't always have to include foods that do not nourish and drive you in some way.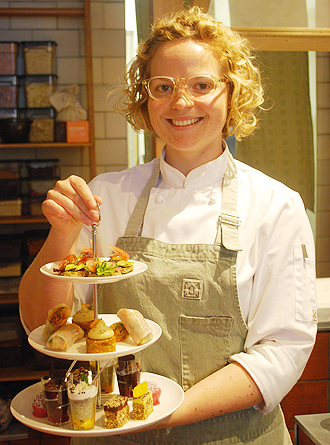 Yardmill celebrates one year with the launch of the new Raw High Tea series.
Yardmill Raw High Tea celebrates local produce, clean eating and being part of the experience if you are gluten free, vegan or leaving refined sugar out of your eating habits.
In stepping foot into the small but quaint venue in Toorak village I was taken on a journey away from the hustle and bustle of the busy street. The floor is ceramic tiled, much like you would see in a farmyard barn and path, the tiles on the wall are handmade by Shane Kent, a local specialist with the effect in mind of a thatched wall, the timber railings on the wall resemble horse tie up areas.
Yardmill has been a hard worked dream come true by owner Tracey Sisson. She left behind 8 years of practising law, accountancy for 20 years before that to be able to directly cater for the people like her, the time poor professionals that do not want to miss out on high quality produce and home cooked meals. Yardmill is the solution for people that have intolerances, are time poor and are gym junkies. After research trips to Sydney, NYC and LA, the small eatery in Toorak Village was born. Yardmill attempts to support Victorian when they can but some produce is sourced Australia wide, not only having meals on offer but also pantry products for sale.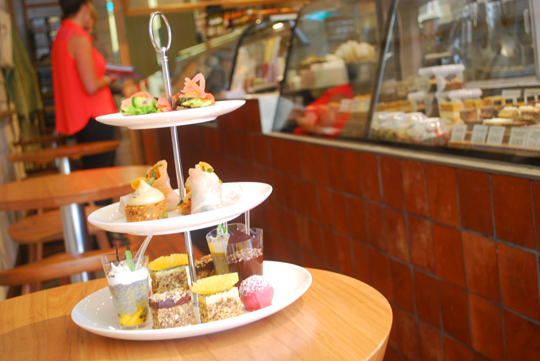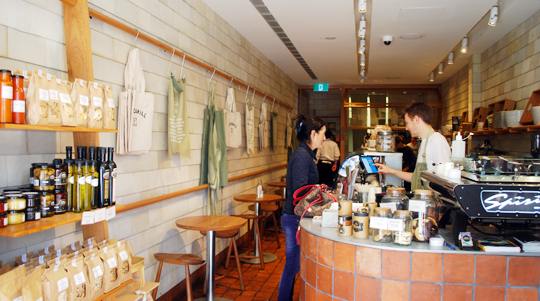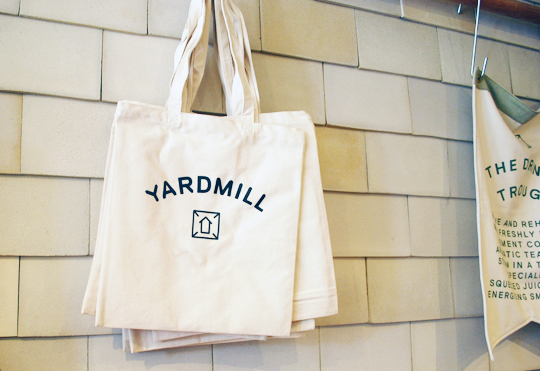 The Yardmill is now 15 months young and to celebrate progressing into their second year, they have launched a new range of high tea indulgences made from nutritious and local ingredients.
The High Tea was not what I was expecting, and it certainly isn't a traditional spread. Thoughts of High Tea are often drawn to extravagance, tradition and indulgence. A raw offering is not something that jumps to mind. My favourite item was the chocolate mouse, I understand this is highly cliché but it didn't taste sugar free. It's so good that you can in fact purchase in store to take home for dessert. The dehydrated at 40 degrees, raw bread the savoury items were served on was also divine (I wish they sold them in store).
Working with Head Pastry Chef Emma Granlesse, owner Tracey Sisson has combined her dedication to good food and wellness with her love of an exquisite and delicious High Tea, to be shared with close friends and family.
"This range of unique Raw High Tea indulgences comes from a place of believing that celebrations don't always have to include foods that do not nourish and drive you in some way," said Sisson. "Much like our Health Haven Range of Breakfast bowls, Raw Powerbars and Vegan treats, the Raw High Tea series is prepared using only the best organic and raw local ingredients."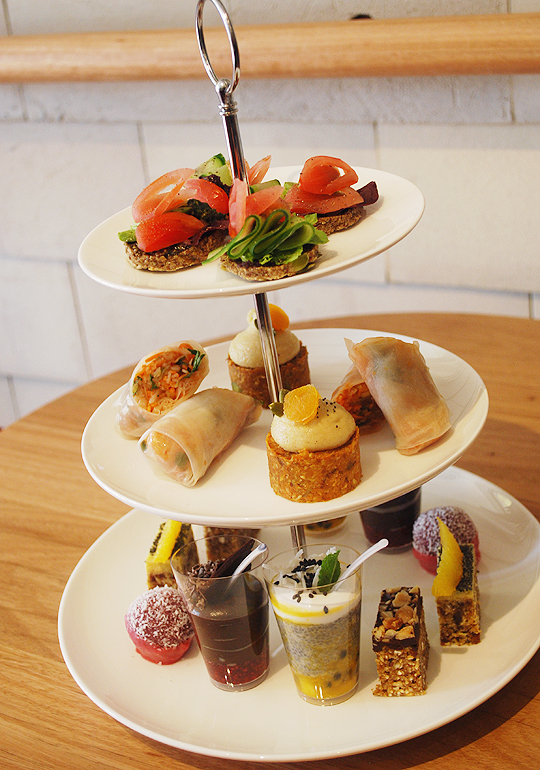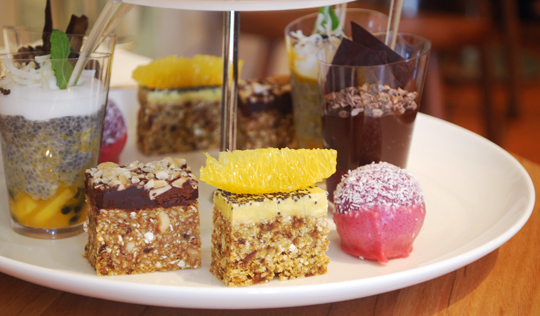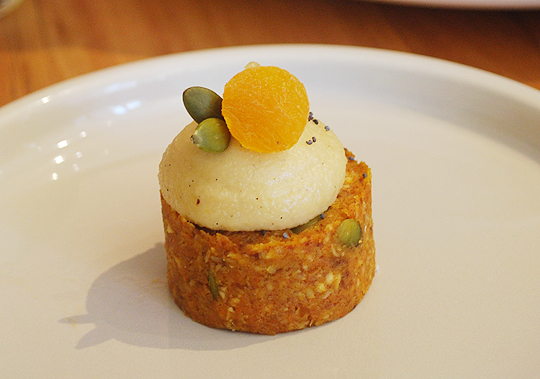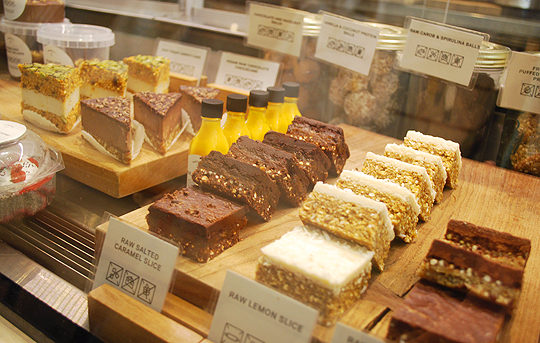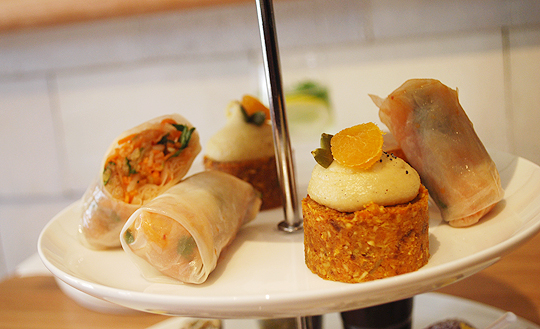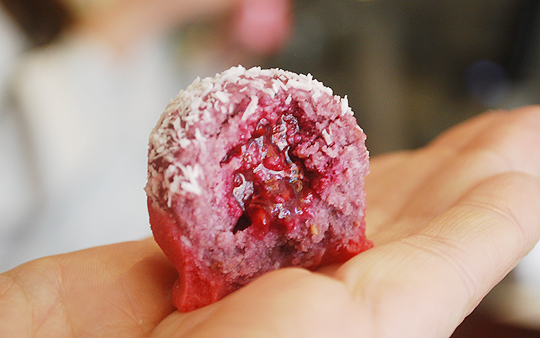 The whole offering is gluten free except the carrot cake that contains oats.
Yardmill High Tea Menu
Savoury
Raw bread with avocado, basil pesto and tomato
Raw bread with shaved cucumber, olive tapenade and tomato
Vegan rice paper rolls
Sweet
Baby carrot cake with a dollop of tangy lemon icing
Chocolate mouse with raspberry chia coulis, cacao nibs and "chocolate" shards
Mini orange and poppyseed bar cake
Peanut "chocolate" bar
Raspberry and lemon bliss ball dipped in raspberry "white chocolate"
Tropical chia shot
Drinks
Alkaline aqua fresh with cucumber, lemon and mint
Organic tea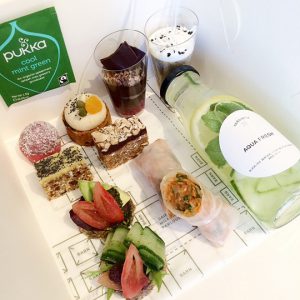 We were seated at timber tables, with rustic napkins and ceramic country style plates. Diners can choose from a range of white, green, oolong, black and herbal tea. If you are feeling particularly brave try the almond milk or soy Matcha Latte, an antioxidant green tea, which holds great health benefits including increased mental focus and energy.
Yardmill offers a unique High Tea experience with the raw ingredients allowing you to be more flexible with the timing and groups. We did the review at 9.30am and it served as a fabulous breakfast alternative. The venue only caters for two groups of two celebrating high tea on Saturday. However, High Tea takeaway is available for larger groups.
As of December 2015 Yardmill are no longer serves high tea.