The Mandarin Oriental takes you on a journey back in time to the British Colonial era with its style and impeccable service.
We asked our followers where we should go for high tea in Bangkok and the number one response was the Mandarin Oriental – and now we know why. The Mandarin Oriental takes you on a journey back in time to the British Colonial era with its style and impeccable service.
Served in the Author's Lounge (named after the many famous writers who have stayed at the hotel) afternoon tea is a classic experience. The lounge is decorated with white-washed rattan furniture, Siamese umbrellas and palm trees. The lounge is located in a building that formed part of The Oriental Hotel, the first hotel built in Thailand which opened in 1879.
You have the choice of ordering either the Traditional Afternoon Tea Set or the Mandarin Oriental Thai Set.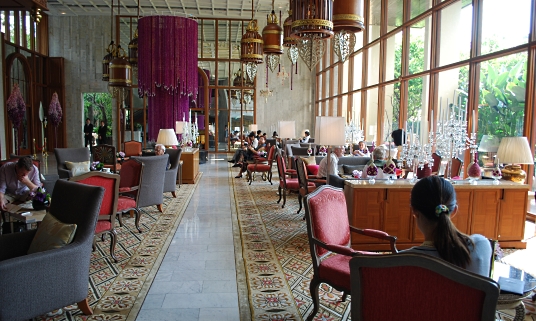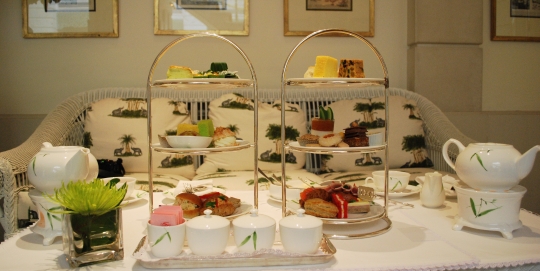 Mandarin Oriental Hotel Bangkok Menu

Traditional Afternoon Tea Set:
Traditional plain and raisin scones
The Oriental pomelo marmalade, raspberry preserve
Mystic rose petal jam
Clotted cream and creamy butter
Sugar cane smoked Barbie duck in butter brioche roll
Flakey mushroom and spinach turnover
Cooked ham and Cheddar cheese tea sandwiches
Boiled egg and mayonnaise salad tea sandwich
Smoked salmon and lemon – horseradish cream tea whole wheat croissant
English fruit cake and lemon chiffon butter cake
The "top" cake
Seasonal berry tartlets
Potted crème brulee
Vanilla panna cotta with roasted pear compote
Butter cookie, apricot marmalade
Poppy seed short bread finger
Raspberry crumble
Champagne stick
Refreshing green lime and ginger sorbet
Macarons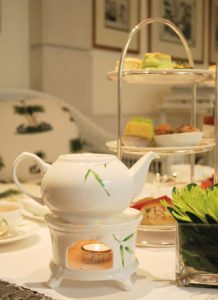 Mandarin Oriental Thai Set:
Pandanus leaf and coconut scone
Bitter pomelo marmalade
Exotic mango-ginger jam
Clotted cream and creamy butter
Honey crisp vermicelli in rice flour shells
Lemongrass and Thai spiced tea sandwich
Turmeric chicken and roasted chilli jam in whole wheat croissant
Steamed prawn and passion fruit sauce brioche roll
Boiled egg, Thai herb and mayonnaise tea sandwich
Flakey Thai curry and lotus seed puff
Fluffy rice crispies with bean curd and corn topping
Passion fruit pound cake
Pandanus leaf chiffon
Coconut macaroons with lemon Chantilly cream
Punned of yellow bean marzipan, coconut cupcake, potato, pumpkin and sweet egg yolk treats
Green tea custards in mixed berry sauce
Refreshing rambutan sorbet with water chestnet jewels
We tried both menus and would suggest the Thai Tea Set as there are some unique Thai desserts to try. In the Traditional Tea set the cream brulee and the macarons are the stand out items.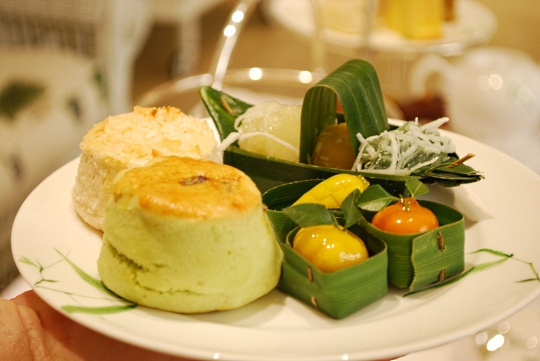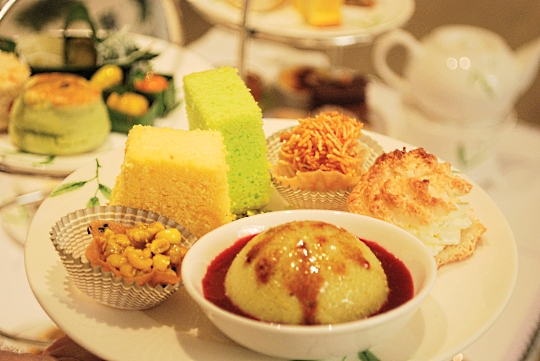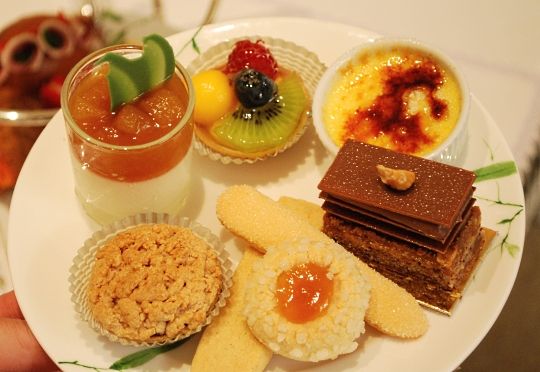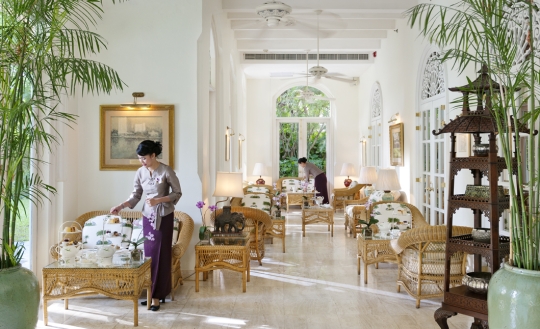 Mandarin Oriental Spa

The Mandarin Oriental Hotel

If you're looking for a special place to stay in Bangkok, The Mandarin Oriental is an award winning and unique hotel experience. The hotel is positioned on the banks of the Chao Phraya River, across the river the hotel has a restaurant, Spa and Thai Cooking School. Getting there is easy as the hotel has a complimentary boat to ferry you across.

It's not just high tea on the menu, but there are nine outstanding restaurants and bars as well. The Riverside Terrace provides alfresco dining with one of the best views in Bangkok. Sala Rim Naam located across the river from the hotel offers traditional Thai cuisine with a classical Thai dance show every night.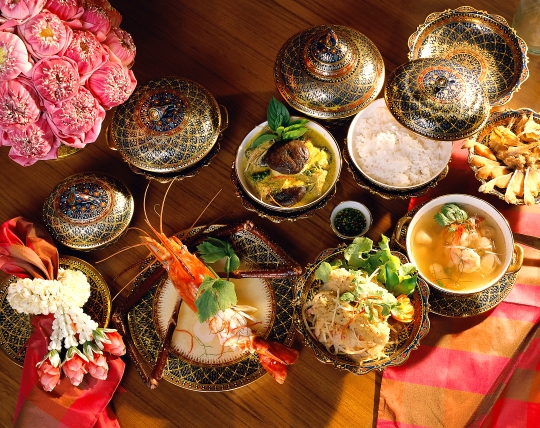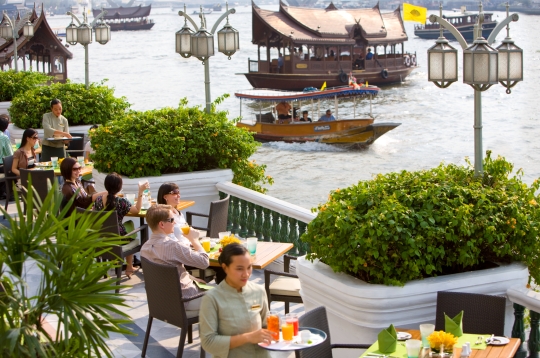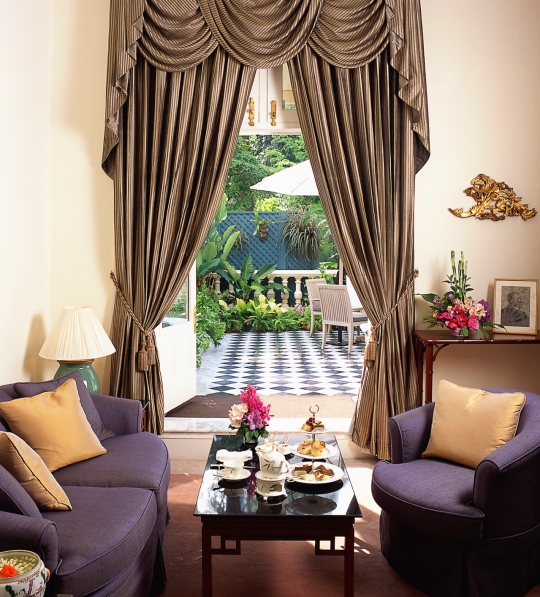 The Mandarin Oriental is classic and beautiful setting for afternoon tea. Make sure you book in advance as the Author's Lounge can be closed for private functions, in this case afternoon tea is served in the stunning hotel lobby. Afternoon tea at the Mandarin Oriental is a unique experience and a must for any lover of high tea while in Bangkok.