Modern chic with Afternoon Tea at the Crown and Crumpet San Francisco.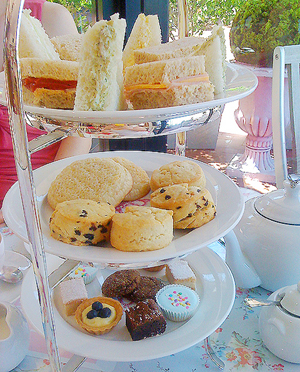 Crown and Crumpet offers a playful take on the traditional high tea with the style and charm of modern day Britain. But don't picture doilies and tea cosies – this is more about the crisp architectural space, creative interior décor and doses of panache.
Amy and Christopher Dean, whose wedding celebration admittedly involved a lavish afternoon tea party, opened the venue in late 2008. The pair met in London and owned an antique store together before launching Crown and Crumpet.
As a Cath Kidston fanatic – the look and feel of the venue is personally admiration. Classic rose prints and pastel ticking stripes accompany white furniture. A highlight being the large painting situated above the fireplace of Christopher's aunt and uncle from 1922.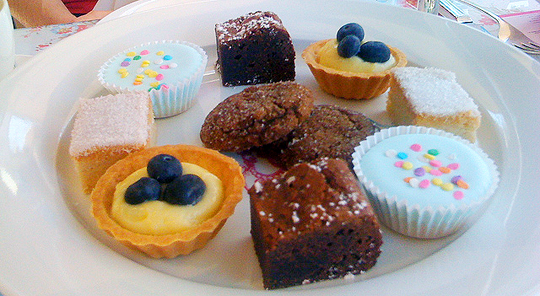 Now for the food…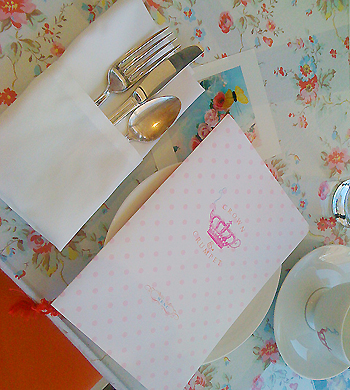 We enjoyed the Tea For Two service, which includes sandwiches, scones, crumpets (as the name suggests), sweets and large pots of tea. For $42 all up – it's comparatively good value.
The sandwiches are sourced from seasonal produce and you'll find a selection of egg, ham, English cheddar and mustard, red pepper and humous, chickpea pesto, baked tomato and goat's cheese on your plate. The scones are homemade and the crumpets are from an LA bakery. Clotted cream is shipped in from Devon.
From the tea range, we chose the Paris (the most popular) with bergamot and vanilla notes as well as the Marie Antoinette (bergamot, blue, mallow and rose). It's served in Crown and Crumpet branded crockery for that finishing touch.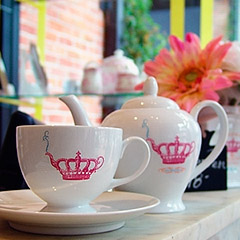 You can also view and purchase the extensive tea options (black, green, oolong, white and fruit and herbal) online.
Parties and events are well catered for with three seatings – 11am, 1.30pm and 4pm a day. Please call to arrange. The Nursery Tea for those 12 years and younger will keep the children happy too.
When you're finished with the culinary delights, mosey on into the adjacent store to treat yourself or stock up on gifts. There's also much to see in Ghirardelli Square – a historic San Francisco visitor attraction.