With Melbourne weather being particularly bleak and miserable of late, Cinema Nova's venture into high tea gives cinemas buffs and tea lovers an appetizing and entertaining escape from the cold.
High Tea Society ventured over to Carlton's iconic cinema recently to attend its inaugural Nova Deluxe 'High Tea at The Movies'.
As much as I enjoy the occasional choc top and buttered popcorn when I go to the movies, it was a pleasant surprise to be greeted by a rainbow of fruit tarts, lemon meringues, dark chocolate tarts and macarons when I walked into the theatre. While I could not decide which of the berry tarts I liked most, the bite-size portions were perfect for nibbling and packed a delightful punch for their size.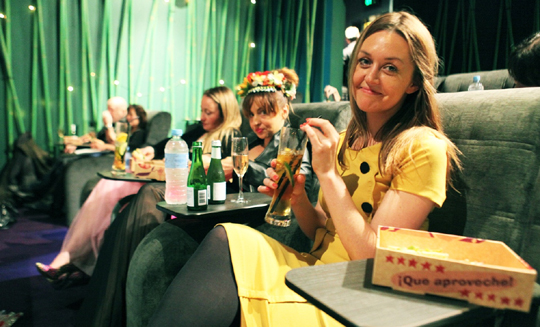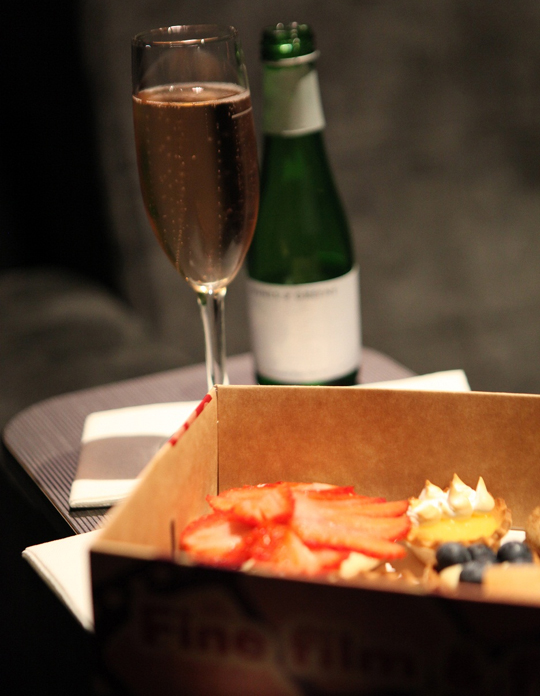 I also made several visits to the Smoked Salmon, Caper Mayonnaise and Watercress Salad on Rye tray. The creaminess of the salmon and mayonnaise worked perfectly with the crunch of the thinly toasted rye bread. The chicken and potato sandwiches were pleasant but the clear savory winner was the salmon.
After service was cleared, I happily took my glass of Pimms and my tray of second helpings back to my seat and settled in for a cute French comedy The Chef starring Jean Reno.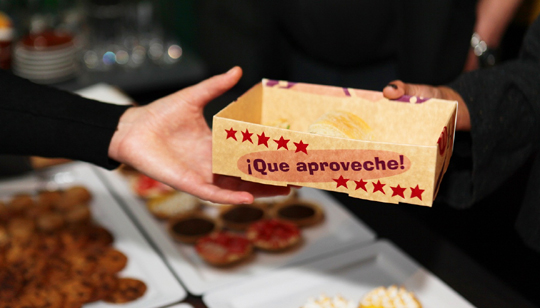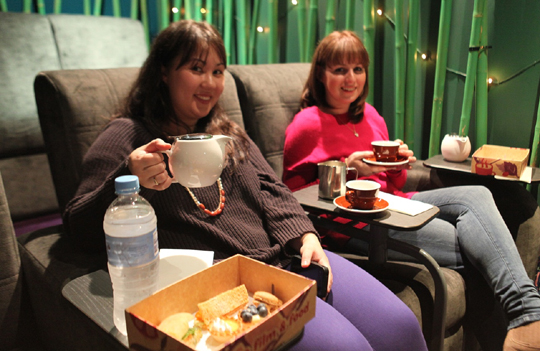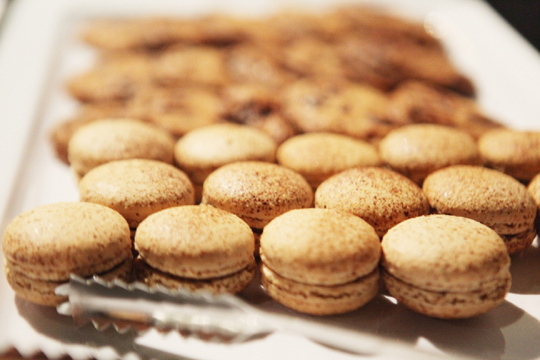 Don't be discouraged that the serving plate is a little cardboard box. After all this is a cinema and it actually worked quite well in the dark; making it easy to handle and nibble on the tasty morsels with the added benefit of no noise.
Given how often people gripe about the cost of movies coupled with the candy store, I consider this combination high tea and movie to be real value for money at $39 per head. You not only enjoy carefully prepared pastries and savouries but you get to watch the latest arthouse films in the comfort of one of the boutique Nova Deluxe theatres on lounge-sized cinema seats.
Nova Deluxe High Tea at The MoviesAfternoon Tea Menu
Nova Chicken Sandwich
Smoked Salmon, Caper Mayonnaise and Watercress Salad on Rye
Selection of Fresh Berry Tarts
Dark Chocolate Tart
Lemon Meringue Pie
Selection of Macarons
Chocolate Chip Cookies
'High Tea at The Movies' is held every Saturday and Sunday starting at 3pm in a Deluxe theatre prior to the movie session. The cinema seats 22 with super comfy chairs to snuggle back into as you enjoy the film and sip on your tea.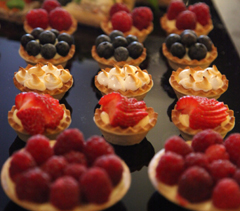 Serving runs for 30 minutes whereby the serving table is cleared and patrons are asked to take to their seats. The movie commences at 3.30pm sharp.
Being a movie fan, I certainly enjoyed being able to combine my love of high tea with my love of the cinema.  All in all, I must agree with Cinema Nova's Kristian Connelly when he says that 'High Tea at The Movies' "is an elegant and enjoyable way to spend an afternoon this winter." So on a cold and rainy weekend, there's not too many things better than curling up on a cosy chair with a cup of tea, a scrumptious sweet and a good film.
Cinema Nova
Location: 380 Lygon Street Carlton, Melbourne,VIC, Australia
Bookings: Available via box office or online.
Phone: (03) 9347 5331
Website: www.cinemanova.com.au