When the "Prince of Pastry" comes to town to celebrate the 20th Melbourne Food and Wine Festival, it's only natural that High Tea Society should go along to enjoy the sweet delights.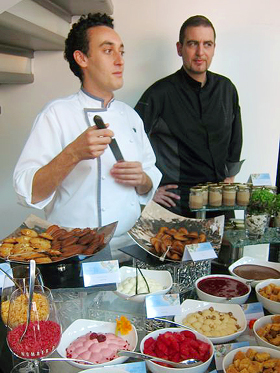 As one of Crown Casino's festival guests, Stephane Bour held court at Number 8 Restaurant and Bar, not only featuring his exceptional delights on the restaurant's dessert menu, but also hosting two afternoon teas on Saturday 10 March and Sunday 11 March.
Stephane Bour is regarded as one of the greatest pastry chefs in France, if not the world. Known for his 'molecular pastry' cooking techniques, his sessions were a fantastic coup for Crown Casino and the Melbourne Food and Wine Festival. Melbournians and travelling foodies continue to have their taste buds spoiled with such high caliber chefs.
Stephane's afternoon tea was a sweet tooth's heaven; there was not a savoury dish to be seen. The tea was divided into two types of servings – the individual desserts and the dessert buffet, where we will start.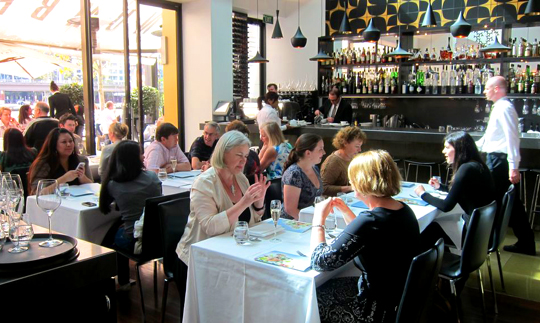 If you like to play with your food (as I do), then this is the dessert for you. At the buffet station, we were handed little pots of milk or dark chocolate ganache and mousse, which were accompanied with a lovely selection of fruits, Chantilly, marshmallows, coulis, biscuits, herbs and even squares of chocolate sugar. After some initial instructions from the chefs, we set upon the buffet and chose bits and fruits and treats to eat with our pot of chocolaty goodness.
Not having any savoury treats to balance out the sweetness, I opted for the chocolate to meld with the tartness from the raspberries and passionfruit. It was delightful. So much so that I ignored the individual dessert servings and went for a second helping. Don't get me wrong, this was a little chaotic and messy but it added to the overall enjoyment, as the guests were sharing their tips and combinations amongst each other. This would certainly be a fun way to serve dessert at a dinner party too.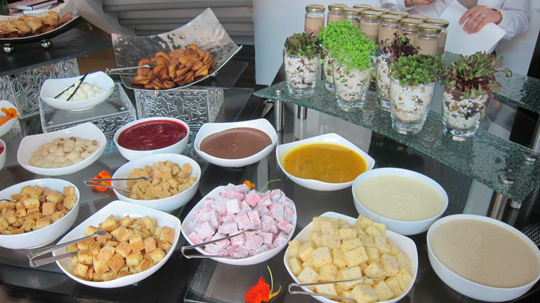 Highlight of the buffet were the extremely tart raspberry and passionfruit flavoured crisps. I picked them up by mistake thinking they were honeycomb pieces. They were so much better than honeycomb. The raspberry and rose marshmallow was also divine, tasting like a Turkish delight marshmallow. Had there been no queue at the bufett table, I may have single-handedly consumed them all.
Stephane orchestrated four individual dessert servings to showcase his innovative pastry style, but in my sugar-high, only three were tried; The hazelnut éclair being my least favourite. There was nothing to fault with it, but didn't delight like the Saint Honore and cherry ciafoutis did.
Of the individual desserts, the Saint Honore was my favourite. Biting into the crunch of the toffee on the creme puffs was a moment to be savoured; just heavenly.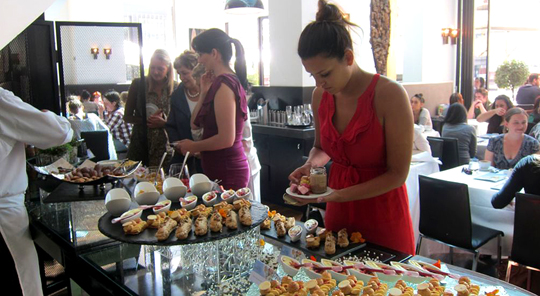 Unfortunately, I missed the vanilla milk rice. Other guests snapped it up quickly. Let's hope that wasn't the jewel in the pastry chef's crown. The cherry clafoutis was another fun dish; Morello cherry coulis housed in a plastic tubing that you could inject into the dessert. A squeeze here and a squirt there; you could add as much or as little as you like. Afternoon Tea with Stephane Bour was certainly a fantastic event. Guests were treated to the exceptional skills of a world-class pastry chef who took us on a sweet journey where it is perfectly fine to play with your food.
Number 8 Restaurant and Bar is a bright and sunny restaurant located riverside in the Crown Casino complex. It does not host regular afternoon tea however you can enjoy Sundays with Moet & Chandon instead. Every Sunday afternoon, you can indulge in a three-course lunch with free-flowing champers for $110 per person.
This was a delightfully sweet and fun way to spend a sunny afternoon along the banks of the Yarra River. It was such a sweet honour for the High Tea Society to enjoy the delights of a Michelin starred pastry chef.
Number 8 Restaurant and Bar
Location: Riverside at Crown Casino
Bookings: Group bookings essential
Phone (03) 9292 7899
Website: www.number8atcrown.com.au