High Tea in served in the 1864 Lounge at the Sofitel Hotel Singapore.
The High Tea Society recently took in a classic afternoon tea at the new Sofitel Hotel in Singapore. This is an afternoon tea for the busy Sofitel guest, perhaps sitting down to afternoon tea after a tiring day delighting in the tourist sights of Singapore or after a busy morning of meetings and it's designed for relaxation.
The 1864 lounge is comprised of comfortable seating and we're soon settled in with a coffee from their extensive selection of TWG tea or Nespresso coffee. While there is a bar in the lounge, the afternoon tea does not itself come with the option of a glass of champagne, but if you did so want one, you could order it separately.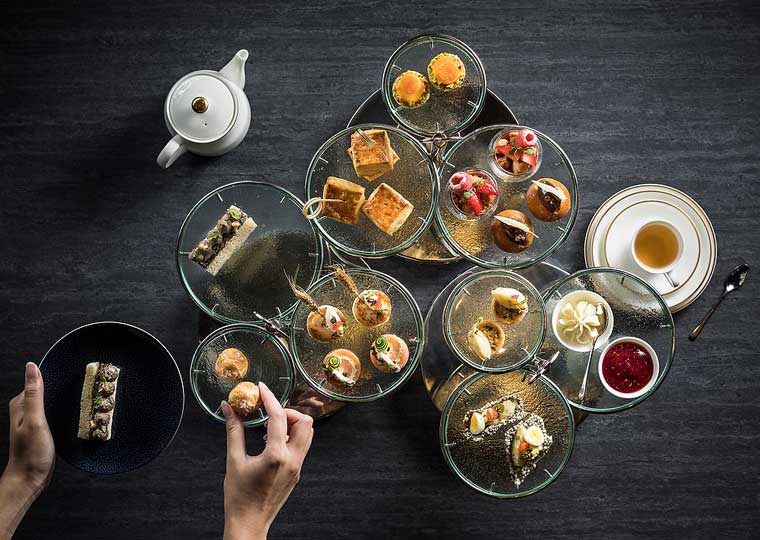 We opt to stick with the menu itself and with a coffee and freshly squeezed orange juice in hand, sit back to wait. The offerings are classic – finger sandwiches come in a seasonal flavour and the savouries too play on the traditional flavours comprising of a smoked salmon blini, gougere made with Emmental, mini quiches and an egg truffle tartine.
The savoury course, whilst adequate, is not where the star attractions of the Sofitel afternoon tea lie. We have satisfied our hunger with the savoury course but nothing has dazzled and so it falls on the sweets and desserts to lift our spirits.
The freshly baked scones are excellent but not all the desserts hit the spot. The exotic fruit tartlets have a texture and flavour that we dislike and leave these behind, but the rest are more pleasing and in line with what we'd expect. The star attraction is the Valrhona chocolate ganache on brioche and it's just the sugar hit we need to go back outside into the heady heat of the day.
The Sofitel Singapore City Centre isn't necessarily a destination spot for afternoon tea, but if you find yourself in the area, the results are entirely pleasing.
1864 lounge, Sofitel Singapore High Tea Menu: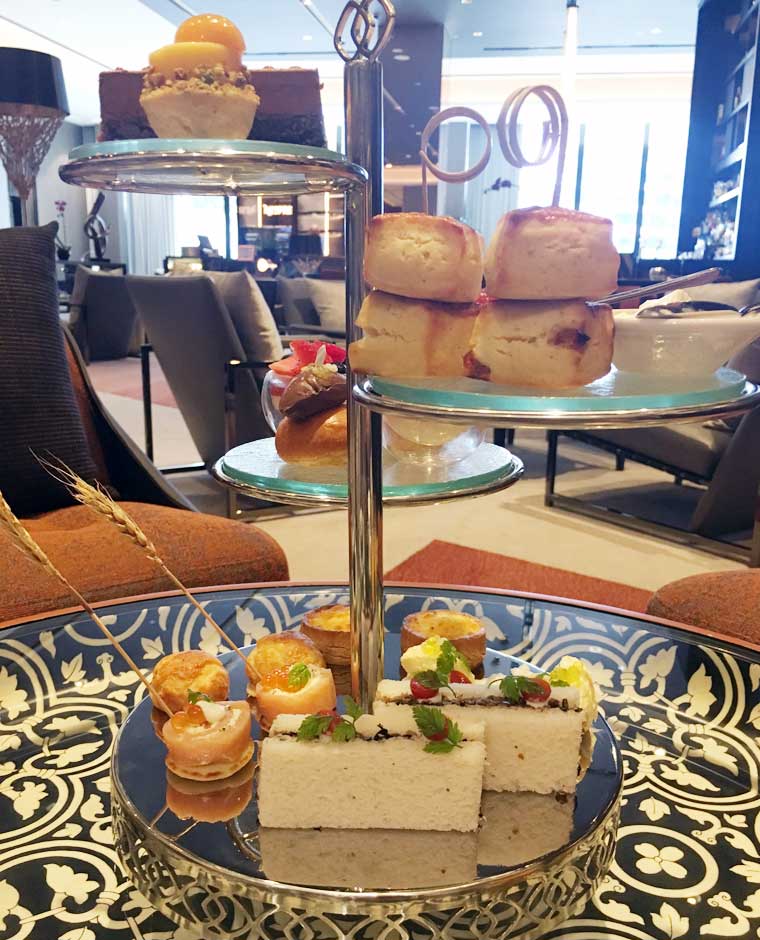 Serves 2
Assorted Finger Sandwiches
Smoked Atlantic Salmon with Buckwheat Blinis, Citrus Crème Fraîche and Caviar
House-Made Gougère with Béchamel of Emmental Cheese Smoked Quail Eggs with
Truffle Aioli Tartine Assorted Mini Quiches
Quenelle of Valrhona Chocolate Ganache on Brioche
Valdueza Olive Oil and Fleur de Sel
Mini Verrines of Desserts
Seasonal Exotic Fruit Tartlets
Mini Freshly Baked Scones with Berry Marmalade, Mascarpone and Berry Coulis
Freshly Squeezed Juice
TWG Tea or Nespresso Coffee