The High Tea Society recently had the pleasure to attend a new event at The Victoria Room Tea Salon called 'Thursday Evening Affairs'.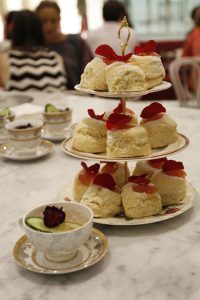 Not the traditional high tea (afternoon tea) event, it's hosted in conjunction with Hendricks Gin which adds a naughty little kick to your high-tea tipple.
Found on the Designer Gallery, level 4 in Sydney Westfield, every Thursday evening for a $20 cover charge, you'll be drawn into Alice-like tea party surrounds. Waiters wander among the tables serving from trays laden with mini rose scones and traditional cucumber ribbon sandwiches.
The wicked part comes in your drink on arrival. A Pretty Pinky which is a mix of Hendrick's Gin, rose syrup and The Victoria Room's own English breakfast tea blend. It's served ice-cold and garnished with a cucumber slice and a rose petal to complement the cucumber and rose infusion that Hendrick's is famous for.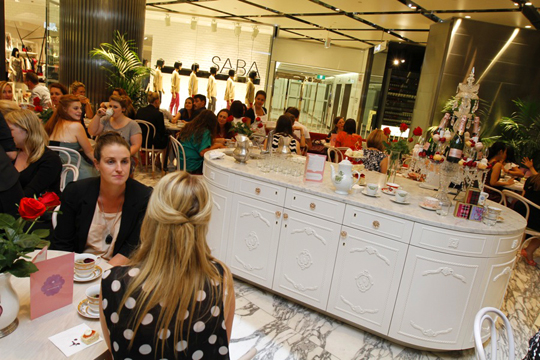 Once your teacup is empty (which will be quite quickly!) you can buy another delicious teapot for two or four to extend your tea party. Have the same again or try the other option in the Tippling Teaspoon, which is a blend of Hendrick's Gin, lemongrass, The Victoria Room's ginger tea, elderflower liqueur, lemon juice and sugar. This time garnished with a lemon wheel and sprig of fresh mint. We didn't have a chance to try this one, but we're sure you'll agree when we say it sounds delicious!
Overall, the Thursday Evening Affair, while not strictly a traditional high-tea, still has the decadent tea party atmosphere for ladies (and some men) who like something a little stronger to refresh themselves after an evening of shopping.