You'll need to get in quick to experience this high tea, it's only available at Koi Dessert Bar Sydney during August, the last month of winter but more importantly - the end of truffle season!
The team of brothers who own KOI (Masterchef season 7 finalist Reynold Poernomo is the littlest brother), have taken their signature desserts and given them a wintery twist with the addition of WA black truffles. We visited their Chippendale venue to see what this special event is all about, they're also hosting their Winter High Tea at their restaurant in Ryde.
Hands down it's one of the prettiest high tea tiers we've had the pleasure of enjoying. Reynold's dessert skills are as beautiful in reality as they were in the Masterchef kitchen! Everything on the menu was beautifully presented, each with its own little decoration – it's almost like they're part (edible) florist.
We weren't quite sure what to expect from a truffle high tea, truffles aren't known for their delicate flavour – more like a smack in the face with big, bold, earthy overtones. But the boys have done a fantastic job working them into the menu. Not every dish has truffles in, and the ones that do they're treated with restraint. Just enough flavour so that you know there's a beautiful truffle floating around, but not enough to totally overpower the rest of the delicate flavours.
If you're looking for something a little outside the box, and you're a foodie who lives for truffle season every year, get in quick and try this high tea. Thanks us later, it's fantastic.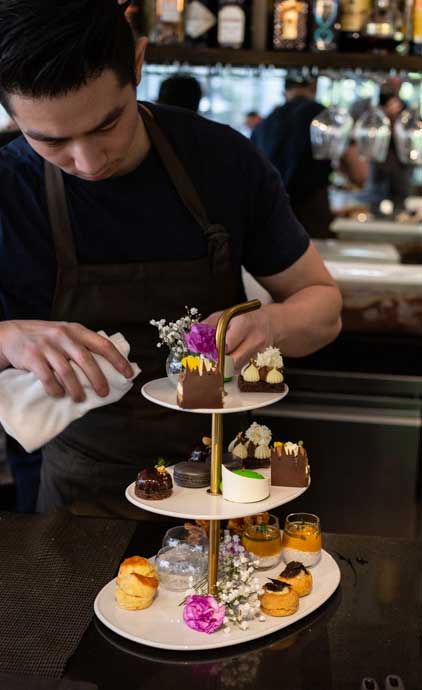 Koi Dessert Bar Winter High Tea Menu
Mont Blanc
Nomtella
Mango Yuzu
Vanilla Naked Tart
Black Truffle Macaron
Mushroom and Leek Profiterole
Pumpkin Soup
Truffle Scone
Including free flow coffee and tea
Available from:
KOI Dining & Dessert Bar
46 Kensington St, Chippendale, Sydney
KOI Dessert Kitchen
Shop 3, 62-66 Blaxland Rd, Ryde, Sydney
1 – 31 August 2018
Saturday & Sunday 11:00 am – 2:30 pm
$65 per person
Minimum 2 people per high tea set. 48 Hours notice for all dietary requirements.